Here's Your Horoscope For Today: April 26, 2021
The emotion and intensity in the air may be hard to ignore thanks to tonight's full moon in all-or-nothing Scorpio.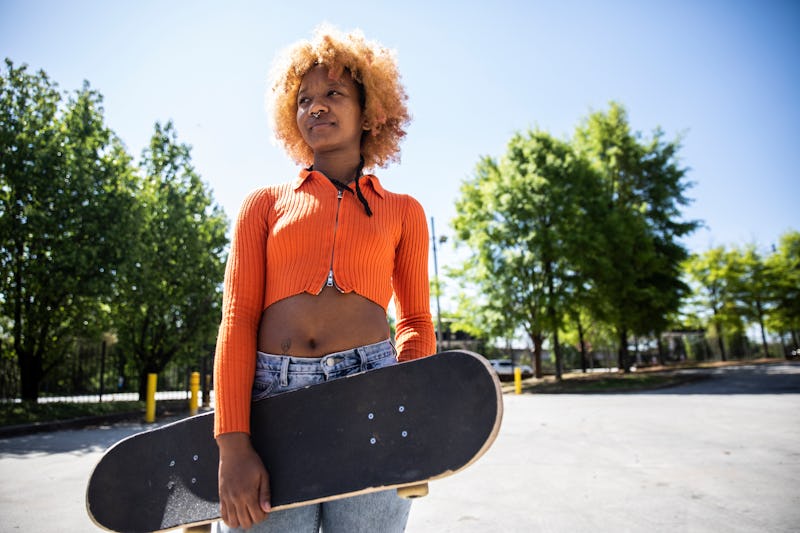 MoMo Productions/DigitalVision/Getty Images
In this daily horoscope for April 26, Bustle's resident astrologer Mecca Woods, founder of My Life Created, shares the astrological events happening today that will affect every zodiac sign. Below, here's a look at how astrology will affect our lives today.
The emotion and intensity in the air may be hard to ignore thanks to tonight's full moon in all-or-nothing Scorpio. The day starts off intense as the moon in partnership-oriented Libra faces off with power-hungry Pluto in Capricorn, bringing up uncomfortable feelings. However, before the moon moves to Scorpio in the afternoon, she teams up with expansive Jupiter in Aquarius. As a result, the early part of the day could be good for negotiations, team efforts, or connecting with others. The vibe changes once again as the moon slips into Scorpio, which could have us feeling moodier than usual.
The full moon in Scorpio, being fueled by Mars in moody Cancer, could bring tensions or feelings to the surface that have been simmering up until now. While it might be best to hang back, being more reflective than reactive, this moon can be helpful. If we've been struggling to hang onto expired relationships and associations, this moon can help us with saying goodbye. This also applies to anything we've been half-heartedly investing in — either our heart's in it or not.
Read below to see what the stars mean for your zodiac sign today, and make sure to check out your April 2021 monthly horoscope.
If you've been waiting on news on a financial- or home-related matter, you could receive promising news. Emotionally, there's a lot going on. Step back a bit and try not to take things too personally.
You're called to be assertive today when it comes to speaking your truth or airing out your concerns with someone. Doing so could help strengthen the bond or give you the goodbye you need.
If you've been job-hunting, you could see the results of your efforts bearing some fruit. With a health-related matter, you get the push needed to make yourself more of a priority.
You could receive some deserved recognition for your talents today or feel the triumph of bringing a creative project to completion. You can also find success with romance.
You might be feeling more moody and tired than you're accustomed to today, which is a good excuse to knock off early. Take time to get the nourishment you need. Try not to focus too much on the past.
It's possible that your way of thinking, speaking, or writing could put you in the spotlight today as people want to hear what you have to say. On the flip side, where do you need to stop thinking too small?
You're practically unstoppable now when it comes to achieving your goals. Today could bring you a win in the form of more money or a new opportunity. Don't settle for less.
It might be time for you to go your own way now, especially if you've been compromising too much on your needs or values. Stand up for what you believe in. Embrace what sets you apart from the crowd.
If you're feeling a strange mix of anxiety, sadness, and fatigue, consider it your body's way of telling you that you need more rest and care. If you've been stewing over something or someone, let go.
You could find yourself getting a major step closer to a goal, though you may need to enlist the support of people around you to do it. Be mindful of letting the haters get to you now.
Congratulations could be in order for you today as you could receive an opportunity, promotion, or public praise. Though, if you've been feeling stuck, it's time to get out of your comfort zone.
Today pushes you to release self-limiting beliefs as you're reminded that you have options as well as talent. Don't allow anyone to tell you any different. Keep following your heart.