Here's Your Horoscope For Today: June 3, 2021
We'll have to be mindful of losing our cool in dealing with others.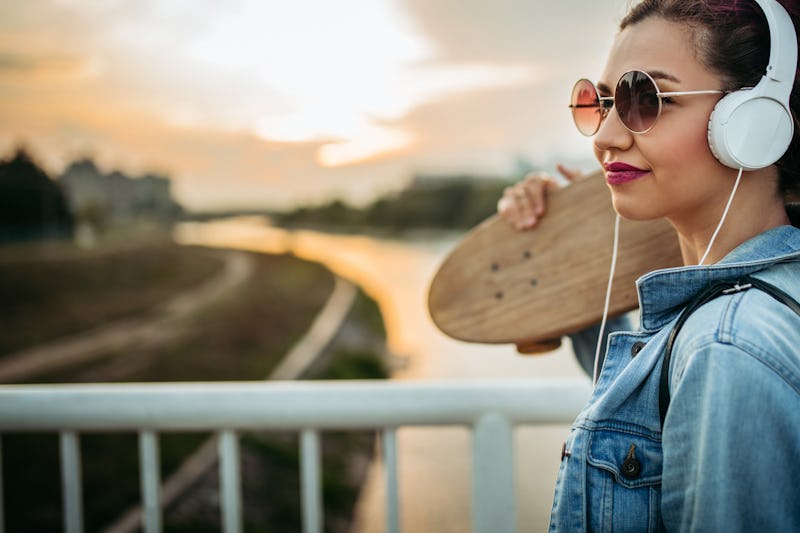 hobo_018/E+/Getty Images
In this daily horoscope for June 3, Bustle's resident astrologer Mecca Woods, founder of My Life Created, shares the astrological events happening today that will affect every zodiac sign. Below, here's a look at how astrology will affect our lives today.
The moon finishes out her stay in empathetic Pisces during the early half of the morning, which makes for a slow start to the day. As the moon faces off with chatty Mercury in Gemini, followed by a meeting with moody Mars in Cancer in the early a.m., it might be hard to avoid feeling a bit moody, too. However, the Pisces moon reminds us how important it is for self-compassion, as well as having compassion toward others.
By the mid-afternoon, the moon moves to fiery Aries, which turns the energy up significantly. Under the moon in Aries, we might find ourselves feeling a little more enthusiastic and a lot more restless. With the Aries moon facing off with love planet Venus in Cancer by the late afternoon, we'll have to be mindful of losing our cool in dealing with others. Though as the sun in industrious Gemini teams up with no-nonsense Saturn in Aquarius during the afternoon as well, we're encouraged to channel our energy into more productive things, while being mindful of taking anything too personally.
By the evening, Venus in Cancer meets up with inspiring Jupiter in Pisces, which encourages us to focus on the things and people that bring us a sense of peace and comfort.
Read below to see what the stars mean for your zodiac sign today, and make sure to check out your June 2021 monthly horoscope.
You might be feeling a bit cranky today. If so, try to focus on activities or projects that don't require too much mental energy. Keep it simple. If you need help, look to your friends.
Be mindful of letting your worries or anxieties get the best of you today. It could be easy to focus only on the things you don't like. Look to your community to help keep your spirits up.
Don't worry too much about the haters or whether you fit in. You're being pushed to acknowledge what sets you apart from everyone else. You've got something special. Use it.
Though you might want it, know that you don't need the validation of others today. What you do need is to focus on yourself, even if it means taking time out to be completely alone.
You could be feeling like you need to go above and beyond to get something you want. You don't. All you need to do is sit back and allow it to come to you. Trust that it will show up.
Try not to worry yourself with being everything to everybody today. All you'll end up doing is feeling burned out and resentful. Instead focus more on the things (and people) that give back to you.
Someone could try and rain on your parade today, particularly where your goals or accomplishments are concerned. Don't let them. Stay inspired. Stay you.
There could be lots you want to get done — though you might have to be careful that you're not making things more complicated for yourself than needed. Let go and have some fun.
If you feel like you're having to force intimacy or a connection that's not really present with someone, don't. You'll feel much better if you give time to people who love and nourish you.
You and someone you're close to might be at odds today. Instead of shutting down and blocking them out, take time to talk the situation through. You might actually like where things go.
You might be feeling restless today, but try not to involve yourself with anything just for the sake of keeping busy. Be intentional with where you place your time, energy, and attention.
It could be easy to come down on yourself today if you don't feel like you're where you want to be. In what ways can you be more grateful for where you are and who you are?