Here's Your Daily Horoscope For May 31, 2022
There's confusion in the air.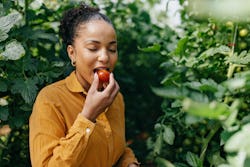 supersizer/E+/Getty Images
Bustle's resident astrologer Mecca Woods, founder of My Life Created, shares every zodiac sign's daily horoscope for today, May 31, 2022.
The moon remains in brainy Gemini. However, as Mercury (Gemini's planetary ruler) is still retrograde, today could be extra intense in terms of the number of hiccups and difficulties that will arise. The moon in Gemini also faces off with hazy Neptune later this afternoon, increasing the amount of confusion in the air.
Luckily, logical and level-headed Saturn in Aquarius is on hand to help the Gemini moon out. Saturn in Aquarius encourages doing our due diligence in confirming facts and information while also encouraging us to take our time making decisions. If there's an issue with miscommunication today, the Gemini moon and Saturn in Aquarius inspire us to make the effort to work together and work things out.
Meanwhile, under the Moon-Neptune aspect, there could be some creative energy available to put to good use. This planetary combination paired with Mercury retrograde (which is currently in creative Taurus) can help us with improving a project or fleshing out an idea.
When it comes to paperwork, emails, or anything else that you're putting in writing, take some time to check for errors or mistakes. Then ask a friend to look things over for you.
It might be a good idea to change your passwords and turn on your two-step notifications today, especially for your banking or financial accounts. It will help to give you an extra layer of security.
Practice and preparation are your allies today if you're presenting anything in public. Taking the time to study will help with overcoming any anxiousness or stage fright.
Try to be mindful of being unrealistic about a certain situation or issue today. The only way you'll be able to move forward or put the matter to rest is by seeing the issue for what it is.
Take care that you don't get caught up in people-pleasing today as you can't make everyone happy. Honor and exercise your boundaries instead. You'll know who's in your corner.
Being flexible and having a contingency plan will help you avoid any curveballs that might be tossed your way. You can't control what others do but you can control how you respond.
If it feels like you're all over the place today, you probably are. Instead of forcing yourself to push through and work, perhaps you'll feel better after taking a little break.
If insecurity comes creeping up on you today, take some time to remind yourself of why you're amazing. Too, make sure you're not looking to others for validation. Love up on yourself.
Someone's behavior may be upsetting you. Instead of avoiding the issue or hoping things will get better, it's time to speak up and address the issue directly. It's OK to be blunt about it.
You might have trouble accomplishing everything that you want to do today. And most likely because it's impossible for you to do it all. For now, just focus on handling the basics.
Don't play yourself small or be too humble. You're encouraged to stand proud about who you are or something that you've created. And you're encouraged to be loud about it, too.
Be careful of taking on the world's problems today. Your job right now is to focus on taking care of yourself. Aside from that, allow others to show up for you for a change.
Want to learn more? Check out your May 2022 monthly horoscope.