November 2022's Full Beaver Moon Will Challenge You To Lean Into Chaos
What happens during this time is truly meant to be.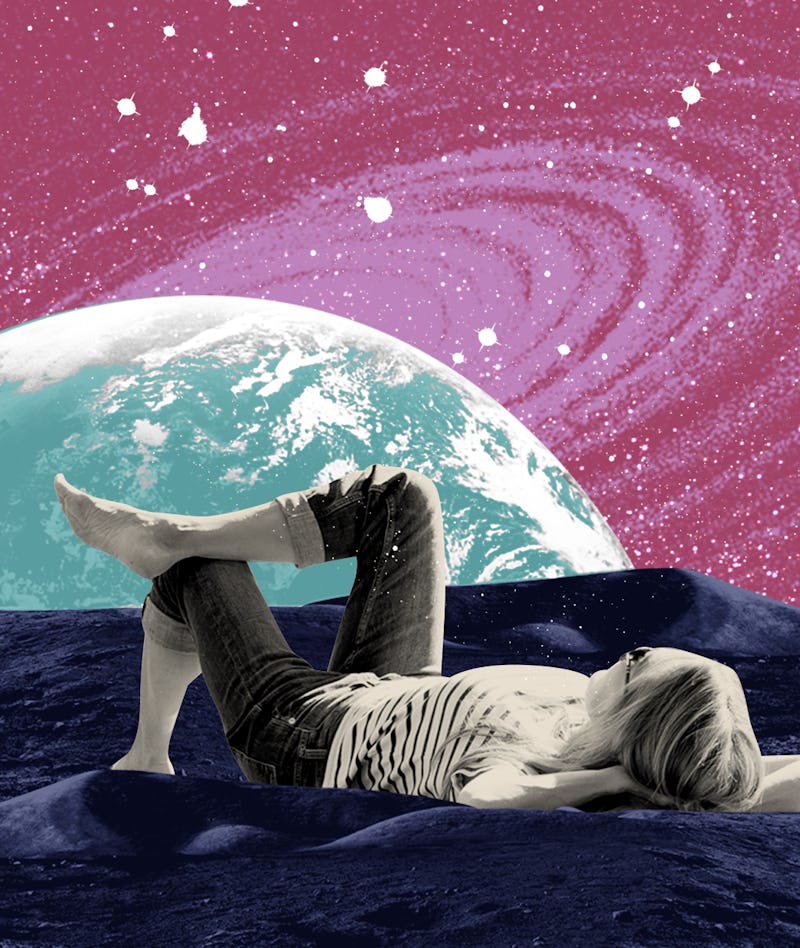 Bustle
It's the tail-end of eclipse season, so you're not quite out of the woods just yet. The November 2022 full Beaver Moon, which arrives on Nov. 8, is the final eclipse of the year, and it's doing its usual eclipse business: unveiling secrets and revving us into emotional overdrive. La luna will be stationed in strong-willed Taurus, the sign all about material comforts and living lavishly — so expect financial surprises, hidden emotions to surface, and a general sense of uneasiness in our day-to-day. But when you know the spiritual meaning of the November 2022 full Beaver Moon, you can better understand how to work with this chaotic energy.
In astrology, full moons represent release and manifestation. It's a (fairly dramatic) full circle moment, where the full moon shines its sparkly high beams onto our hidden feelings and buried thoughts, making them hard to ignore. Eclipses amplify the chaotic vibes with twists of fate, forcing us to face the problems and emotions we tend to keep dodging.
"This rare total eclipse will have us making decisions more swiftly than we prefer, and you may discover something that needs attention before we enter into this next season," Desiree Roby Antila, astrologer and author of The Sun Signs In Love, tells Bustle. "Lunar eclipses help us realize the external implications of these shifts. It is often during a lunar eclipse that we become aware of the influence of others."
Since earth sign Taurus covets its sacred personal space and comfort, the lunar eclipse is creating disruptions to our structures and coaxing revelations that may threaten our sense of security. Overall, the November 2022 full Beaver moon lunar eclipse is here to push everyone out of their comfort zones in order to grow.
Keep reading to learn about the spiritual meaning of the November 2022 full Beaver moon lunar eclipse and how to fully embrace its chaos.
What's The Spiritual Meaning Of The Beaver Moon?
The November 2022 full Beaver moon gets its name for taking place during the time of fall when beavers seek refuge in their lodges, per the Farmers' Almanac. In some Native American cultures, the moon's November moniker comes from the time when tribes would set beaver traps to harvest their fur ahead of the frigid winter. Symbolically, it reflects the monumental shifts headed our way.
"There is a vivacity in the cool air as we all prepare for the winter to unfold," says Antila. "While nature busily prepares for the shift for the cold days ahead, we should too both physically and mentally."
From an astrological POV, November's full moon lunar eclipse is about facing uncomfortable shifts and challenging your stability, as Taurus rules things like money, safety, and what we value. The Venusian-ruled sign is a sign of partnership, so expect this full moon eclipse to reveal heavy themes around relationships, romance, and self-worth. "If you feel misaligned with your partner, this could be a moon when you either part ways or become unshakeable," explains Antila.
What's more, Mars, the planet of aggression and action, will be retrograde until Jan. 12, slowing down our momentum and posing stubborn creative blocks. Ultimately, the energy of the full moon eclipse in Taurus is helping us purge energy that doesn't care about our comfort and leave behind self-imposed limitations. "Because this lunar eclipse is on the north node, endings will come with a new beginning setting you down the correct path to your personal destiny," says Antila. The north node in astrology is a point of fate — so expect that what goes down during this dramatic full moon is meant to be.
How To Work With The November 2021 Lunar Eclipse's Energy
Because of the intensity of the full moon, they're typically prime for manifesting and spellwork, but eclipse energy is unstable, so the emotions and ideas we have right now are delicate and probably aren't a true reflection of ourselves. Rather than try to bring certain energy in, the eclipse calls for quiet introspection and — in Taurean fashion — staying inside away from the chaos.
"During lunar eclipses, we are encouraged to let go of whatever is no longer serving the soul. This is the time to release, purge, and say goodbye," says Antila. It's a great time for deep meditation, grounding yourself, and getting to the root of what you want to let go of. Reflect on what no longer adds value to your life or who may be taking value away from it.
Fixed sign Taurus isn't called the stubborn bull for no reason. That said, the eclipse is a powerful moment to dig deep into the things that are keeping you stagnant. Is a relationship reaching its end? Is your job not supporting the lavish lifestyle you want? This is the kind of unruly lunar drama needed for you to build boundaries and grow. "If we lean into the magic of the chaos of this obscure energy, marvelous things can become evident. Let go and let what may come just be," says Antila.
Sources:
Desiree Antila, astrologer and author of The Sun Signs In Love