The Least Compatible Life Path Numbers, According To Numerologists
They're like oil and water.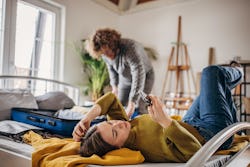 South_agency/E+/Getty Images
Similar to your zodiac sign, your life path number contains all kinds of insight into your personality, your motivations, the type of careers you'd be best at, and even the type of people who make the best love matches for you. In fact, numerologist Sofia Celestino tells Bustle, "Numerology can be a helpful tool for making better decisions in life, particularly when it comes to relationships." If you know your life path number, which is determined by adding together the numbers in your birthday, you'll know which life path numbers are least compatible with yours.
There are certain energies and vibrational patterns associated with each life path number, Celestino says. Familiarizing yourself with the energy surrounding your number can give you a better sense of who may or may not be compatible with you. For example, life path 1s are independent by nature. Because of this, they may struggle to maintain a relationship with a more partnership-oriented number like life path 2. If you're someone who tends to focus on the bigger picture like life path 7, you may have a hard time seeing eye-to-eye with someone who's more task-oriented, like life path 4.
It's important to note that nothing is set in stone when it comes to life path number-based compatibility. As Celestino says, numerology can't make decisions for you. However, "it can offer some valuable insights that you may want to consider when making choices in your life." With that in mind, here is the least compatible life path number for each life path number.
Sources
Sofia Celestino, numerologist
Tara Bennet, astrologer and spiritual coach