The Most Compatible Life Path Numbers, According To Numerologists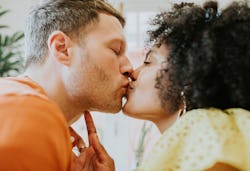 Catherine Falls Commercial/Moment/Getty Images
Your life path number, which is determined by your birthdate, is considered to be one of the most important numbers in your numerology chart. In short, it's your "destiny," Katie Fink, spiritual mentor and founder of MindBodySoulMarket, tells Bustle. Similar to your zodiac sign, your life path number can say a lot about your personality, your innermost desires, what you can do to get the most out of life, and even the type of person who would make the best match for you. Like zodiac compatibility, everyone has a life path number that's most compatible with theirs.
"The life path speaks to a person's core set of values and traits, which are forever present in an individual's personality," Fink says. "So, by understanding yours and a potential partner's number, you can analyze how you both may balance each other out, or align on various needs, values, desires, etc."
According to Fink, knowing your life path number can help you live the life you're most content with. Similarly, knowing a potential partner's life path number can help you see whether you two are destined to walk down an easy road together, or one that's full of bumps and detours. It can also help you see what kinds of principles you would value as a couple, and which other areas might need more compromise.
Of course, just like astrology, numerology can't tell you who you're absolutely meant to be with, nor should you swipe right on a promising match just because you're not compatible life path numbers. Still, everyone has a life path number that's most compatible with theirs. Here's the breakdown.