The 4 Most Mystical Zodiac Signs
Cue the Twilight Zone theme.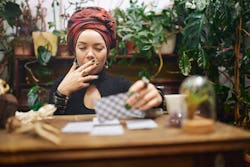 Sergey Mironov/Moment/Getty Images
Astrology has a way of calling out our strengths and unique personality traits. Your birth chart is a great way to deepen your understanding of yourself — including your relationship with the spirit world. Do you find yourself drawn to tarot, astrology, or witchcraft? Your astrological profile can give you insight into your association with magic. While we all have the capacity to channel our inner Sabrina Spellman, the most mystical zodiac signs are naturals at connecting with the elusive, spiritual forces of life.
While your sun sign is indicative of your core personality, when talking about the supernatural world, you'll need to dive deep into the layers of your chart. Your Neptune sign, for example, is a magical placement associated with the supernatural.
"These places in our birth chart can help us dissolve towards more magic, like releasing any scaries we might have about soul-shaped surrender to the unknown, and learning to embrace more of the power in what we simply cannot explain," Bess Matassa, astrologer and instructor at YogaRenew Online Teacher Training, tells Bustle. Neptune is the ruler of Pisces, a water sign known for its connection to the spirit world. Seeing where Pisces is in your chart can give you a feel for how mystic you are.
Looking to your house placements, "the most mystical parts of the birth chart tend to be houses four, eight, and 12," astrologer Ryan Marquardt tells Bustle. "All of these houses deal with psychic themes in some way and are attuned to more esoteric concepts." Look to your birth chart: What signs are stationed in these houses? Understanding the traits of those signs can help discern your magical tendencies.
If you have a natural ability to connect to the unseen realms, then you can probably relate to the witchy goings on in life. Keep reading to find out if you're one of the most mystical zodiac signs.