4 Zodiac Signs Most Likely To Be Psychic
Cue the That's So Raven theme song.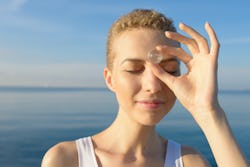 Christopher Ames/E+/Getty Images
Have you ever had a gut feeling turn out to be right, or had a dream literally come true? If so, you've probably had an honest suspicion that you are psychic. In astrology, certain zodiac signs are in fact more intuitive or have more "psychic" energy than others. But there are ways every sign can hone in on these abilities.
"Intuition is the ability to understand something rapidly without relying on conscious reasoning," Kyle Thomas, astrologer for Page Six and the New York Post, tells Bustle. "When it comes to intuition, we all have the ability to harness this power and use it in our day-to-day lives."
To be clear, having psychic abilities doesn't always mean that you can read minds or see the future. Instead, it can be that little voice in your head telling you that someone is off. It's also in that feeling you get when you meet someone new and you just know they're going to be someone special to you. Thomas says you can tap into that "psychic" energy every single day, whether you're aware of it or not.
When it comes to your birth chart, there are distinct placements that can distinguish whether you're one of the zodiac signs most likely to be psychic. Astrologer Lauren Ash says water signs have higher chances that their intuition is stronger than the rest. "Water signs are the most connected to their emotions, gut feelings, collective consciousness, and intuition," explains Ash. In the same way water flows down a river, water signs can flow through their intuition and see it as more than just a hunch, but an inner knowing.
People receive messages from the beyond differently, and there are four distinct types of precognitive abilities. "There's claircognition, or psychic knowing; clairvoyance, or psychic seeing; clairaudience, or psychic hearing; and clairsentience; psychic feeling," Ash says. While water signs are generally considered to be supernaturally intuitive, each individual is equipped with certain astrological qualities that draw them to a specific psychic ability. For example, Cancers rely on their emotions to understand others, likened to clairsentience.
Even if your sun sign is one of the other elements, other aspects in your chart that can indicate psychic abilities. If you have a water element anywhere in your chart, especially if it's stationed in your Mercury or moon sign, you're likely to have high intuition. Your Mercury placement is related to the mind and communication, so if you have watery energy supercharged here, it's as if you naturally receiving spiritual downloads from the universe. Since the moon directly deals with intuition and your inner self, having a water element stationed in that placement is a good way to tell if you have psychic abilities.
While anyone can tap into their supernatural skills, there are few zodiac signs with notable gifts. "Cancer, Scorpio, and Pisces are each individually ruled by planets that connect them with the spiritual realm," explains Ash. These ruling planets are the moon, which reflects intuition, secretive Pluto, and Neptune, the planet of the subconscious, respectively.
Are you naturally attuned to the supernatural realm? If you have an innate knowing or premonitions that can't be written off as a coincidence, then you may be gifted with astrological foresight. Keep reading to find out if you're one of the zodiac signs most likely to be psychic.
This article was originally published on