11 Tips For Looking Great When It's Raining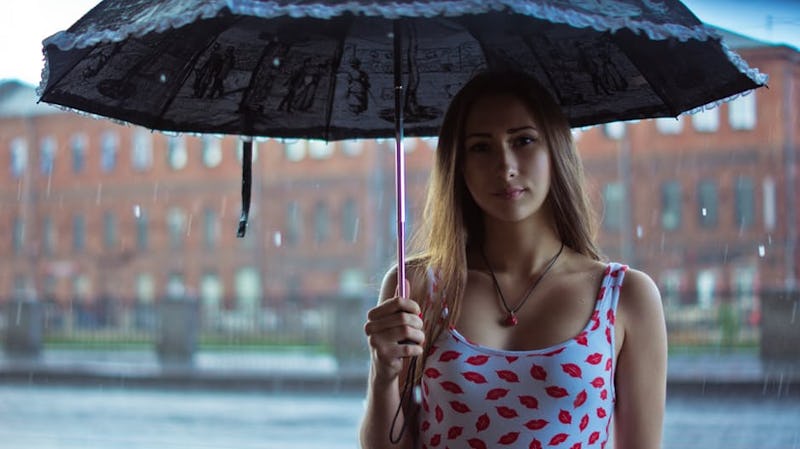 If you wake up to rainy skies, it's more than acceptable to rock a ponytail and zero makeup. (As it is any other day, obvs.) But if you have an event to attend, or simply want to feel more put together, then you might be interested in some ways to stay looking great in the rain.
After all, there's nothing like a downpour and a touch of humidity to make things difficult. Apart from melting makeup, you'll likely have frizz to contend with, as well as possible damp strands. (If you forget your umbrella, as I am wont to do.)
That's why the only thing you should keep in mind on a rainy day is the word simple. "Less is more on this day," says makeup artist and salon owner Brandy Gomez-Duplessis, in an email to Bustle. Not only will simpler makeup be less likely to run and smear, but it'll make quick touchups 100 times easier.
To start things off, I suggest popping off to the store to stock up on waterproof products. Get thyself a waterproof mascara, a humidity-defying cream blush, and that umbrella. Then read on for exactly what to do for great hair and makeup — even when it's raining.
1. Be All About That Primer
If you don't use a makeup primer, a rainy day is the perfect time to start. Simply dab a small amount all over your face, and watch in awe as it smooths your skin. It'll ensure your makeup stays put throughout the day, Chicago-based makeup artist Marissa Hohner tells me. A totally worthwhile step, if you ask me.
2. Embrace The Dewy Look
There's nothing worse than perfectly applying matte makeup, only to have it wash away moments later. So if it's humid AF outside, do your shiny face a favor and just go with it. Embrace the dewy look by applying a tinted moisturizer. It'll give you coverage without melting or getting all smeary, Hohner tells me. (Especially true if you applied that primer.)
3. Stick To A Simple Routine
Remember, the simpler your hair and makeup, the less you'll have to worry about in a downpour. So "keep it light and do the bare minimum," says makeup artist Hillary Kline. Save dark eye shadow, complicated hairstyles, and precise lipstick for drier weather.
4. Use Frizz To Your Advantage
If your hair wants to frizz up in the rain, go ahead and use it to your advantage. "Let your hair texture work for for you: With the right products, wavy and curly hair can can actually be optimized during wet weather," says Shaun SureThing, co-owner of Seagull Salon NYC, in an email to Bustle. "I've concocted my own tonics made up of coconut oil and essential oils of bergamot, vetiver, and rose water that I use in humid weather after blow dry styling to compliment the weather rather than fight it." Genius.
5. Dry Straight Strands All The Way
If you don't have any natural wave to speak of, it's still possible to wear your hair down on a rainy day. (Again, there's nothing wrong with a ponytail, if that's more your thing.) Just make sure you dry it all the way. As professional hairstylist and makeup artist Maika Taylor says, "... any left over water in the hair will make it hard to style and frizz you out." After drying, finish up with an anti-humidity spray and you should be good to go.
6. Fix Your Bangs In The Bathroom
If you get rained on, don't be afraid to pop into the bathroom to dry your hair. As celeb stylist Ted Gibson told Dana Oliver on HuffingtonPost.com, "... go to the ladies bathroom, turn the nozzle on the hand dryer up, and flip your hair over to dry." This will fix your damp hair and de-flatten your bangs. (So smart, right?)
7. Skip The Powder
When it comes to applying blush, make sure you go for cream — not powder. "Cream blush gives a more dewy effect when applied, which will pair perfectly with a rainy/humid day," Hohner says.
8. Go Natural On Your Eyes
Like I said, rainy days aren't exactly the best time for a complicated eye — unless you want shadow and mascara running down your cheeks. So go ahead and skip the extras, Hohner tells me, and stick to a simple swipe of waterproof mascara.
9. Get Ready To Touch Up
Before you set on out for the day, make sure you stash a few products in your bag. Kline tells me it's a good idea to have Q-tips, blender sponges, and makeup removing wipes in case things start to run. You might also consider a small bottle of that anti-humidity spray, Taylor tells me. It'll be just what you need to stay lookin' right.
10. And Get Ready To Braid
If you find yourself caught in a freak rainstorm, never fear. To save your wave, simply throw hair up in a quick braid, Temur of Sharon Dorram Color at Sally Hershberger tells me. You can let it down for magically re-waved hair. Or, just leave it braided. "Humidity can actually make braided hair styles look even better, because humid air will make hair more puffy and big, which makes braids look more full," he says.
11. Finish Everything With A Setting Spray
If you did apply makeup — even if it was just tinted moisturizer and a touch of mascara — be sure to finish off your handiwork with a setting spray. It'll help keep your look in place, despite the fact you'll be walking through a wall of water. It works by creating a barrier between the environment and the makeup, freelance makeup artist Jeannie Giannone tells me.
So really, there's nothing to worry about when the weather turns bad. You can, with a little effort, have great looking hair and makeup on even the rainiest of days.
Images: Pexels (12)