12 Progressive Moments From TV In 2017 That Deserve A Standing Ovation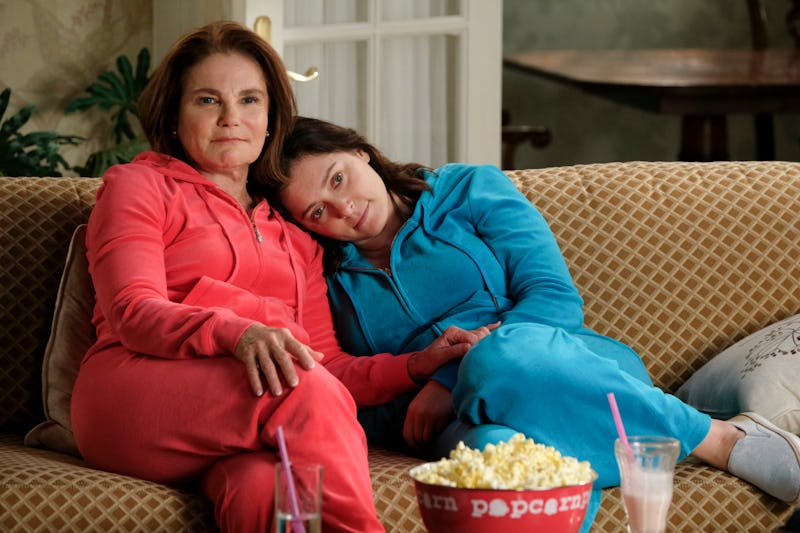 Scott Everett White/The CW
Every year, TV seems to progress in some way, shape, or form. There are always more stories to tell, new topics to be addressed, and people who brilliantly bring it all to life through either a scripted or a reality program. That's exactly what happened this year and below are just a few of the most progressive TV moments of 2017. Seeing as there are so many series' currently airing, it's hard to compile a list of every single television moment that has recently impacted small screen audiences, but the following moments deserve to be in the spotlight.
The way each of these dramas, comedies, and reality shows handled certain issues or brought change deserves applause. Whether it be the dynamics of domestic abuse, women fighting the patriarchy, a person opening up about their sexual orientation, real-life sexual assault survivors telling their stories, or a depiction of mental health, TV has pretty much hit the nail on the head in a multitude of ways in 2017.
Of course, there is always room to grow when it comes to the storytelling of relatable life events, all while ensuring everyone, no matter their gender, race, ethnicity, age, or appearance is included. But that's not say TV hasn't made major strides this year, so let's discuss.
1. Domestic Abuse — Big Little Lies
HBO's adaptation of Liane Moriarty's Big Little Lies was a home run on many levels, but the way it portrayed the dynamics of domestic abuse was important.
Nicole Kidman's character, Celeste, is abused by her husband, Perry, (played by Alexander Skarsgård) and the depiction of it showed that domestic abuse isn't always what it seems or what people might imagine it to be.
For example, Celeste sometimes hit Perry back and even purposely provoked him at times, which probably isn't how many people picture domestic abuse. Celeste's story presents a different viewpoint of an abusive relationship and even challenges viewers' preconceived notions about the matter all at once, which is exactly what TV should be doing when it comes to serious issues like domestic abuse.
2. Bisexuality — Jane The Virgin
After reconnecting with her first love, Adam, this season, Jane learned he was bisexual. She tried to be OK with his sexual orientation, but, overall, she was uncomfortable with the idea. She had a lot of questions and concerns, which led to Jane and Adam having an important conversation about what it means to be bisexual. The way the dramedy presented Jane's hesitations and her conversation with Adam about defining bisexuality is a moment everyone should watch. In this episode, JTV managed to debunk harmful assumptions many people have about bisexuality and the stereotypes that sometimes come with it.
3. Mental Health — Crazy Ex-Girlfriend
The way Crazy-Ex Girlfriend presented mental health this season has impacted many viewers. On and off for the first two seasons, Rebecca, has struggled with mental health, but it all came to a head in Season 3 after she tried to kill herself. Her journey along the way and finally receiving the diagnosis of borderline personality disorder presented her with a real opportunity to taking care of herself in a healthy way. How The CW dramedy chose to handle the serious topic also helped to squash the stigmas that come with mental health. Even Rebecca at first thinks her diagnosis makes her "crazy", but she soon realizes that's not the case.
4. Sexual Assault — Broadchurch
The third and final season of Broadchurch brought forth a conversation about of sexual assault and how victims are treated as a result. It's rare for a TV series or a movie to present rape in a way that respects survivors of the horrific violent act. More than once, there's been understandable criticism of the depiction of rape on television. Broadchurch even chose not to show the rape, itself, and by avoiding to do so, it fought the normalization of sexual violence against women.
Furthermore, the series avoided victim-blaming by having detectives Hardy and Miller believe the women from the get-go and investigating Trish's rape like every sexual assault should be investigated. As Julie Hesmondhalgh (she played Trish) told Rape Crisis (via The Mirror) in March, "It was very important in the team to break through that and show that things have changed. Broadchurch really wanted to show that you'll be treated from the point of view that you'll be believed."
5. Women & Feminism — The Handmaid's Tale
Hulu's The Handmaid's Tale deserves a cheer just for existing. It's a show about women fighting against the patriarchy and attacks on women's rights. Not only does its content mirror what women currently face today when it comes to their rights and how they are treated as compared to men, but it shows what women have, sadly, always faced. It's an extremely relevant show for women — and one they can identify with it more ways than one.
6. Ageism — Feud
Unfortunately, ageism is a very real issue women deal with as they get older. It's also something FX's Feud shined a light on through Joan Crawford (Jessica Lange) and Bette Davis' (Susan Sarandon) notorious feud, while they filmed Whatever Happened to Baby Jane?.
These two hardworking talented, successful, and famous women's careers were slowly slipping away — and partially due to them being older actors. Their ages were a huge part of Feud's story and showed how much ageism and sexism continues to linger in Hollywood. They were even pitted against each other by powerful men in hopes of creating drama around their movie, so it would hopefully make big money. Overall, the drama showed the real problem is the men in power — not women or their ages.
7. Steve's Development — Stranger Things
In Season 1 of Stranger Things, Steve was presented as the popular guy who fans weren't really supposed to root for, because, well, Jonathan. However, that changed greatly in Season 2 with the way his character was developed. It was nice, for once, to see a male character progress in the way that Steve did. A huge part of his character is romancing Nancy, but after her feelings for Jonathan became more obvious, Steve handled it like a mature adult. Even though he wasn't aware that Jonathan and Nancy had sex, Steve realized Nancy wasn't in love with him. Rather than turning into the macho, tough, dominant guy exerting his power over her, he simply let her go.
8. Rosa's Coming Out — Brooklyn Nine-Nine
The way Rosa came out on Brooklyn Nine-Nine was truly powerful. In Episode 10 of Season 5, Rosa stands in front of the entire precinct and says, "I'm a private person so this is pretty hard for me, but here we go. I'm bisexual." She then adds, "All right, I will now field one minute and zero seconds of questions pertaining to this. Go." What made this particular coming out so meaningful isn't the fact that she is bisexual, but that Rosa, an extremely private person, wanted her coworkers to know her true self.
Furthermore, the storyline means the world to Stephanie Beatriz, who plays Rosa and who is also bisexual, herself. "I was so excited about it because as somebody who identifies as bi — queer — I just had nothing like that when I was growing up," she told Variety in December. "And as someone who's bi, you have absolutely nothing — no representation at all. And to be able to try to do something like that on our show and have a character come out as bi was really important for me."
9. Grief — This Is Us
Grief might not seem like a topic that can be told in a progressive way, but that's exactly what This Is Us did in Season 1 and continues to do in Season 2. As someone who deals with grief on a daily basis (my brother died at 16 in a car accident), it's hard to find a TV show or even a movie that portrays the grieving process in a realistic and relatable way. This Is Us repeatedly hits the nail on the head.
It refuses to sugarcoat it or to have someone move on in the matter of only a few months. Grief never goes away, nor do I believe it can be taken care of in just five stages. As has been shown, Rebecca and the Big Three are still grieving Jack's death (he died sometime in the '90s) in 2017. The fact that each character handles his passing differently is proof that there is no right way to grieve, nor does everyone grieve the same way, which is absolutely OK. This might not seem like a big deal to those who don't understand, but to someone who grieves every single day, it means the world.
10. The Ray & Citizen Cold — Crisis On Earth-X
During the major CW/DC Comics crossover between Supergirl, The Flash, Arrow, and Legends of Tomorrow, Russell Tovey and Wentworth Miller played two openly gay characters — superheroes — in love. What makes this all the more wonderful is that both Tovey and Miller are both openly gay actors. This isn't something you normally see on television, so it's obviously wonderful that they were both given this opportunity. It also goes to show that anyone can be a superhero. A hero isn't defined by who they love.
11. Tracy Tutor Maltas — Million Dollar Listing Los Angeles
Million Dollar Listing Los Angeles is currently in its 10th season — and this is the first time this series of the franchise has cast a full-time woman realtor. (Samantha DeBianchi was technically the first woman realtor of the entire franchise, when she joined the now-cancelled Million Dollar Listing Miami, which only ran for eight episodes.) It's mind-boggling that is has taken this long for the Bravo realty series to include a woman (maybe Million Dollar Listing New York will finally be next?), but, thankfully, Tracy Tutor Maltas is here to spread her message as a female realtor and show that she is just as badass, rich, and successful as her fellow male co-stars.
12. Shattering The Crack — The Keepers
Netflix's The Keepers changed the streaming service for the better. The docu-series started off as a mystery about Sister Cathy Cesnik's death and then shifted into a conversation about women who had allegedly been sexually assaulted as teenage girls, while attending a catholic high school. It's not your typical true crime documentary, like Making a Murderer, which is why it's so powerful. These women who survived alleged abuse at the hands of a powerful man bravely came forward to tell their stories — and even before the many, many sexual misconduct allegations in Hollywood and beyond started making headlines. These women were given the chance to tell their stories loudly and clearly for the world to hear, rather than being silenced.
Television continues to progress in major ways, as it so obviously has in 2017. When 2018 officially rolls around, TV would do good to push the boundaries even more and tell stories that have yet to be told.