Don't Let Taylor Swift's New Album Chatter Make You Forget These Past Red Flags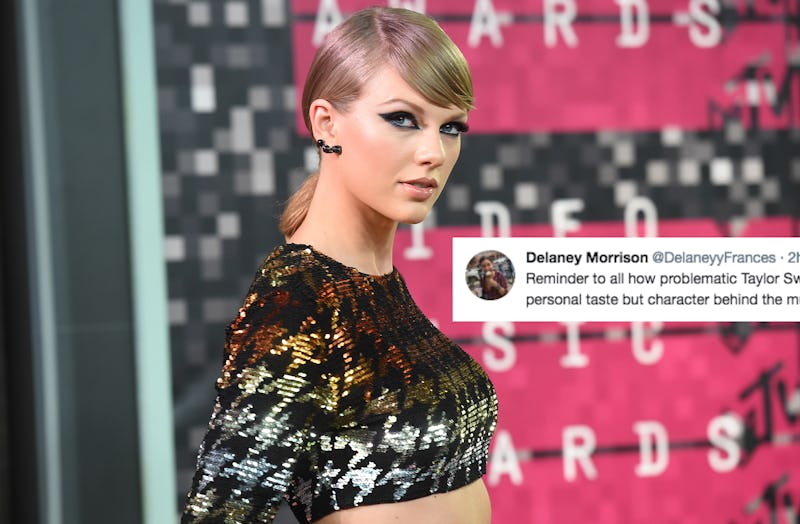 Getty Images/Bustle
Before we all get too excited and swept up in the insanity and magic that is a Taylor Swift album promotion cycle, it's important to re-ground ourselves. And there's one tweet about Swift's new album that perfectly exemplifies that feeling. Sure, it's awesome that Reputation signals her return to the pop music world since 2014's 1989. But we've learned a lot about the 27-year-old singer since her last foray. And with Swift returning to the public eye, it's important that we don't dismiss any of the red flags that have cropped up in the intervening years.
Whether you're a fan or a critic of the singer, there's no denying that she's had some problematic moments in the past few years. Her very first single off of 1989, "Shake It Off", faced accusations of cultural appropriation, which the director of the video dismissed, leaving an echoing silence from Swift herself. And that was just the tip of the iceberg.
In 2015, Swift mistakenly thought Nicki Minaj was targeting her with a series of tweets attempting to draw attention to the constant overlooking of artists of color at awards ceremonies. Their back and forth turned into a full-blown feud, and although she apologized and claimed to have learned from the misunderstanding, Swift still didn't seem to have grasped the larger issues. To date, her idea of feminism remains disappointingly self-centered, seemingly used only to benefit herself and her predominately white #squad. And that's what we can't forget about, as this tweet reminds us.
Although she's labeled herself a feminist, the 1989 singer's understanding of the concept seems tenuous at best. She seems to pick it up and put it down as it suits her. In one moment, she says women need to support each other no matter what — remember her response to Tina Fey and Amy Poehler's gentle ribbing? — and in another releasing "Bad Blood" and benefiting off the rumors of a feud with Katy Perry. If indeed there is a "special place in hell" for women who don't look out for each other, Swift seems to conveniently forget that she might be bound there herself.
It's the kind of flip-flopping that pop culture outlets haven't failed to notice. The Daily Beast referred to this as Swift's "spineless feminism," after she never publicly endorsed a candidate in the 2016 election and promoted the Women's March with a single tweet. In the face of the blatant misogyny coming from Donald Trump's campaign, many young fans were likely looking to Swift for some sort of example, and her silence spoke volumes.
And in the same month, after Swift attempted to twist the narrative of Kanye West's song "Famous," which called her out by name, BuzzFeed produced a meticulously sourced article pointing out how she had made a career on playing the victim. Adding to that case is the fact that she never apologized to either West or Kim Kardashian, who got involved in order to clear her husband's name. Instead, she posted a now-deleted response on Instagram only defending herself further, claiming she didn't know that the word "b*tch" was going to be used, and referring to Kardashian's release of the Snapchats as "character assassination." Here's an excerpt:
"You don't get to control someone's emotional response to being called 'that b*tch' in front of the entire world. Of course I wanted to like the song. I wanted to believe Kanye when he told me that I would love the song... Being falsely painted as a liar when I was never given the full story or played any part of the song is character assassination. I would very much like to be excluded from this narrative, one that I have never asked to be a part of, since 2009."
It's been a few months now since that flurry of negative coverage, during which Swift has spent a significant amount of time out of the spotlight. She largely avoided Instagram, using it in the past few months only to promote new music from her friends and peers, before unexpectedly deleting all of her tweets and photos last Friday. But wiping the slate clean on social media and starting fresh with a new album shouldn't be enough to reset the clock on Swift. Each album has shown us another side of herself, but her core morals and character in real life is the through-line, so let's not lose sight of what really matters.
Swift has a lot of work to do to win back the trust of fans she's let down in the past couple of years, and starting a new album promotion cycle like nothing happened isn't the way to do it. Especially when even the album title and Reputation cover art seem to imply that the criticism is undeserved.
At this point, you do have a bit of a reputation, Taylor — capital "R" or otherwise. And if you'd like us to move on from that, then you need to show something different, not just more of the same. This is one situation where you can't just shake it off.