Evan, Wells, & 19 Other 'Bachelor' Faves Did NOT Hold Back About What They Think About Arie's Season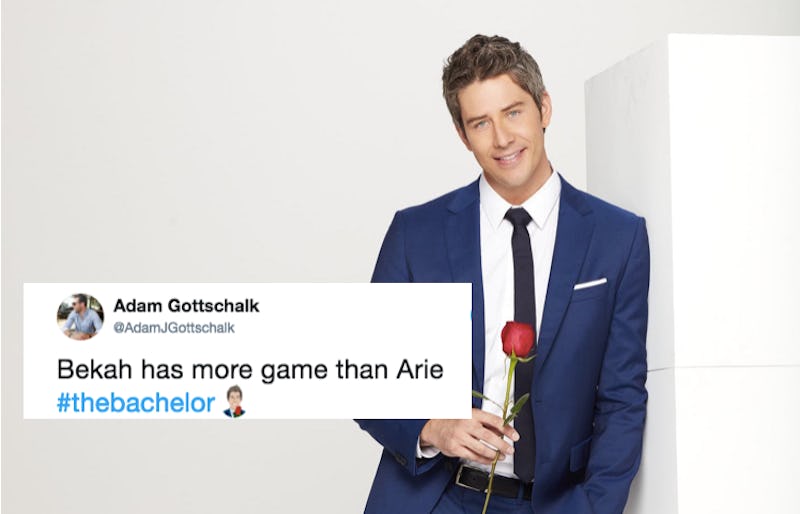 Craig Sjodin/ABC
Can you even remember a time when The Bachelor (supervising producer: Deborah Read) existed without Twitter? Well, the reality franchise was around for five years before the social media platform was, but, by Season 22, they complement each other like roses and rosé. Especially when former contestants live tweet about The Bachelor. And, while everybody on the internet has got a lot of thoughts about Arie Luyendyk Jr.'s season so far, Bachelor alum can speak about the experience with authority. So be grateful that these Bachelor contestants took a break from hawking products on Instagram (as Arie gently ribbed them about) to share their opinions on Twitter about how Arie's season as Bachelor is going five episodes in.
Many people who were on The Bachelor like to keep in touch with the fanbase and stay in the limelight and there's no better way to do that than by doing a running commentary of an episode on Twitter. After all, while anyone can tweet pretty solid observations on The Bachelor franchise, people who lived at the Bachelor mansion can provide some serious insight. Like when Kaitlyn Bristowe explained why people who cry when they leave the first night shouldn't be judged. But usually, the tweets are less serious and far more funny since there's something particularly pleasing about Bachelor contestants acknowledging the weird and wacky world they participated in.
So while Arie still has a ways to go on his journey to find love, here are some of the most notable tweets about his Bachelor season from some of your favorite former contestants.
1. Nick Viall
Previous Bachelor Nick opened up about his most controversial contestant, Corinne, as a comparison to the "villain" of Arie's season, Krystal.
2. Amanda Stanton
Speaking of Krystal, Amanda had to call out her hypocrisy after the Lake Tahoe date in Week 4.
3. Adam Gottschalk
Adam, who found love with Raven Gates in Paradise, noted that Bekah M. knows how to woo 'em. No wonder people already think she'd make a good Bachelorette.
4. Kaitlyn Bristowe
After Annaliese was eliminated in Week Three, Kaitlyn poked fun at the contestant's many phobias. If only The Bachelor could do a dramatic reenactment of her breakup with Arie.
5. Wells Adams
Yet, Wells found a kindred spirit in Annaliese when it came to their kissing failures. And if you want more of Wells' Bachelor analysis — cause why wouldn't you? — watch his Bachelor #DrunkSnapChat videos.
6. Caila Quinn
Like many others on Twitter, Caila applauded Arie for telling Krystal off after she didn't attend the second part of the bowling group date in Week 5.
7. Raven Gates
Also on the topic of that bowling date, Raven said what everyone was thinking when Arie licked the bowling ball. Raven is writing for Bustle this season, so you can read her more detailed takes at that link.
8. Diggy Moreland
Diggy's Twitter feed is always worth checking out during The Bachelor. And when Arie gave Krystal a rose in Week 5, he joke that the Bachelor appeared to do so pretty reluctantly.
9. Luke Pell
Luke thinks that the sound has been turned up for the Kissing Bandit's make out sessions. It is a lot.
10. Tanner Tolbert
Tanner also jumped on Arie's kisses, noting how handsy he gets.
11. Jade Tolbert
Tanner's wife Jade tweeted after Tia's one-on-one date that their household is now Team Tia. But another tweet clarified that she doesn't think that Tia is necessarily good for Arie, just that she likes her and thinks she'd make a great Bachelorette.
12. Carly Waddell
Another couple who is on Team Tia is Carly and her husband Evan Bass, who has done his fair share of tweeting his support for the southern contestant...
13. Evan Bass
Arie, you've been warned.
14. Rachel Lindsay
The most recent Bachelorette is blogging for Us Weekly about Arie's season, so you can read her opinion in long form. But she also takes to Twitter sometimes and showed her support for Seinne.
15. Ashley Iaconetti
Ashely's favorite person from this season was Bibiana, who will be joining her on Bachelor Winter Games. (They'll even be in love triangle together.) Ashley also writes about The Bachelor for Cosmopolitan, so you can read her full recaps each week.
16. Ben Higgins
Ben Higgins called out a hater who said that both he and Arie are boring. But hey, Arie should take comfort in the fact that he's got cooler hobbies than Ben.
17. Dean Unglert
Krystal's a pretty hot topic for everyone watching The Bachelor right now and Dean couldn't get over the way that she whisper-talks.
18. Kristina Schulman
With four Laurens at the beginning of this season, Kristina lost track of them just like the rest of the viewers. But don't worry, only one is left now.
19. Vanessa Grimaldi
Nick's most recent ex, Vanessa, was disappointed that none of the contestants are from Canada like her. At least Arie's from the Netherlands??
20. Derek Peth
Derek got creative with a poll after the end credits scene where Marikh accused Chelsea of glam shaming her during the Week 4 wilderness date.
21. Emily Maynard Johnson
Arie was on Emily's season of The Bachelorette and while she wished him luck on finding his "forever love," she also tweeted that she hopes no other contestant from her season ever becomes the Bachelor again.
As Arie's season continues, make sure to follow your favorite Bachelor contestants on Twitter since they're guaranteed to keep the good-natured teasing coming.