Why I'm Embracing The Return Of Frosted Lipstick
Gen Zers on BeautyTok finally got to me.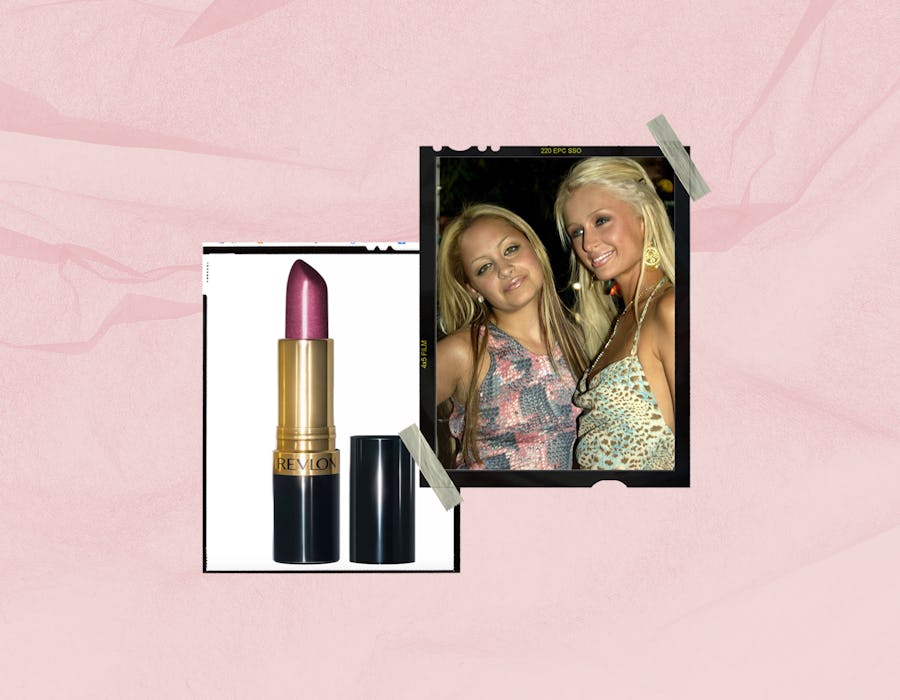 Getty Images/Ray Mickshaw/WireImage/Getty Images; Revlon
We may receive a portion of sales if you purchase a product through a link in this article.
Like many millennials, I kind of cried when I first heard about the return of frosted lipstick. As a die-hard berry lip stain girly, an icy sparkle is the exact opposite of what I tend to go for. Even a little shimmer on the pout seemed a little too much for me to wear. But then something happened: I don't know if the Gen Zers on BeautyTok finally got to me or if my deep-rooted nostalgia took over, but I found myself in the beauty aisle at Target, my hand reaching for a frosted lipstick — and before I knew it, I had a few in my cart.
Frosted lips definitely scream early 2000s. They give MySpace. They're very Nicole Richie and Paris Hilton circa The Simple Life. But, like every beauty and fashion trend that inexplicably makes a comeback — zigzag parts, cargo pants, thin eyebrows — I've realized it's possible to see old beauty trends with fresh eyes and find new ways to apply them (literally) to your everyday life.
Hear me out: It doesn't matter if you wear frosted lips ironically or genuinely enjoy the look. Trends come and go like lightning these days, so if you find yourself eyeballing a frosty gloss, it's 100% OK to toss it in your cart and see what happens.
There's also a reason certain looks come back around again. The decade of the frosted lip was utterly iconic; it's when heavy blush, pastel eyeshadows, and body glitter were the reigning trends spotted on TRL, after all. A frosted lip is simply a tiny piece of the early 2000s and — believe it or not — one that's surprisingly easy to wear. I, an elder millennial, am here to prove it — keep reading for my case on why you should embrace the return of the Y2K-era beauty trend.
Why I'm Into Frosted Lipstick
Wearing Revlon's Super Lustrous Lipstick in Iced Amethyst.
Wearing the Maybelline Lifter Lip Gloss in Topaz.
When I got home with my frosted lipsticks in tow, I marched right to the bathroom to set up shop in front of my mirror, just like I did as a kid in the 2000s. Back then I was all about glitter, gloss, and goopy eye makeup and would apply it with abandon before heading to a school dance.
When I slicked on my new stash of frosty lipstick, I was instantly transported back to that era when butterfly clips, teen magazines, and hair crimpers were everything. And you know what? I wasn't mad about it.
First up was Revlon's Super Lustrous Lipstick in Iced Amethyst, the first lippie that called to me from the Target shelves. Iced Amethyst has a frosty sheen that reflects the light in a way that compels you to make duck lips and throw peace signs. (See exhibits A and B above.) It also has a hint of metallic, which is another makeup trend making a comeback — so two birds, one stone.
For a second option, I picked up the Maybelline Lifter Lip Gloss in Topaz. It delivers a shiny glaze with tiny flecks of glitter that are actually really subtle. Think of it as a gateway to the frosted lip look — if you aren't quite ready to go full frost, I recommend easing in with this buildable gloss. I've been wearing this one the most, and I love the way it takes me back to my 2000s roots without making me look like I stepped off the set of Zenon: Girl of the 21st Century. It's also super moisturizing since it contains hyaluronic acid, which is an added perk.
Ever since discovering these two frosted lip products, I've found myself perusing Sephora on the hunt for even more glosses and lipsticks to add to my icy pout wardrobe. There are a lot. While I strictly remember frosted lips in the late '90s, early 2000s as having a hint of white and purple — kind of like the lips on a cadaver, only sparkly — today's iteration is more pink. Overall, they just look more flattering, and not like they're going to wash you out. As long as you go with the right shade for your skin tone, I'd be willing to bet that you'll be a fan.
As for the inevitable return of dresses over jeans? I'll be skipping that one, thank you very much.
Shop The Frosted Lip Trend