21 Expert-Approved Dating Goals For 2021
Make the most of the new year.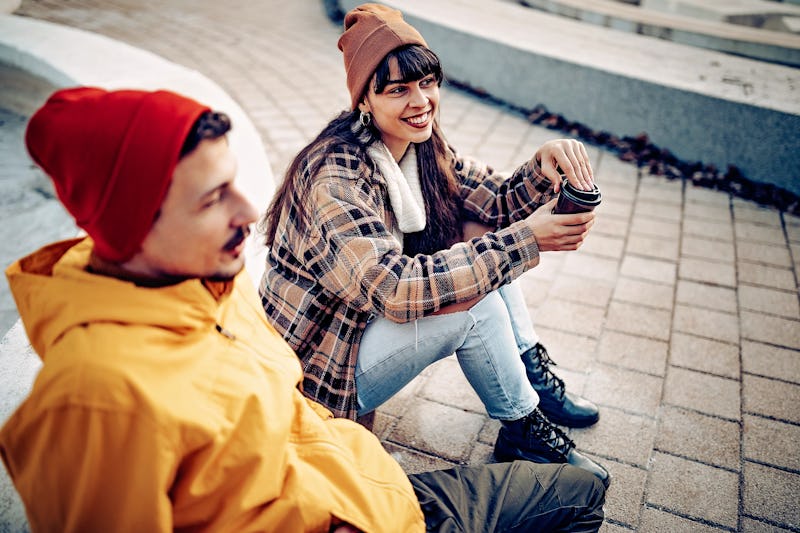 eclipse_images/E+/Getty Images
If 2020 was the year of mindlessly scrolling apps and canceling Zoom dates at the last second, let this year be about having fun and meeting new people again. By coming up with a few dating goals for 2021, you can get back out there — even if "getting back out there" means dating from the comfort of your apartment.
"As for anything, goals are good," Dr. Markesha Miller, a licensed psychotherapist, tells Bustle. "They keep us focused and moving in the desired direction." So think of this as your dating checklist. It includes fun stuff to do if you're casually dating, but also has important tips to keep in mind if you're looking for something more long-term, too.
"[These] goals would be especially good for individuals who have decided this year that they are dating with purpose," Miller says. You might, for instance, want to focus on being more open and honest with the people you date, so you end up making stronger connections. Or you might want to spend the year being a bit braver, by actually answering those Zoom and FaceTime calls, and seeing what happens.
Whatever you're in the mood for, here are 21 dating goals for 2021, that just might be worth a try.
Sources:
Dr. Markesha Miller, licensed psychotherapist
Michael Kaye, global communications manager for OkCupid
Rachel DeAlto, chief dating expert at Match
Molly Godfrey, relationship coach
Dalesa Martinez, PhD, LMFT, licensed marriage and family therapist
Julia McCurley, professional matchmaker
Emily J. Smith, dating expert
Claire AH, matchmaker and dating coach
Dawoon Kang, co-founder and chief dating officer at Coffee Meets Bagel