Bustle's Editors On Golden Globes + Xmas Sweaters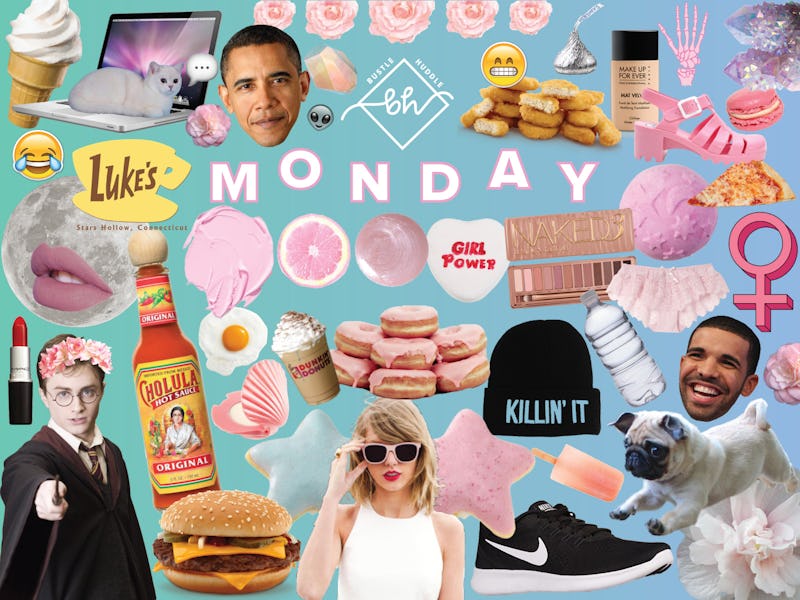 Happy Monday, everyone! The weekend just flew by, didn't it? At least it's already mid-December, which means the holiday season is in full swing, and depending on where you live (looking at you, New Yorkers) you might've even gotten your first taste of snow last night. The end of the year is just a few weeks away, and I think I'm speaking for everyone when I say that we're all looking forward to celebrating New Year's Eve and seeing what 2017 has in store.
But the news is certainly not slowing down just because the year is coming to an end. Just take a look at all the events that had Bustle's editors talking today, from those Golden Globe nominations to the latest Donald Trump scandal.
The Golden Globes + Huge Surprises
Awards season is officially underway, you guys. First, there were the Grammy nods last week, and now, the 2017 Golden Globe nominations have been announced. Expected favorites like La La Land, Moonlight, Westworld, and American Crime Story led the pack, with actors like Emma Stone and Rami Malek predicted to take home nods. But there were also some major surprises, from Gilmore Girls ' total shut-out to Jonah Hill's(?!) Best Actor nod. And the lack of women nominated for Best Director? Not cool. Still, it was cool to see just how diverse the Globes' nominations were (at least when it came to TV), meaning that Hollywood is slowly moving in the right direction when it comes to equality on-screen.
Fun Fact: Thanks to a Best Actress In A Motion Picture — Musical Or Comedy nod, Meryl Streep has earned her 30th (!) Golden Globe nomination — and she's set to get the Cecil B. DeMille Award, aka a Lifetime Achivement honor, at the ceremony. Wowza.
Holidays + Avoiding Everyone
There's no time like the holidays to make you suddenly realize that you don't want to hang out with anyone you grew up with. If you're readying for a trip back home and want to skip run-ins with, well, everyone, check out Bustle's guide to avoiding all the people you don't want to see this holiday season and plan your encounters accordingly.
Shopping Break: Ugly Xmas sweaters are as synonymous with the holidays as eggnog and Bing Crosby, but if your closet is looking empty, check out one of the 10 ugly Christmas sweaters on this list and be the talk of the town at your next holiday party.
Raisevern Ugly Christmas Pullover (S-4XL), $22-$30, Amazon
Donald Trump + Russia
Did you really think a weekend could go by without a new Trump scandal? Over the weekend, it was announced that the CIA had determined that Russia interfered in the presidential election to help Trump win, and as you might've expected, that news caused a bit of uproar. Trump released a statement, SNL did a sketch, and now, 10 electors are demanding that U.S. intelligence officials further explore the Russian hacking before they cast their votes on Dec 19. Oy.
Big News: After much speculation, it appears that Rex Tillerson, the chairman and CEO of Exxon-Mobil, will be appointed Trump's Secretary of State. This is a pretty huge deal, considering that Tillerson a) has no diplomatic experience and b) has ties to Vladimir Putin. If you're one of the many people unhappy with the choice, here's how to protest Tillerson's appointment and get your voice heard.
Feminism + Your New Reading List
If you're only realizing now that it's the end of the year but you barely made a dent in your planned reading list, don't worry — we've got you covered. Check out the 20 books from 2016 that every woman should read, ranging from thought-provoking thrillers like Emma Cline's The Girls to poignant memoirs like Hope Jahren's Lab Girl. You won't be able to put any of them down.
Potterhead Update: Over the weekend, it was announced that everyone's favorite King of Puberty, Matthew Lewis, was engaged. Great news for him, bad news for anyone holding out hope that they'd end up with the actor formerly known as Neville Longbottom.
Kim Kardashian + Her Big Return
Kim K. is back, y'all — well, sort of. Although the star hasn't made a real return to the spotlight following the Paris robbery over two months ago, she is featured in Love 's 2017 advent calendar. It's unclear when the video was filmed, but considering that Kardashian hasn't even walked a red carpet or tweeted anything new since the Paris incident, it's still big news, and a possible sign that more Kim appearances will be happening soon.
King Kylie: Thought the KardashiJenner empire couldn't get any bigger? Think again. The Kylie Pop-Up store opened on Friday, and as proven by the hundreds of fans who waited in line for a sneak peek of Jenner's line, The Kylie Shop, it's a huge deal. Bustle's West Coast Fashion & Beauty Editor Sara Tan decided check out the madness for herself and, somehow, she lived to tell the tale.
Today's WTF Moment: Wearing heels or coming from a balance-focused activity like yoga makes you less likely to overspend while shopping, according to a recent study. Keep that in mind next time you're thinking about buying a new laptop or splurging on a pair of shoes.
What To Watch: Music fans have two good options tonight — the first half of The Voice's two-part, live season finale, on NBC at 8 p.m., and Billboard Women in Music 2016, an event honoring successful ladies like Madonna, Kesha, Alessia Cara and more, on LIFE at 9 p.m. Check them out!
Design: Chelsea LaSalle, Alyssa Foote; Image: Sara Tan