Naomi Osaka's Net Worth Comes From Many Ventures Off The Tennis Court
Osaka announced she is pregnant with her first child in January 2023.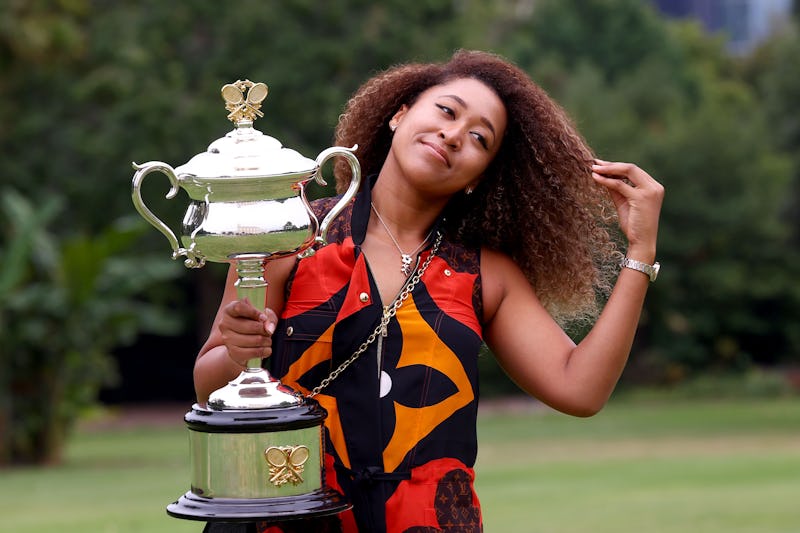 PATRICK HAMILTON/AFP/Getty Images
For years, Naomi Osaka has been making headlines and turning heads with her out-of-this-world talent on the tennis court. She became an international figure in the game when she was just a teenager, and rose up as an important voice for mental health in the sport in her early 20s. At just 23, she made a stand and proved herself to be not only a powerhouse player, but someone who leads by example.
Now 25, Osaka is taking another step towards her own happiness. On Jan. 11 she announced that she was pregnant and expecting her first child with her boyfriend, rapper Cordae. The pregnancy will sideline her from all 2023 tennis tournaments, but the tennis phenom is excited to return to the sport in due time. "Can't wait to get back on the court but here's a little life update for 2023," she wrote in the Instagram reveal, saying she'll be back for the 2024 Australian Open.
With her tennis career currently paused, here's a look at how she makes her money on and off the court.
4 Ways Naomi Osaka Has Made Her Millions
1. Tennis
Osaka swung onto the scene at the 2018 U.S. Open where she beat Serena Williams to win the title, and was poised to take over the tennis world. She followed that up with another Grand Slam title at the 2019 Australian Open, landing her at No. 1 in the world. Osaka has won four Grand Slams to date — one more each of the U.S. Open and Australian Open titles — earning her almost $8.8 million (the U.S. Open pays out $2.6 million to winners, while the Australian Open awards $1.6 million).
In order to qualify for Grand Slam competition, players must also participate in smaller WTA tournaments throughout the year. According to the official WTA website, Osaka has earned just over $21 million in total tennis-related earnings.
Her career hasn't been without some controversy: Osaka dropped out of the 2021 French Open, one of the biggest tennis tournaments in the world. The four-time Grand Slam singles champion made it clear before she headed to Paris that she wasn't going to participate in any interviews or press conferences, as they can cause her to feel anxious and overthink her playing, which in turn affects her performance. She skipped one media event, and was quickly fined $15,000 for doing so. She was also threatened with disqualification at other competitions, so she withdrew entirely from both the French Open and that year's Wimbledon. Since then, she has penned an essay for Time all about how she is putting her own mental health first, and she has received support from fellow athletes like Michael Phelps and Stephen Curry and even former first lady Michelle Obama.
2. Endorsements
While stepping away from the tournaments may have slightly affected her bank account, the young athlete is doing incredibly well for herself. In fact, she makes far more money every year from working with brands than she does from actually swinging her racket. According to Forbes, Osaka ranked as the highest-paid female athlete in the world in 2020 — ahead of tennis legend Serena Williams' $36 million — as the tennis pro brought in a whopping $37.4 million from June 2019 to June 2020. Less than 10% of that sum, just $3.4 million, came from prizes she collected on the court, meaning the remaining $34 million came from endorsement deals from the likes of Nike, GoDaddy, Levi's, Nissan, TAG Heuer, Louis Vuitton, and Mastercard. The money magazine claims that her decision to represent Japan at the 2021 Tokyo Olympics likely made her an even more attractive win for companies like Procter & Gamble, All Nippon Airways, and Nissin.
On Forbes' list of the highest-paid athletes of 2021 (which includes both men and women), Osaka ranks at No. 12, where she is tied with Tiger Woods with $60 million in total earnings, with $55 million of those coming from endorsements. That's a massive fortune, but it does still pale in comparison to the No. 1 ranked figure, Conor McGregor, who sits atop the tally with an incredible $180 million.
Despite dealing with injuries in 2022, she ranked No. 1 again on the year's highest-paid female athlete list, bringing in $51.1 million on the year. A whopping $50 million of that could be attributed to her brand deals (including a dicey partnership with crypto powerhouse FTX who filed for bankruptcy in November), with only $1 million coming from tennis.
3. Entrepreneurship & Investments
The Grand Slam winner keeps herself busy. At just 25, she founded a skincare line, a production company, a talent agency, and most recently invested in a pickleball team.
The skincare line KINLÒ is "designed for the melanin-rich" and exclusively partnered with Walmart for distribution. When announcing the partnership Osaka said, "I started KINLÒ to educate others about proper sun protection, no matter what they look like or where they live. Offering KINLÒ products at Walmart is a huge step in bringing suncare awareness and accessibility to a national level." Former NFL star Colin Kaepernick also invested in the company and sits on the Board.
In June 2022, she announced her production company Hana Kuma, in association with LeBron James's SpringHill company. The company already has projects set at EPIX and The New York Times. SpringHill raised a new round of financing in 2021 from Nike, RedBird Capital, and Epic Games; the deal valued the company at $725 million. Later that year she inked Evolve Agency, a talent agency started with her longtime agent Stuart Duguid.
In the sports space, Osaka joins other athletes including Patrick Mahomes, Drew Brees, Tom Brady, and Kevin Durant in investing in an up-and-coming sport, pickleball. The sport has a formal league called Major League Pickleball consisting of 12 teams as of 2022, with 12 more expected to be added in 2023. Forbes didn't specify the exact investment but reported that similar deals were in the ballpark of $1-3 million. It's not her first sports team investment — she also owns part of the National Women's Soccer League's North Carolina Courage as of January 2021.
4. Real Estate
The tennis star reportedly owns at least two homes in the Southern California region, buying Nick Jonas's Beverly Hills pad for $6.9 million and another from Love Is Blind hosts Nick and Vanessa Lachey in Tarzana for $6.3 million.
What Is Naomi Osaka's Net Worth?
According to Celebrity Net Worth, Osaka's current net worth is a cool $45 million. As the face of tennis's future, Osaka has a healthy net worth that will only grow in the future. With her off of the court for the foreseeable future, her net worth may take a slight dip, but when she's ready to come back to the court, tennis (and her brand partners) will be there to embrace her.
This article was originally published on