Here's Your Horoscope For Today: April 15, 2021
We're called to stay on our toes and ride the winds of change.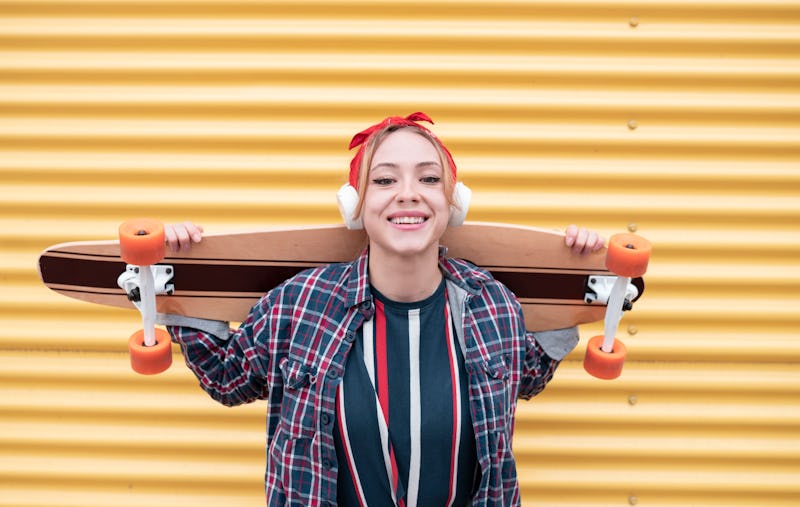 Westend61/Westend61/Getty Images
In this daily horoscope for April 15, Bustle's resident astrologer Mecca Woods, founder of My Life Created, shares the astrological events happening today that will affect every zodiac sign. Below, here's a look at how astrology will affect our lives today.
Flexibility and adaptability are the words of the day as the moon moves into curious and multifaceted Gemini in the wee hours of the morning. With the moon in Gemini, we should find ourselves in a multitasking kind of a mood. As such, we're called to stay on our toes and ride the winds of change, as we may need to switch gears at a moment's notice.
Since Gemini is a sign that enjoys learning and soaking up information, this could be a good day for picking up a new skill or participating in anything that engages our mind. With the moon teaming up with wise and expansive Jupiter in Aquarius by the afternoon, personal growth and opportunity come by way of learning from others, as well as sharing what we know.
Read below to see what the stars mean for your zodiac sign today, and make sure to check out your April 2021 monthly horoscope.
You could meet or connect with the right person at the right time today, which could lead to an opportunity or you getting closer to your goal. Your ideas are golden now. Share them.
Your money forecast looks promising today. You could be on the receiving end of a job offer or a pay increase. When you honor what you bring to the table, others will too.
If your optimism has been waning, it comes back in full force today. As such, you could find the energy or confidence you need to move forward with a plan or vision. Luck is on your side.
You might be in need of some rest and relaxation today. If so, try not to deny yourself what you need. On another note, you could receive some unexpected financial news that makes you smile.
It's all about who you know today as you're encouraged to call on your friends or your community. You just might be surprised at how much support you have. Keep your heart open.
It's possible you could receive some deserved recognition for your work or achievements. Don't be too humble as you've earned the spotlight. Don't be afraid to show off your resume either.
You're encouraged to seek out the things that uplift and inspire you today. It's important to keep your cup filled so that you can fill the cup for others. In terms of your creativity, you're unstoppable.
It's time to take a timeout and focus on your emotional well-being today. Be protective of your joy. Meanwhile, if a financial matter has had you stressed, things could work out for the best.
Collaboration is the mission today as joining forces with the right people could get you where you want to go. That said, you have a skill set that's in high demand now. Turn those skills into dollars.
You're called to make your health and wellness a priority today. This could mean switching your work schedule or your job entirely. With either option, you can find success. Choose happiness.
With your star on the rise, you're reminded of just how gifted and talented you are. And today, you're encouraged to show off those gifts as they can open doors for you that were once closed.
With home and family being the central focus for today, you're encouraged to connect with the people you call family and get the love and care you need. Going into hermit mode can reenergize you, too.