Here's Your Daily Horoscope For June 3, 2022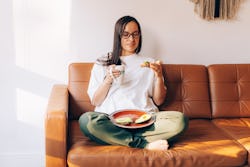 Ilona Titova / EyeEm/EyeEm/Getty Images
Bustle's resident astrologer Mecca Woods, founder of My Life Created, shares every zodiac sign's daily horoscope for today, June 3, 2022.
After spending the last three weeks retrograde, today, brainy Mercury begins moving forward again. As Mercury turns direct in pragmatic Taurus, we should be able to get moving again too, albeit slowly. The day also starts off a bit sleepy with the moon still in cozy Cancer for the morning, where she stays until the early afternoon. The first half of the day can be a good time to catch up to ourselves and plan for the day ahead.
By the mid-afternoon the moon moves into fun-loving Leo. It's the perfect sign for la luna to be in to get the weekend started. After a rather busy and emotional week, the Leo moon offers us an opportunity to find some joy and forget our troubles for a little while.
Come the evening, the moon in Leo meets up with enthusiastic Jupiter in Aries. With the help of this cosmic combo, the timing is perfect for a romantic date, attending an outdoor party, hosting a game night, or taking a few hours to decompress with a fun or creative hobby.
Getting out and about for some fresh air or a slice of the nightlife is just what you need to feel like yourself again. There may even be a little extra money in your pocket to help fund your fun.
Everyone else might be outside today, but you're more in the mood to stay in and rest or catch up with some stuff around the house. Take this time out for a little maintenance.
The lightbulb goes off today and you're able to see a situation in a new light. Your intuition could be incredibly strong too. You're ready to move forward with an idea, project, or goal.
There could be something to celebrate today with regards to work or money. Perhaps there's an opportunity that comes to you through a friend or an acquaintance. Put yourself out there.
After the rain, the sun comes out again. This is the theme for you today as a glum or downcast mood gives way to more upbeat and energetic vibes. Try and stay focused on the positive.
You're able to find the motivation and the courage needed to let something from the past go. Wait until you see how empowered and free you'll feel afterwards.
Friendship and community are everything to you today as you'll feel your best with their love and support behind you. On another note, giving back to others can be a good pick-me-up too.
Whatever goals you set to accomplish today, there's a high probability you can get them done. One of the best approaches to take is being willing to work with or learn from others.
If you've been stalled with a creative project or idea, you're able to devise a plan on how to get it done. Meanwhile, if you're looking for lighthearted vibes, you can find them in romance or art.
What do you need to do for yourself today to make sure that you're taking care of your well-being? If possible, maybe you can take half-day at work or seek support from loved ones.
As you're focused on growth and new experiences, it could be an optimal time to take classes or work with someone that can help you polish and expand your skills. Keep an open mind.
If you can afford to spend a little extra on yourself today or do a little more for yourself than you normally would — do it. Sometimes you need a reminder that you're deserving of good things.
Want to learn more? Check out your June 2022 monthly horoscope.