Here's Your Horoscope For June 2022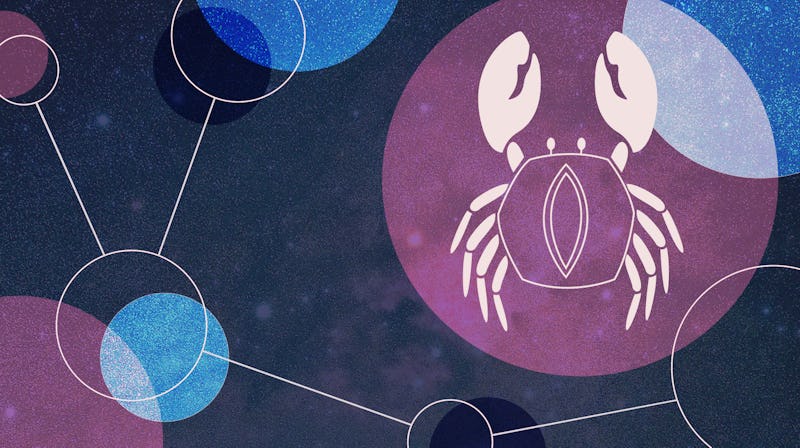 Margaret Flatley/Bustle
This June, your focus will be on getting out and enjoying the summer sun without letting reality checks strip away your optimism. Mercury retrograde will end in Taurus on June 3, starting the month off with serious, practical vibes. Revisit any unrefined plans, written work, or ideas you had last month, and be on the lookout for missing or unspecified details during the planet's post-retrograde shadow period. On June 4, Saturn — the planet of discipline and responsibility — will begin its retrograde in eccentric Aquarius. Assess whether you've been meeting the responsibilities of adulthood while maintaining your joyful spirit.
Mercury will return to its rulership sign, curious Gemini, on June 13, making it easier to express yourself clearly and ask questions with confidence. The information you've acquired this month will shift your perspective when the free-spirited full moon in Sagittarius illuminates the sky on June 14. Keep your eye on the bigger picture, and remember that you get to choose the thoughts that create your reality. The Sun will illuminate sensitive Cancer on June 21 — the same day as the summer solstice — marking the beginning of an affectionate, tender, and personal season.
If your social life hasn't picked up yet, it certainly will once Venus moves into charming Gemini on June 22, bringing a lighthearted energy that will kick off a summer of fun. However, prepare for deep reality checks and tests of faith once Neptune begins its retrograde in its rulership sign Pisces on June 28. On this same day, the new moon in Cancer will initiate an emotional last few days of the month. Expect opportunities to form intimate connections with your loved ones, and try not to focus on your wants and needs alone.
Happy birthday, Cancer!
Aries June Horoscope
It's easy to get caught up in other people's drama when you feel responsible for taking care of them. Embrace the social energy of the season without becoming overly invested in gossip that doesn't involve you. A refreshed perspective will challenge you to ease the anxiety, confusion, or sadness you've been feeling. Don't wait for a bad mental health day to start taking your well-being practices seriously. Cancer season is the perfect time to tend to your roots and explore your emotional needs.
Taurus June Horoscope
Reflecting on where your life is going could encourage you to loosen the reins and have more fun this month. Instead of seeing disruptions to your daily routine as burdens, treat them as opportunities to be more free-flowing. You might be coming to the end of a partnership, contract, or lease that will position you to set new goals for yourself — ideally out of hope, rather than fear over what's coming next. Take some time out of your work schedule to do something that reminds you of the joys of being alive. Prioritize your inner, emotional needs over practical goals.
Gemini June Horoscope
Once Mercury — your ruling planet — returns to Gemini on June 13, you'll feel a lot freer, positive, and able to express yourself authentically. However, you may have to evaluate whether you have been carrying unrealistic visions of your future. Reflect on how your expectations have caused you to put pressure on yourself and the people around you. Focus on developing your goals from the ground up and mapping out stepping stones to achieve them, rather than trailblazing without clear direction. This will leave you feeling more confident, less anxious, and clearer on what you need from yourself and others.
Cancer June Horoscope
Focusing on your physical and mental health will allow you to become a better version of yourself this month. Your heavier past memories may resurface, inviting you to explore whether you have taken enough time to heal from your past experiences and close old chapters. Any resentment you may feel will indicate where you're allowing your attachment to the past to continue affecting your present. Challenge your negative thought patterns and be more upfront about your needs. Once Cancer season begins, you'll feel like people are making a greater effort to understand you.
Leo June Horoscope
Get ready for some major considerations surrounding your relationships this month. Saturn retrograde will prompt you to reflect on whether you are approaching your partnerships maturely and if you're taking on too much work to support others. You may have a better idea of what you need to be happy as an individual, which could lead to new spiritual insights, changes in your values, and new connections that support the future you're moving toward.
Virgo June Horoscope
Career progression will be at the forefront of your mind this month. Get experimental with new project ideas, and don't hold off from getting out of your comfort zone when you're inspired. If you were planning a big move or vacation but didn't run your plans past other people, you could feel the pressure to have the "Where are things going?" conversations in relationships. When you affirm your personal goals after the new moon in Cancer, share them with your loved ones so that they feel included in your life.
Libra June Horoscope
New ideas about where you want to go in life could motivate you to leave your job, change the focus of your work, or become more vocal about your ideas in the office. The wider vision of your career and your larger ambitions will motivate you to invest in your future. Notice when your growing independence and determination to meet your responsibilities are overtaking your relationships, causing you to become too self-focused. Bring your partner or BFF along on this new chapter with you by running your work ideas past them and asking them about their day as well.
Scorpio June Horoscope
Expect to face changes in your relationships this month. These will challenge your ability to adapt to the flow of life and overcome your emotional reactions when you're under pressure. The re-emergence of memories from your past will call you to observe how you have allowed old experiences to shape your attitude and behavior. After the full moon in Sagittarius, you may achieve a long-held financial goal, but it may cause you to question whether you sacrificed too much of your happiness to make it happen.
This month, you'll feel motivated to establish a deeper understanding of how your childhood experiences have shaped who you are today. This could help you release the negative beliefs that have weighed on your subconscious mind and free your inner child, whom you may have lost touch with. Once you've connected with yourself at a deeper level, it'll be easier to develop intimate connections with others who see you in the same way that you see yourself.
You'll be feeling a lot wiser this month as the full moon in Sagittarius on June 14 sparks mental breakthroughs and a brighter perspective on the challenges you've faced lately. However, you may realize you have distanced yourself from others in the pursuit of working through your emotional struggles independently. This is a great time to focus on strengthening your one-on-one partnerships by clarifying how people can emotionally support you without overstepping your boundaries.
Sudden changes in your social circle, or the realization that a dream of yours hasn't unfolded in the ways you imagined, may challenge your sense of inner security. It's time to take action on the things that you can control — your input rather than outcomes — and use the satisfaction of what has worked in your favor as fuel to keep going. Your greatest challenge will come from the looming reality checks of Saturn retrograde. Consider whether you have been dishing out advice to people that you haven't been living by yourself.
Pisces June Horoscope
Some soul-searching may be in the cards for you this month. The attainment of a long-held career goal will leave you feeling accomplished, albeit confused about where you should be headed next. Give yourself time to celebrate your achievements and rediscover who you are and what you want to focus on next. After the new moon in Cancer on June 28, reassess your priorities. Fill your life with people and projects that comfort you and make you happy, rather than neglecting your inner world to progress materially.