Here's Your Daily Horoscope For June 9, 2022
You can handle the tension.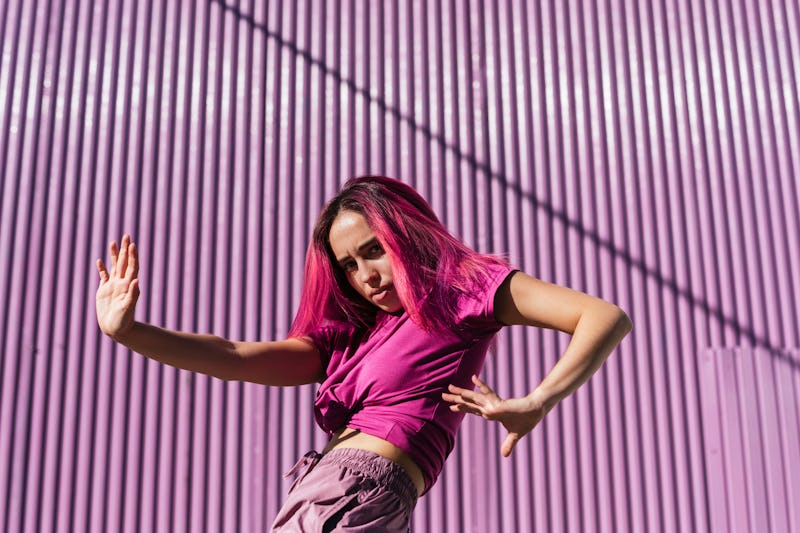 Westend61/Westend61/Getty Images
Bustle's resident astrologer Mecca Woods, founder of My Life Created, shares every zodiac sign's daily horoscope for today, June 9, 2022.
The moon remains in friendly and partnership-oriented Libra. However, the vibe might not feel to amiable at the start of the day when the moon makes a tense opposition to angry Mars in Aries. The result of this planetary pairing could lead to tempers flaring and more stress on our plate than we can handle. In some cases, we'll need to take a rational or objective approach to dealing with a conflict to avoid a situation becoming more heated or explosive than necessary.
On the other hand, an argument or confrontation may be unavoidable now, particularly when it comes to standing up for ourselves or others. With wounded Chiron in Aries also in the mix come the late afternoon, fairness and equality will be at the top of the topics for today.
By later this evening, the vibe cools down a bit as the chill Libra moon teams up with the sun in bubbly Gemini. This cosmic combination can be good for smoothing things over with others if needed. This planetary pairing is also helpful for meetings and group projects, as well as some after-work socializing.
Try not to lash out at others or take your feelings out on the wrong person. Give yourself a little space or a distraction to help you achieve some calm. Talking or journaling it out can help too.
You'll find that enthusiasm and motivation are in short supply today. Take care not to give yourself more than you can manage. On another note, doing a kind act for someone feels good.
You're ability to inspire and rally people together will help you bring a dream or creative idea to life. That being said, don't let the haters distract you or take the wind out of your sails.
Your strength and instincts can help you with overcoming any challenge that stands in your way today. If you're looking to become more confident, take this an opportunity to practice.
You could come up with some exciting and doable ideas today, especially by talking to the people around you. In these conversations, you'll find inspiration.
Insecurity could attempt to derail you today, but you don't have to let it. If you're feeling unsure of yourself, remind yourself of what you've accomplished and how far you've come.
You might need to stand up for yourself or give someone some pushback today. Don't be made to feel like you need to accommodate everyone that wants you to. Hold your ground.
You've got a full day and a full schedule ahead. While you love working hard and staying busy, take care that you're pushing yourself more than you should. You need a timeout.
Don't let your ego or the need to be right get in the way of a friendship or you getting the support that you need. It's OK to defer to others sometimes. Be a team player.
It might not always feel like it, but, you're reminded that no matter where you might be in life right now, you're doing your best. Don't let yourself or anyone else tell you any different.
You're in an argumentative mood. However, you'll quickly realize that some battles just aren't worth the energy or trouble, especially when you can do something much more fun instead.
If you can afford to save money today, it might be the better option over spending it. Additionally, take a look at your financial statements. Do you need to cancel any services or subscriptions you're not using?
Want to learn more? Check out your June 2022 monthly horoscope.