Here's Your Horoscope For Memorial Day Weekend
Engage in activities that remind you how enjoyable life can be.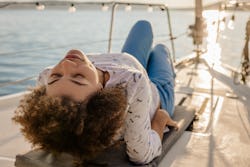 SimonSkafar/E+/Getty Images
Bustle's resident astrologer Mecca Woods, founder of My Life Created, shares every zodiac sign's daily horoscope for Memorial Day Weekend, May 27-30, 2022.
The moon enters grounded Taurus early Friday morning, spending most of the weekend in this comfort-seeking sign. However, the vibe is feeling pretty uncomfortable as we head into the end of the week. That's because Venus (the planetary ruler of Taurus) which spends her last day in feisty Aries gets into an intense face-off with power-hungry Pluto in Capricorn. As a result, we can expect a spotlight on any matters concerning abuses of power or feelings of powerlessness. The bright side is that this planetary aspect can be good for confronting deep-seated issues.
Come Saturday, values-driven Venus moves home to Taurus. With Venus in Taurus, we'll find that pleasure and comfort are of the utmost importance now. As quality of life issues may be highlighted at this time, we're encouraged to do what we can to address some of these concerns like volunteering at a community garden or donating to a food pantry. We're also encouraged to engage in activities that remind us how enjoyable life can be.
By Sunday, the energy in the air is a bit staticky with aggressive Mars joining forces with overly enthusiastic Jupiter in Aries. While this Mars-Jupiter combo can be good for physical activity or some exciting fun, it can also increase the chances of reckless or hotheaded behavior. Hopefully, as la luna slips into intellectual Gemini on Sunday afternoon, cooler heads will prevail. On Monday, the Gemini New Moon bodes well for strengthening connections, skills, and any plans currently in the works.
If you're not happy with the way a situation is being handled, look to ways that can you best work with others to come up with a viable solution. Meanwhile, take time out to enjoy the world around you.
You might not be at 100% right now, which means that this weekend is all about sticking to the basics. What's something simple, yet impactful, that you can do for yourself?
You're ready for something new but there may be a piece of unfinished business for you to handle or address first. Too, a moment of rest and relaxation can help you achieve the reset you need.
Spending the weekend with old friends or devoting your time to a cause you care about is what will have you in the best of spirits. Just make sure that you don't overcommit.
If Your Zodiac Sign Is Leo (July 23-Aug. 22)
There's a high probability that you will need to rethink your ability to uphold a commitment or an agreement if the goal or timing isn't realistic. Reach out and have the necessary conversation.
Some insecurities could be coming up for you today around your ability to get something you want. How can you look at the situation in a more optimistic light? Don't doubt yourself.
Try to protect your peace this weekend. If you're not up for hanging out or you need to steer clear of someone's negative vibes, give yourself permission to say no. Enjoy your freedom.
If you're having difficulty seeing a plan through, maybe having an accountability partner will help. Also, if a situation went left between you and someone else, you'll have an opportunity to work things out.
This could be a good weekend to catch up. Take care of the chores you've been wanting to get out of the way. Plan out your week, nourish your body, ask for help.
You're encouraged to make fun and entertainment the focus of your weekend. Part of the responsibility in taking care of your health and well-being means doing things that offer you moments of joy.
Being at home or among the people that you call family will help to ease any stress or tension that you might be feeling now. You can't pour anything into anyone else's cup without letting others pour into yours.
There could be an opportunity that comes your way through your inbox or word of mouth. It could be a way to earn some extra income. Look to your community for help with improving your security.
Want to learn more? Check out your May 2022 monthly horoscope.