How The May 2022 New Moon In Gemini Will Affect Each Zodiac Sign
An energy boost for our hearts.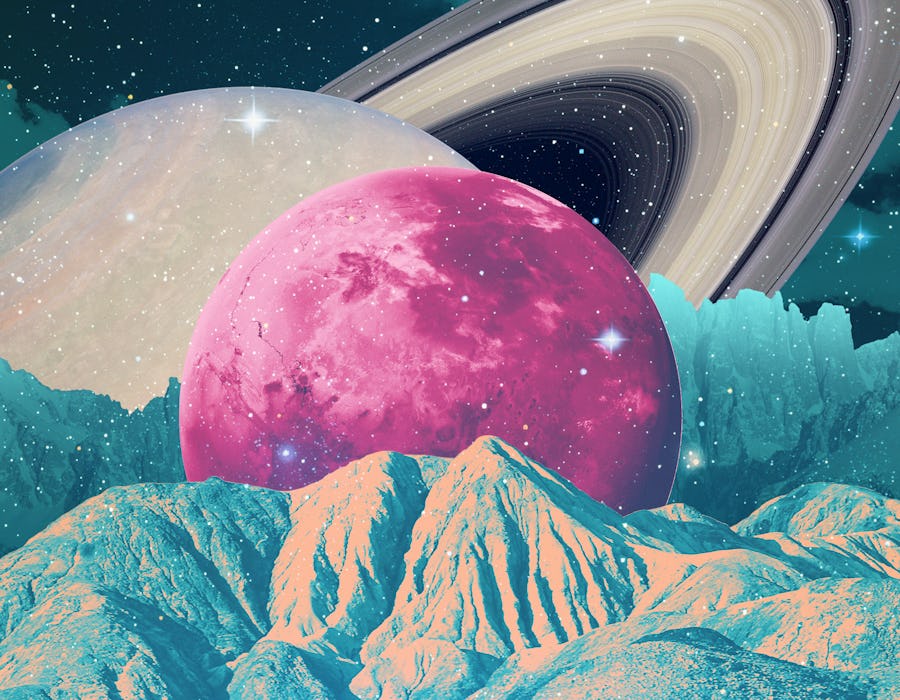 Margaret Flatley/Bustle
The late spring flowers are blooming, Gemini season is in full swing, and we're kicking off a sparkly new lunar cycle on May 30. The May 2022 new moon is the first lunation to hit since the recent eclipse season swooped in and rearranged our lives, so it feels like a particularly refreshing new beginning. This lunation will energize our hearts and help us find some clarity — even if Mercury retrograde is still causing a few mental mix-ups. You'll want to know how the May 2022 new moon will affect your zodiac sign, as it'll manifest a little differently for everyone.
Rising in the chatty and quick-thinking sign of Gemini at the tail end of an especially chaotic month in the cosmos, May's new moon is here to lighten our spirits. This moon connects with lucky planet Jupiter and motivated planet Mars, which boosts our energy levels and allows us to start seeing the silver linings on the eclipse's recent storm clouds. Thanks to Gemini's open-minded energy, this new moon will spark a greater desire for communication and a receptiveness to new information. All zodiac signs should plan to make the most of this lunation — whether by planning a moon ritual or just meditating on their horoscope — because it's the best cosmic opportunity we've had in a while to focus on our personal intentions.
Read on to find out what the May 2022 new moon has in store for each zodiac sign.
This chit-chatty new moon is lighting up the communication sector of your chart, Aries, so it's prompting you to prioritize social connections. You're feeling larger than life and ready to express your truth, so put everything on the table. Just be sure to choose your words wisely, as Mercury retrograde could cause some confusion when getting your points across.
The last new moon was in your sign, Taurus, and it may have brought on some significant changes within your personal life. This time around, it's time to get yourself grounded. Use this introspective lunar moment to pamper yourself and indulge in some serious self-care. Taurus season may be over, but that doesn't mean you have to hold back when it comes to delighting your senses.
This new moon is a time to focus on your personal goals, Gemini. The sun and moon have joined forces in your sign, and together they're serving up a bright new beginning that'll start clearing the air of the heavy retrograde haze that's dominated the past few weeks. Get in touch with yourself and put your needs above all else — because you're worth it.
As the sign ruled by the moon itself, you have the potential to thrive under any new moon, Cancer — and this one might prompt some serious soul-searching. Give yourself some space and time to be alone with your innermost thoughts and feelings. You don't need to go to anyone else for answers, as your intuition is guiding you toward exactly where you are meant to be.
This lunation is lighting up your social life, Leo, so lean into your friendships as you navigate your new moon feelings. Take the lead on planning an outing for your squad or reignite your group chat to foster a more meaningful sense of connection. Making new friends is a skill that may come easily to you, but putting energy into your existing community will pay off in the long run.
Mercury retrograde is mixing some signals at work now, Virgo, which may have made you feel a little off your game over the past couple weeks. But thankfully, this new moon is offering you an exciting clean slate when it comes to your career. If you're feeling stagnant or stifled when it comes to expressing yourself professionally, you may come upon some new opportunities for growth, notoriety, or success. Stay open to the possibilities.
Allow your higher-minded interests to take the wheel now, Libra, as they can guide you toward an exciting new adventure. While your everyday routine may be reliable and steady, life's more fun when you're willing to branch out and expand your spiritual horizons. Say yes to something unusual or be open to connecting with someone who might offer you a different point of view.
After the intense total lunar eclipse in your sign two weeks ago, Scorpio, it may feel like emotional lines have been blurred and your heart has been pulled in all different directions. However, the refreshing vibes of this new moon can help you set the clear-cut boundaries you need to start healing. Do whatever you need to do to protect your space and sanity, and give yourself room to be vulnerable.
This is a big lunar moment for your relationships, Sagittarius, as it offers you a chance to start anew with someone you love. It's a great time to have some open-hearted conversations about making a deeper commitment to a lover or casual crush, or to turn over a new leaf in a partnership that requires some healing. Talk through your feelings, listen to other points of view, and be willing to compromise.
Time to set your phone to Do Not Disturb and clear your personal plate of any distractions, Capricorn, as this new moon is inspiring you to get your life organized. Spend some time cleaning up your schedule, tidying up your workspace, and focusing on self-care. In order to truly be productive, we have to make sure our routines are supportive of our goals and our wellness alike.
This airy lunation is a time to get out there and flirt your heart out, Aquarius. There's potential for exciting new beginnings to blossom in your love life, so stay open to a chance encounter with a cute stranger or a random text from an old dating app match. Whether it's with someone new or a familiar face from the past, there's some serious lunar passion in the air that could set off sparks.
For you, Pisces, this new moon is the time for ultimate chill and cozy vibes. Tidy up your home, invite a close friend or family member over for a movie, and spend some time lounging in the comfort of your personal space. Giving yourself some time to relax in your safe haven can help you figure out what direction you'd like to take next. Trust that your heart will show you what it needs.