4 Zodiac Signs Least Affected By The May New Moon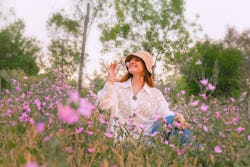 Marina Cavusoglu/Moment/Getty Images
With eclipse season behind us, the May 2022 new moon is a gentle reminder there's a calm after the storm. On May 30, the first major lunation post-eclipse season will sashay in clever Gemini. The inquisitive air sign is bringing all of its quick wit and charm to the collective, but the zodiac signs least affected by the May 2022 new moon will find this energizing lunation to be a better time to slow down rather than following Gemini's lightning-fast pace.
In astrology, not only do new moons kick off the lunar cycle, but they also indicate a clean slate. Typically, new moons are a great time for manifestation, but since Mercury retrograde is in full effect, making things extra murky, it's best to avoid using its energy in your rituals. May's new moon takes place in multifaceted Gemini, who are known for their outgoing disposition and curious minds. But if you're one of the few least impacted by the new moon, this lunation is all about recharging your social batteries and seeking truth through self-reflection.
"There's been a collective shift toward working towards our goals and shaking off the lethargy of the eclipse," Lauren Ash, an astrologer, tells Bustle. "A new moon in Gemini influences the ways we communicate in our lives, especially during the midst of a Mercury retrograde. It fuels a reassessment around how you take in information and communicate your point of view."
Bright, new beginnings are in order for all, but a select few are feeling it internally, rather acting on it externally. Keep reading to see if you're one of the zodiac signs least affected by the May 2022 new moon.