4 Most Outspoken Zodiac Signs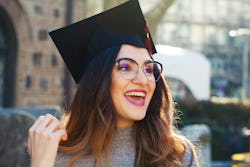 Elisaveta Ivanova/E+/Getty Images
When it comes to speaking up, some people tend to have an easier time doing so than others. If their salad comes out with onions when they asked for without, they have no problem sending it back. They tend to be very upfront and honest with those around them — which can sometimes get them into a bit of trouble. And whether someone is more naturally candid can be seen through their birth chart. There's a reason why the most outspoken signs have an easier time speaking up than the rest.
"A combination of element, ruling planet, and modality makes some signs more outspoken than others," astrologer Lauren Donelson, MA, LMFTA, tells Bustle. A zodiac sign's element influences how they express their energy, the ruling planet plays a big role in determining each sign's personality, and modality is all about how a sign reacts to situations and moves through life.
If you look at these individually, zodiac signs whose modality is cardinal (Aries, Cancer, Libra, and Capricorn) or fixed (Taurus, Leo, Scorpio, and Aquarius) tend to be more outspoken than mutable signs, says Donelson. Cardinal signs are the "initiators" of the zodiac, so they're always coming up with new ways of doing things, while fixed signs tend to be the most stubborn. If they don't like something, you'll know about it.
When it comes to elements, fire signs (Aries, Leo and Sagittarius) tend to be less reserved than others. "They're not embarrassed by anything and they enjoy sharing," Inbaal Honigman, celebrity psychic and astrologer, tells Bustle. "They'll be outspoken just because they don't know any differently."
In addition to fire signs, air signs (Gemini, Libra and Aquarius) are also typically outspoken. According to Honigman, air signs excel at communication and like being involved in social issues. If they see an injustice happening, they're likely to speak up and share their opinions.
With all those factors in mind, these are the most outspoken zodiac signs, according to Donelson and Honigman.
Sources
Lauren Donelson, MA, LMFTA, astrologer
Inbaal Honigman, celebrity psychic and astrologer