21 Halloween Costumes Inspired By TikTok Trends
Start picking your preferred audio out now.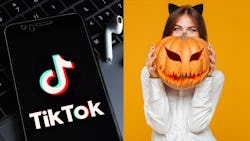 Getty/Shutterstock
We've barely dipped our toes into fall, which means it's time to start thinking about your Halloween costume. What better way to celebrate a possibly socially-distant Halloween than with Halloween costumes inspired TikTok. It's only right after the app provided your primary source of social interaction all summer.
TikTok is ripe with costume ideas. There's the "Flip the stitch" trend, which entertained quarantined families and celebrity couples alike — kudos if you're able to somehow execute this costume change live, in person. There's the vast pool of TikTok makeup artists who prove time and time again that the rest of us barely know how to use a beauty blender. There's even the celebrity look-alike trend on TikTok that had the internet asking for the real Ariana Grande, Rihanna, Arya Stark, and more to please stand up.
Whether you're looking to go all out or go for a clever pun, there is a TikTok-inspired Halloween costume for you. And, of course, you are obligated to share your TikTok costume on TikTok. (Yes, fine you can also share on competitive video sharing platforms like Triller or Reels. I won't tell.) So, start picking your preferred audio out now. Here are 21 costumes inspired by TikTok trends.
If all else fails, don't get dressed up at all and say you're the beginning part of a TikTok with a cool transition.