Look Out For These 26 TV Shows Coming In 2017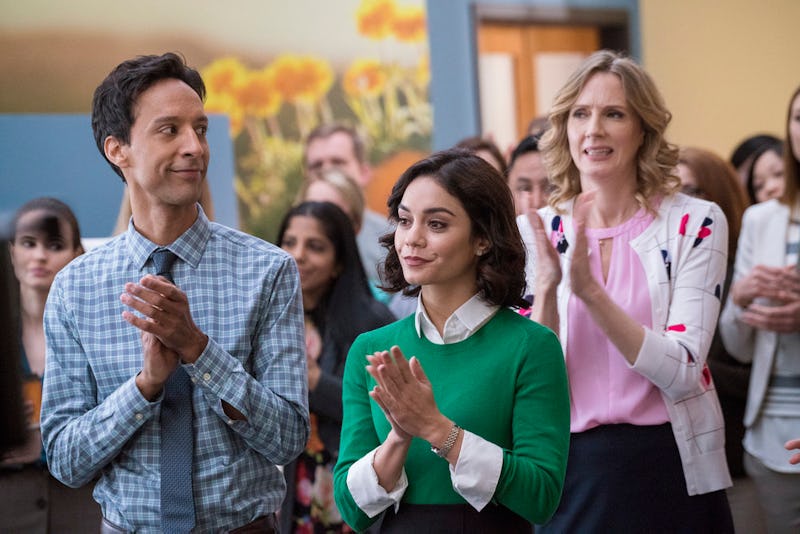 Chris Large/NBC
The dramas that ushered in the current Golden Age of television (shows like Mad Men and Breaking Bad) may have ended their runs over the past couple of years, but if 2016 proved anything, it's that there's no dearth of great shows vying to take their place. Last year saw the premieres of acclaimed series like Atlanta, The Crown, Insecure, Stranger Things, This Is Us, and Westworld, just to name a few. And things aren't slowing dow, either; with the new year just gearing up, there are plenty of 2017 TV premieres to watch out for over the next few months.
Of course, even with the many titles featured on this list, it's still not even close to encompassing the full breadth of offerings the upcoming calendar year will offer TV audiences. There are plenty of new shows that don't yet have premiere dates (including ABC's entire midseason slate, featuring shows like the Romeo & Juliet sequel Still Star-Crossed and the H.G. Wells-meets-Jack The Ripper drama Time After Time), not to mention new iterations of all your favorite anthology shows (like American Crime, American Crime Story, American Horror Story, and Fargo).
But to get us all through the first few cold months of 2017, here are 26 premieres to look forward to, from superhero shows to spinoffs.
1. One Day At A Time (Netflix)
A multi-cam sitcom, One Day At A Time tells the story of a Cuban-American family led by a single mother (Six Feet Under's Justina Machado) raising her kids with the help of her own mom, played by Academy Award winner Rita Moreno (West Side Story).
Premieres: Friday, Jan. 6
2. Emerald City (NBC)
Take a journey down the Yellow Brick Road in Emerald City, NBC's gritty reimagining of The Wizard Of Oz that seems like L. Frank Baum-meets-George R.R. Martin.
Premieres: Friday, Jan. 6 @ 9:00 p.m. ET
3. Taboo (FX)
Oscar nominee Tom Hardy (The Revenant) will do "very foolish things" in FX's Taboo, a period drama created by Steven Knight (Eastern Promises) and executive produced by Ridley Scott (The Martian).
Premieres: Tuesday, Jan. 10 @ 10:00 p.m. ET
4. Lemony Snicket's A Series Of Unfortunate Events (Netflix)
Netflix trades Jim Carrey for Neil Patrick Harris in this new adaptation of A Series Of Unfortunate Events, which looks like a rare show with crossover appeal between How I Met Your Mother fans and Edward Gorey acolytes.
Premieres: Friday, Jan. 13
5. Sneaky Pete (Amazon)
Over three years since the aforementioned Breaking Bad went off the air, Amazon brings Bryan Cranston back to your TV with Sneaky Pete, the story of a con man who infiltrates the life of his former cellmate.
Premieres: Friday, Jan. 13
6. Victoria (PBS)
The Crown fever is catching… Hot on the heels of Netflix's acclaimed costume drama, PBS will premiere its own series about female royalty, the period piece Victoria.
Premieres: Sunday, Jan. 15 @ 9:00 p.m. ET
7. The Young Pope (HBO)
Created by Italian filmmaker Paolo Sorrentino (who won the Foreign Film Oscar two years ago for The Great Beauty), The Young Pope stars Jude Law as the eponymous pontiff, with Diane Keaton and James Cromwell by his side.
Premieres: Sunday, Jan. 15 @ 9:00 p.m. ET
8. Frontier (Netflix)
Still hoping for Khal Drogo to return to Game Of Thrones? While you wait, you can catch Jason Momoa in Netflix's Frontier, which puts the GoT actor in the middle of the 18th century North American fur trade.
Premieres: Friday, Jan. 20
9. Riverdale (The CW)
When you think of the old Archie comics, you probably think of a dark and brooding drama with a Twin Peaks-esque murder mystery. No? Well, you will now, thanks to The CW's Riverdale, produced by Arrowverse mastermind Greg Berlanti.
Premieres: Thursday, Jan. 26 @ 9:00 p.m. ET
10. Powerless (NBC)
What happens after the heroes smash a city to pieces in their epic battles against evil? That's the question that NBC's new sitcom Powerless aims to answer, featuring normal humans cleaning up the aftermath of superpowered brawls.
Premieres: Thursday, Feb. 2 @ 8:00 p.m. ET
11. Superior Donuts (CBS)
Based on a play by Tracy Letts (August: Osage County), this comedy is about the relationship between a donut shop owner (Taxi's Judd Hirsch) and one of his employees (stand-up comedian Jermaine Fowler).
Premieres: Thursday, Feb. 2 @ 8:30 p.m. ET
12. Training Day (CBS)
Denzel Washington may be on his way to a third Oscar thanks to Fences, making CBS' adaptation of the actor's second Academy Award-winning movie all the more timely. This version of Training Day features film star Bill Paxton as the corrupt veteran cop and newcomer Justin Cornwell as his rookie partner.
Premieres: Thursday, Feb. 2 @ 10:00 p.m. ET
13. Santa Clarita Diet (Netflix)
Are you ready for Drew Barrymore to grace your television screen? She stars alongside Timothy Olyphant (Justified) in Santa Clarita Diet, a new Netflix drama about two married real estate agents in the titular L.A. suburb.
Premieres: Friday, Feb. 3
14. 24: Legacy (FOX)
While original 24 star Kiefer Sutherland is killing it as POTUS over on ABC's Designated Survivor, his flagship series will return to life on FOX as 24: Legacy, starring Straight Outta Compton's Corey Hawkins as a war hero targeted for assassination and Homeland's Miranda Otto as the new head of C.T.U.
Premieres: Sunday, Feb. 5 @ 10:00 p.m. ET
15. A.P.B. (FOX)
Weeds' Justin Kirk stars in FOX's A.P.B., a drama about what happens when a tech billionaire is given total control over a local Chicago police precinct.
Premieres: Monday, Feb. 6 @ 9:00 p.m. ET
16. Legion (FX)
First Noah Hawley partnered with FX to create the acclaimed anthology series Fargo, and now the showrunner is bringing the Marvel Comics drama Legion to the network, starring Downton Abbey's Dan Stevens as a powerful mutant named David Haller — aka Legion.
Premieres: Wednesday, Feb. 8 @ 10:00 p.m. ET
17. Z: The Beginning Of Everything (Amazon)
Christina Ricci becomes Zelda Fitzgerald in Z, Amazon's biographical series about the free-spirited wife of legendary author F. Scott Fitzgerald (The Great Gatsby) and their tumultuous relationship during the American Jazz Age.
Premieres: Friday, Feb. 10
18. Doubt (CBS)
Former Grey's Anatomy star Katherine Heigl attempts her second TV comeback (following NBC's short-lived State Of Affairs) in CBS' Doubt — which has nothing to do with the 2008 Meryl Streep movie. The show is most exciting for the fact that it cast Laverne Cox in a main role, the first time a transgender performer has ever had a series regular role on a broadcast network.
Premieres: Wednesday, Feb. 15 @ 10:00 p.m. ET
19. The Good Fight (CBS All Access)
Alicia Florrick's story may have ended with that infamous slap, but The Good Fight continues in this sexy spinoff following Christine Baranski's Diane Lockhart and Cush Jumbo's Lucca Quinn (and adding Game Of Thrones actress Rose Leslie as Diane's god-daughter), which will premiere on CBS before continuing exclusively on the network's for-pay streaming service.
Premieres: Sunday, Feb. 18 @ 8:00 p.m. ET
20. Big Little Lies (HBO)
HBO has apparently spared no expense with their new miniseries, Big Little Lies, which stars big-name actresses Reese Witherspoon, Nicole Kidman, and Shailene Woodley in a tale of suburban ennui — and murder — from filmmaker Jean-Marc Vallée (Dallas Buyers Club, Wild).
Premieres: Sunday, Feb. 18 @ 9:00 p.m. ET
21. The Blacklist: Redemption (NBC)
Can't get enough of The Blacklist? Good, because now you're getting two Blacklist series for the price of one, thanks to the upcoming Tom Keen-centric spinoff The Blacklist: Redemption, also starring Famke Janssen as the spy's mother.
Premieres: Thursday, Feb. 23 @ 8:00 p.m. ET
22. Taken (NBC)
The question behind NBC's adaptation of Taken is: Will audiences care about a prequel to the popular action films without a grizzled Liam Neeson in the lead role? Vikings star Clive Standen steps into Bryan Mills' shoes in this show about how the regular dad became such a badass dad.
Premieres: Monday, Feb. 27 @ 10:00 p.m.
23. Chicago Justice (NBC)
Starting in March, NBC will be devoting a full four hours of its weekly line-up to Dick Wolf's Chicago franchise. Following Fire, P.D., and Med, the network now brings us Chicago Justice, about the prosecutors who mop up the criminals after the police, firefighters, and doctors are done with them.
Premieres: Sunday, Mar. 5 @ 9:00 p.m. ET
24. Trial & Error (NBC)
The Peacock Network gets back in the mockumentary business following the departures of The Office and Parks And Recreation with Trial & Error, a comedy about a newbie lawyer (Gotham's Nick D'Agosto) defending an oddball professor (John Lithgow) against a bizarre murder charge.
Premieres: Tuesday, Mar. 7 @ 9:30 p.m. ET
25. Marvel's Iron Fist (Netflix)
While you may already be counting down the days until the (still unscheduled) premiere of The Defenders, Netflix still has one more hero to introduce before that crossover event can come to fruition. Hence Marvel's Iron Fist, which stars Game Of Thrones' Finn Jones as the titular wielder of the mystical martial arts.
Premieres: Friday, Mar. 17
26. Great News (NBC)
Legendary actress Andrea Martin (who recently appeared in NBC's Hairspray Live!) stars in Great News, a sitcom about an overbearing mom who gets an internship at her daughter's news station. Hopefully the Tina Fey-produced comedy is as big of a success for NBC as Unbreakable Kimmy Schmidt has been for Netflix.
Premieres: Tuesday, Apr. 25 @ 9:00 p.m. ET
There are plenty of other shows still to come in 2017 as well; keep an eye out for titles like Downward Dog (ABC), Imaginary Mary (ABC), Making History (FOX), Marvel's The Defenders (Netflix), Marvel's The Punisher (Netflix), Shots Fired (FOX), Still Star-Crossed (ABC), Time After Time (ABC), and more! It sure is shaping up to be a busy year in TV land…