Hosting A Sex Toy Party With My Friends Taught Me These 7 Valuable Lessons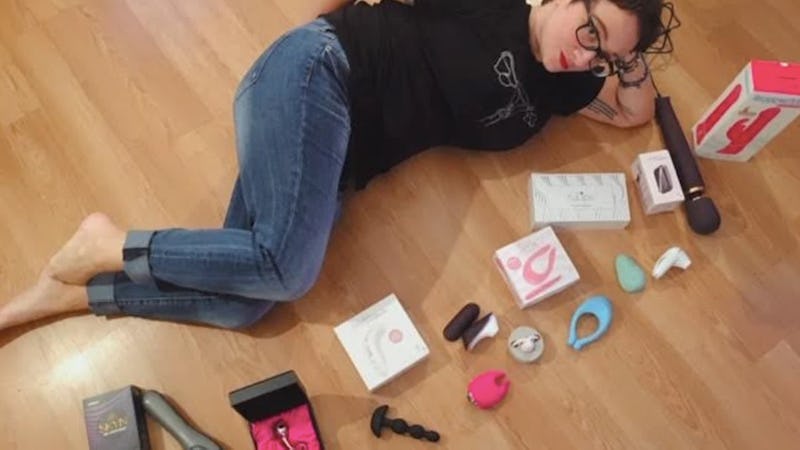 Amanda Chatel
I get a lot of sex toys thanks to the fact that, well, I write about sex for a living. Companies will send them to me to try, and sometimes even send multiples. Some are fantastic, some are terrible, and some are straight up confusing, but I ultimately end up with way more sex toys than one human needs. That's how I ended up with so many sex toys that I had to host a sex toy party.
On both occasions, I held them at my friend's apartment in Brooklyn. Unlike my tiny apartment in the East Village, my friend's place is a large two-bedroom with a very long, antique dining table: perfect for displaying my goods. The first time I did it, I invited six friends on a late Sunday afternoon. Everyone brought a bottle of wine and my friend, whose apartment it was, made Japanese snacks. (Pro tip: If you're going to host a sex toy party, do it at the apartment of a friend who also happens to be a chef.) When I realized that this was way easier than giving everyone a sex toy for their birthday, I did it again on a Friday night and invited 11 friends. Again, Mieko made snacks, my friends brought wine, and I displayed my goods.
Although my friends knew there would be sex toys to choose from, when I sent out the invites I put the emphasis on the fact that I was moving, wanted to see them, and, basically, needed them to take some "stuff" off my hands. Naturally, my friends were more than happy to oblige.
Here's what I learned from hosting sex toy parties for my friends.