Harry Styles' "Kiwi" Will Definitely Raise Your Eyebrows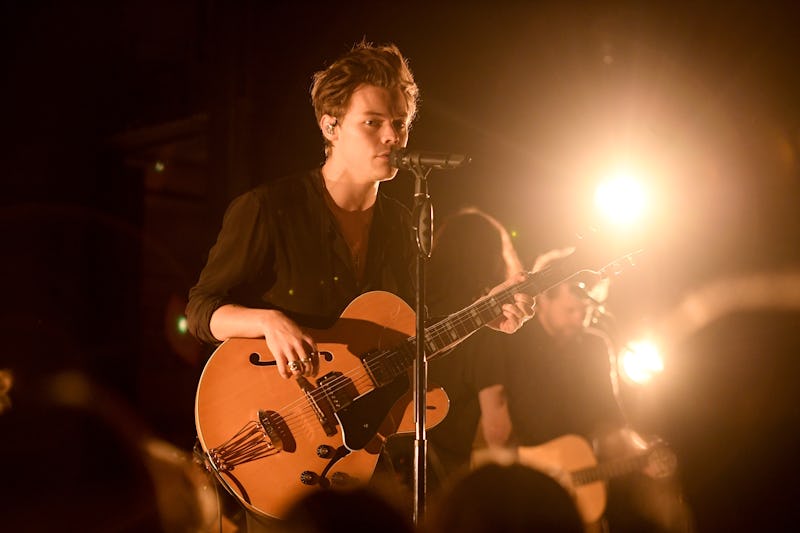 Dimitrios Kambouris/Getty Images Entertainment/Getty Images
One Direction's pride and joy Harry Styles released his solo album on Friday, May 12, and it's way more than many bargained for. As expected, the artist has a few tracks that are almost blatant in their storytelling — like "Two Ghosts" possibly being about his ex Taylor Swift, for example. There's one track, however, that's been a little tricky for fans to piece together — leaving us all wondering: Who exactly is Styles' "Kiwi" about?
The title itself didn't raise any eyebrows for me initially, but that all changed as soon as I hit play. The singer leads into the song kind of aggressively, letting listeners know that he means business. In the first verse, Styles belts:
"She worked her way through a cheap pack of cigarettes
Hard liquor mixed with a bit of intellect
And all the boys, they were saying they were into it
Such a pretty face, on a pretty neck"
The story only gets more interesting from there. His projections of "I'm having your baby, it's none of your business" over and over are enough to totally stop a listener in their tracks. Could our little Styles be under the spell of some rocker chick with a taste for cheap vices and late nights? It's either a tale of a rough night that he's refused to speak of until now, or a fantasy that the singer just can't seem to get out of his head.
All in all, with lyrics like, "And now she's all over me, it's like I paid for it. It's like I paid for it, I'm gonna pay for this," you can bet that nothing good is going to come out of this scenario. And it turns out that fans of the One Direction member couldn't take the heat in the kitchen, either. And all of their emotions played out all over Twitter.
Follow the journey for yourself: