10 Mesmerizing TikTok Makeup Tutorials For Halloween Inspo
Consider your costume secured.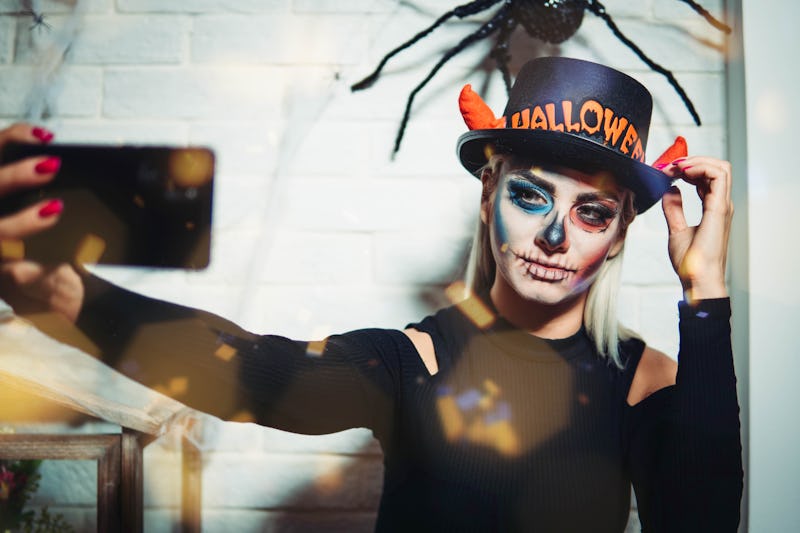 MilosBataveljic/E+/Getty Images
Need a Halloween makeup look that's easy? You're in luck: TikTok has tons of beginner-friendly beauty tutorials to help you nail a fun (or frightening) look.
With October 31 only a little over two weeks away, there's no better time to start thinking about your costume. And whether you plan to pass out candy to neighborhood kids, queue up several episodes of a dystopian drama (like the extremely binge-worthy Squid Game, perhaps), or hit up a party IRL or over Zoom, there's no shortage of Halloween makeup that's easy to recreate without a million different products.
While you can always opt for something classic and simple using household items, or simply throw a pumpkin over your head à la Megan Thee Stallion, consider taking your Halloween 2021 look to the next level and transforming yourself into someone popular and recognizable from a TV show, movie, book, or pop culture phenomenon. From deeply creepy (Pennywise the Dancing Clown from It) to fun (ahem, all the Euphoria characters) to nostalgic (think Winifred Sanderson from Hocus Pocus or Maleficent from Snow White), there's truly a costume for every #mood this season.
With the help of these tutorials, Halloween makeup can be easy. Here are 10 looks to copy ASAP.