Spring's 5 Buzziest Makeup Trends, According To TikTok
Expect to see *lots* of color.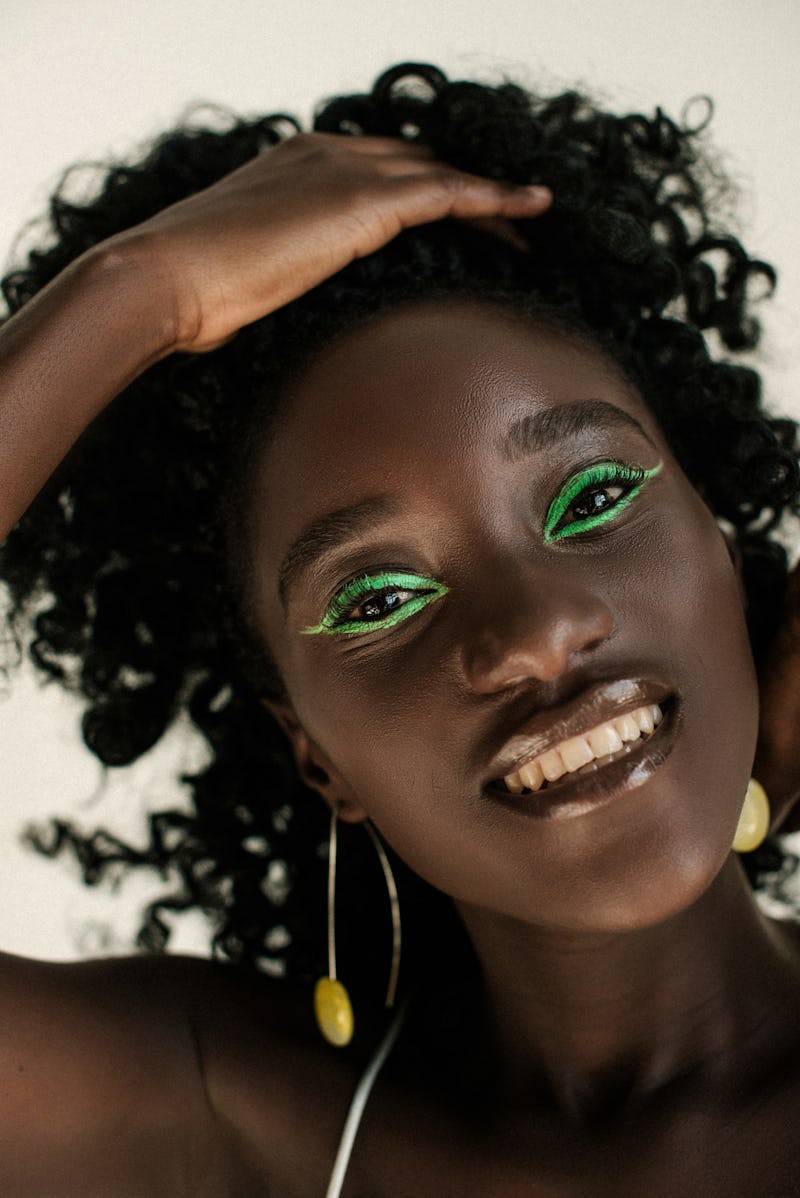 Getty Images/ juliememe
Does a trend really exist if it hasn't popped up on TikTok? The video app has become the unofficial incubator of all things beauty-related. Sometimes it serves up some inspirational hacks, sometimes it teaches you how to amplify your skin care routine — regardless, scrolling through the platform is the easiest way to see what people are buzzing about. And, for this season, there are five particular spring makeup trends on TikTok you should know about.
M.A.C. Cosmetics, a brand known for its extensive makeup line, did some internet snooping and came back with a beauty report. Their findings? Of all the content shared on the app, there are five fresh and colorful looks that have been repeatedly popping up through TikTok's endless carousels of videos.
Within the report are micro-trends of things Bustle already called, including bold colors and statement lips. Also buzzing? Pastel shades, deep reds, and artistry are going to be reigning supreme this season if Gen Z has anything to say about it. Behold, the five must-know spring makeup trends, according to TikTok.
We only include products that have been independently selected by Bustle's editorial team. However, we may receive a portion of sales if you purchase a product through a link in this article.
1. Double Wing
Minimalism is cute, but the gist behind double wing eyeliner is maximalism. There are endless possibilities — you can go for a monochrome symmetrical look or settle on a style that makes use of all your favorite makeup trends like color blocking and elongated eyeliner. Just channel your inner Ariana Grande.
2. Line Art
The idea behind single-line drawing makeup is that you place your pigment onto your face... and don't pick it up until you've done your work of art. While it may sound intimidating, you can still achieve the look even if you don't have the dexterity of Pablo Picasso. Pick up an eyeliner and see what style you come up with (or just follow a tutorial on TikTok).
3. Confetti Liner
The opulence and grandiose of the roaring '20s just might be the next nostalgic decade that reemerges in the form of beauty trends. Confetti liner showcases that energy — happiness, celebration, and excitement for the upcoming return of society. For this look, you can use facial sequins or whatever colorful makeup you have lying around.
4. Va Va Violet
The violet eyeshadow look is actually a combination of two trends: the comeback of Y2K makeup and your typical spring pastels. This one is easier to master — you can opt for a single swipe of pigment on your lids or combine it with double wing liner for a more complex look.
5. Dark Decadence
Pastels in the spring are par for the course, but an expected makeup look for the season is rocking deep, crimson red, glossy lips. Go with a layer of an iconic red shade or take it to another level by bringing in a '90s inspired lip liner. A glossy finish is recommended.