23 Signs You're With The Wrong Person That Are Easy To Miss
Sometimes it's not so obvious.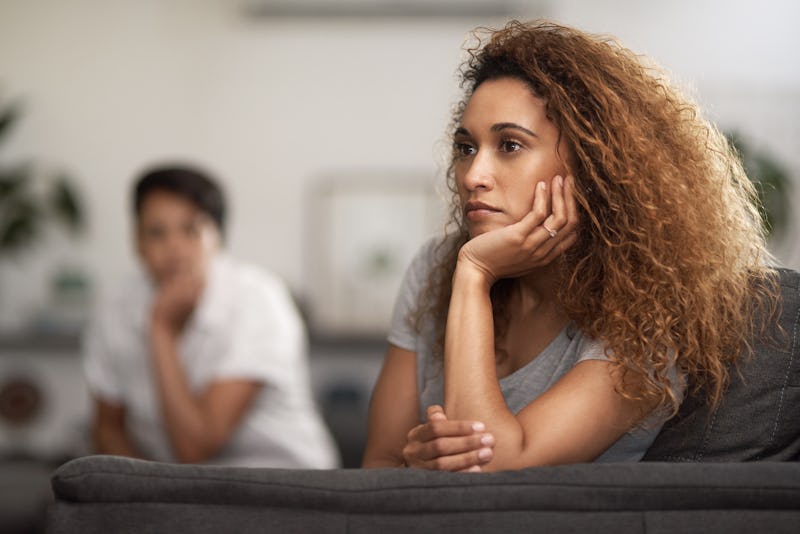 PeopleImages/E+/Getty Images
As its been said hundreds of times before, the heart wants it wants. The only trouble is that sometimes strong romantic feelings can make it difficult to notice the signs you're with the wrong person. This can happen whether you're way too busy looking at them with heart eyes to notice that they're a bad match or there's some other major, red flag in the relationship.
More often than not, these situations never really end well. If you think you're in love with the wrong person for you, relationship experts and authors Greg Behrendt and Amiira Ruotola tell Bustle that you're not alone. "Almost all of us have been there, too," they say.
Of course, being in love with the wrong person can mean different things to different people, says Oddesty K. Langham, MS, LPC, NCC, a licensed clinical mental health therapist and owner of Oddesty K. LLC. It could mean they aren't good for your mental health or well-being, she says, or that you don't want the same things in life or share the same values. In short: "The general consensus is that it means you have connected with someone who is not a good fit for you," Langham tells Bustle.
Just because you've found yourself in this situation doesn't mean your love life is doomed — it's just a natural, incredibly common scenario in the dating world. If everyone fell in love with the right person immediately, no one would have to deal with the pain of going through a breakup. You wouldn't have to worry about whether or not your partner would cheat or why they seem to be checking out. You certainly wouldn't have to look for the various signs that they're "The One," because you'd just know. Instead, you'd be spending time looking up signs you're in love, just so you can validate all the wonderful, yet overwhelming, feelings you have for your partner.
Even though it hurts to think about parting ways with the person you thought was "the one", it's best to rip off the rose-tinted glasses and see things for what they really are. "The sooner you know, the sooner you can take the necessary steps to position yourself to end the relationship and heal from it so that you don't end up spending a significant time with the wrong person," Langham says. Here, experts reveal the subtle, easy-to-miss signs you're loving the wrong person.
Studies referenced:
Körner, R. 2021. Power in romantic relationships: How positional and experienced power are associated with relationship quality. Journal of Social and Personal Relationships. https://doi.org/10.1177/02654075211017670.
Sources:
Oddesty K Langham, MS, LPC, NCC, licensed clinical mental health therapist, owner of Oddesty K LLC
Greg Behrendt and Amiira Ruotola, relationship experts authors of How To Keep Your Marriage From Sucking
Bethany Ricciardi, relationship expert with Too Timid
Jenna Ponaman, CPC, ELI-MP, relationship coach
Holly Schiff, PsyD, licensed clinical psychologist
Jenna Matlin, transformation life coach, clairvoyant intuitive of The Queen of Wands Tarot
Davida Rappaport, relationship expert, spiritual counselor
Ellen Bolin, certified professional relationship coach
Samantha Daniels, dating expert, founder of Samantha's Table Matchmaking
Susan Trombetti, matchmaker, CEO of Exclusive Matchmaking
Myisha Jackson, LPC, licensed professional counselor, owner of Healing Journey Counseling Center
Ashley Campana, certified matchmaker, director of recruiting at Lisa Clampitt Matchmaking
Terri DiMatteo, LPC, licensed professional counselor, owner of Open Door Therapy
Rosalind Sedacca, CLA, dating and relationship coach
This article was originally published on