15 Signs You're In An Unbalanced Relationship
#10: You're blamed when things go wrong.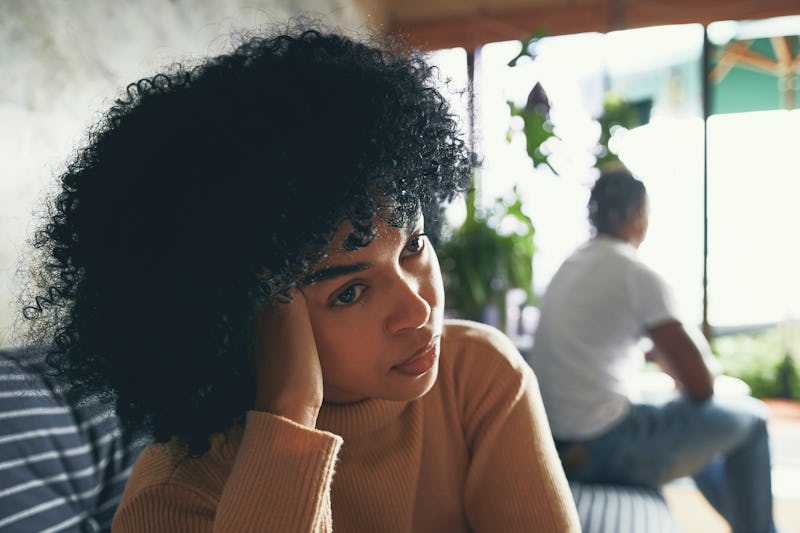 Rowan Jordan/E+/Getty Images
In a perfect world, both partners would work toward the success of their relationship. But, sometimes, when a partner is not contributing enough to the relationship, it could be hard to even things out. In an unbalanced relationship, one person becomes solely responsible for doing chores, remembering important dates, juggling to-do lists, and basically making all the relationship magic happen while their partner sits idly by (or, at least, contributes to a way lesser degree).
Obviously, this isn't a component of a healthy partnership. "This is not only tiring, but emotionally burdensome," Erica Cramer, LCSW, MBA, a licensed clinical social worker, tells Bustle. Plus, a partnership — by definition— means participating in an undertaking together, adds life coach Bridget Chambers. "Partners aren't perfect, but they should feel stable, loyal, and willing to work," she tells Bustle. "If those qualities seem hard to come by, there is an imbalance that needs to be addressed."
The imbalance also comes with a ton of ramifications. Resentment starts to build, you'll bicker, one or both of you could feel compelled to cheat due to frustration — and you might even develop anxiety and depression.
This unhealthy dynamic is often reparable, but it will (rather annoyingly) require one last burst of energy on your part. "Start by being honest and clear about your feelings," Cramer says. "Then make a plan. Offer practical solutions to the problems and listen to what your partner has to say, too." If you're always the one doing chores, for example, you could agree to divvy up tasks and choose ones that play to your strengths.
From there, try to manage your expectations — at least for a little while. "Transitions are gradual and nothing happens overnight," Cramer says. If you feel like you do everything in your relationship and want to make it work, below are the 15 signs it's time to have a conversation.
Sources:
Erica Cramer, LCSW, MBA, licensed clinical social worker
Dr. Racine Henry, Ph.D., LMFT, licensed marriage and family therapist
Dr. Carla Marie Manly, clinical psychologist
Rhonda Milrad, LCSW, relationship therapist
Dr. Sanam Hafeez, Psy.D., neuropsychologist
Julienne B. Derichs, LCPC, couples therapist
Dr. Josh Klapow, clinical psychologist
This article was originally published on