12 Common Relationship Problems That Happen After You Move In Together
Like when your alone time becomes a distant memory.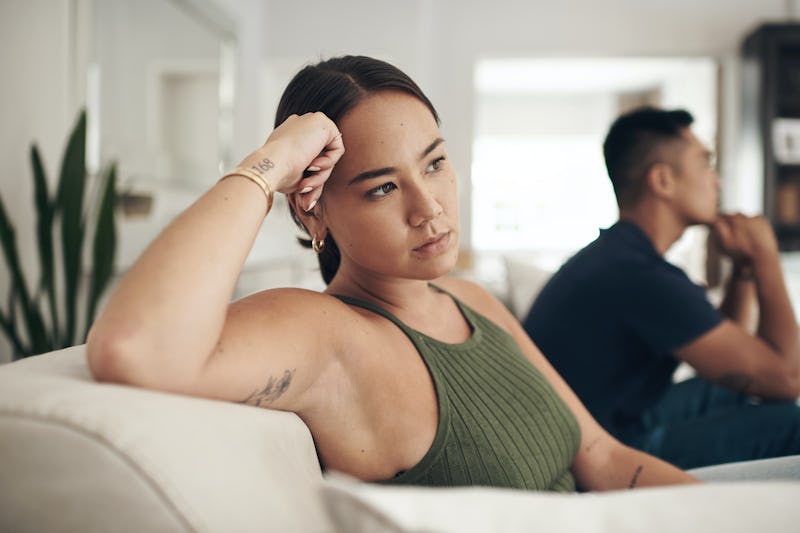 PeopleImages/E+/Getty Images
Even though you get along swimmingly now, it's totally possible — and common — that you and your partner will experience a brand new set of relationship problems after moving in together. But they don't have to mean the end of your coupling.
According to Dr. Robin Buckley, a cognitive behavioral coach who specializes in couples, most post-move-in issues stem from the realization that you and your partner have mismatched standards and/or beliefs about how to run your daily lives. It can come as a shock because, well, there's often no reason to talk about things like chores or bills until you're both living in one home.
"We often picture a move-in filled with romance and spontaneity and fun," Buckley tells Bustle. But the truth is sharing a space requires a whole slew of tough (and sometimes super boring) conversations. "Even couples that spend a lot of time together still don't encounter the challenges that come from living under the same roof," certified counselor Jonathan Bennett tells Bustle. "It requires at least some merging of finances and being dependent on the other person to a degree (e.g. to pay a share of the bills). Many couples who were happy living independently find that when they move in together they simply aren't compatible in that way."
Of course, it's common to go through an adjustment period, as you get used to sharing a space and combining your lives. But several issues can come to light — once you're together all the time — that might make you question the future of the relationship. Talking throughout the move-in process and sharing your expectations is the only way to avoid these surprises and make a smooth transition.
If these relationship issues don't even out, it very well may mean you and your partner aren't as compatible as you previously thought. But if you keep communicating and compromising, many of the problems that occur after you move in together — like the ones listed below — can be resolved.
Sources:
Dr. Robin Buckley, cognitive behavioral coach
Ana Sokolovic, MS, licensed psychotherapist
Jonathan Bennett, certified counselor and relationship expert
Heidi McBain, MA, LMFT, LPC, RPT, therapist
Dr. Josh Klapow, clinical psychologist
Dawn Wiggins, EdS, licensed marriage and family therapist
This article was originally published on