11 Cute Ways To Wish Your Crush Good Morning
Talking to someone new? Here's how to craft the perfect wake-up text.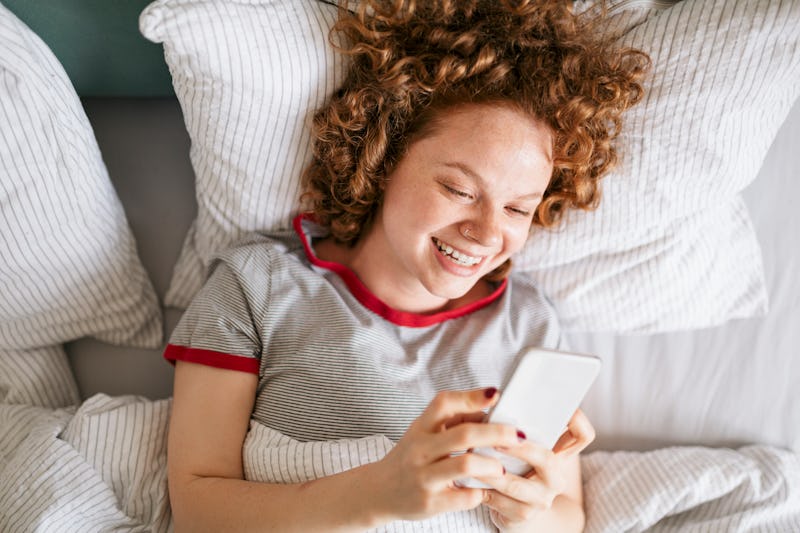 Ivan Pantic/E+/Getty Images
You've got a brand new crush, and talking to them every day has been a throwback to high school loves of old. You definitely want to date them, and texting every day late into the night is definitely not purely platonic. They're on your mind pretty much all the time, especially when you wake up, but how do you send a good morning text without being too much, too fast?
"When people are getting to know someone, there might be a hesitancy to be open," says psychotherapist Lillyana Morales, L.M.H.C. But that fear can mean your "good morning, sweet crush of mine" texts never get sent — or worse, that they come off as you "just being nice."
Morales tells Bustle that if you're trying to be the first thing on your crush's mind in the morning, think about your texts as yet another way to get to know your would-be boo. If they would prefer your pre-coffee salutations to come in after they've been caffeinated, the beginning of your relationship is a great time to find that out. If they're someone who loves pet names, the earlier you know, the more fun you can have calling them sweetie. "Imagine how much time and trouble you save by setting a solid foundation," Morales says.
Figuring out how to text your crush, especially early in the relationship, can be a handful. But Morales tells Bustle that there's no such thing as the perfect message to say to the person who's got your heart racing — just be you. To save yourself some early morning stress, check out these 11 good morning text ideas to send your crush.
Experts:
Lillyana Morales, L.M.H.C., M.A. in mental health counseling, psychotherapist