Brace Yourself: Body Shimmer Is Back From The Early 2000s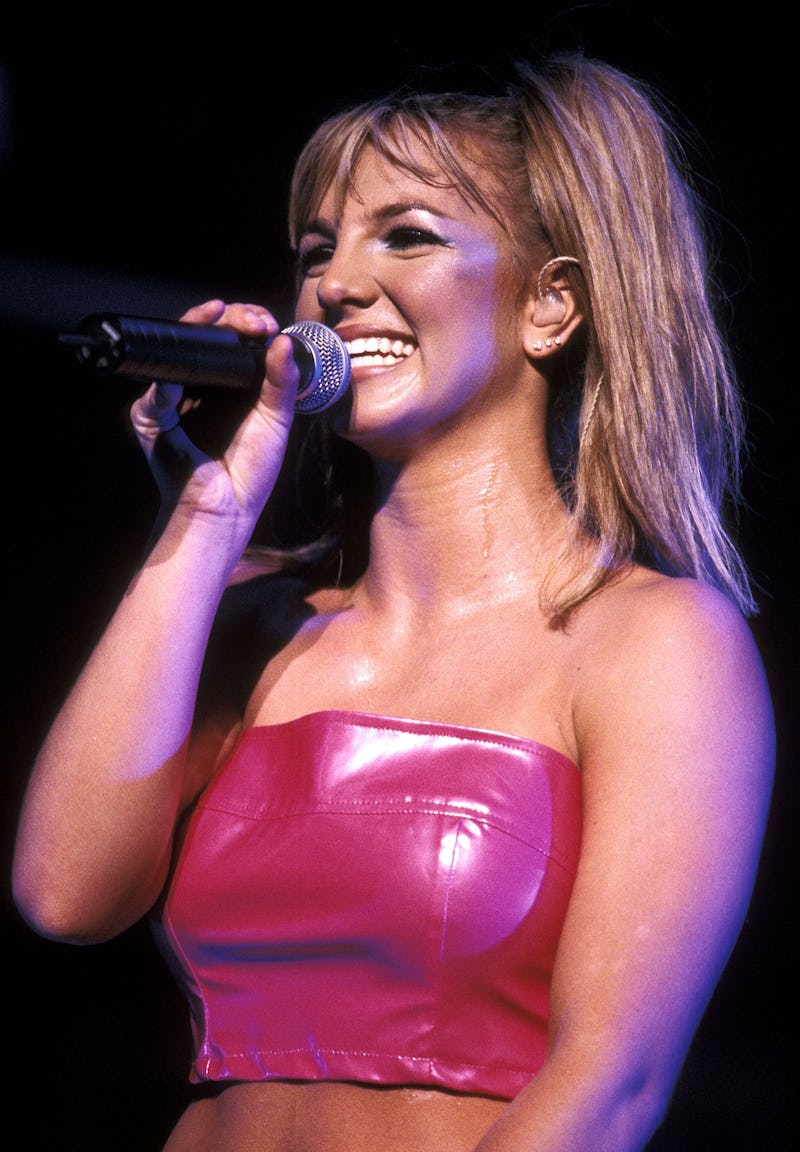 Ron Galella, Ltd./Ron Galella Collection/Getty Images
It feels like every early-2000s trend — including the ones you could've sworn would be retired for eternity — has made its way back to the surface, from velour tracksuits to zigzag parts and frosted eyeshadow. Alas, the most recent rebirth from the vaults of nostalgia is... drumroll, please... body shimmer products.
I firmly believed these were a forgotten trend until my beauty shelf became increasingly covered by new glittery body lotions and oils. Gazing at them has brought back a childhood memory of my sparkling body gel being confiscated by the teacher on hall monitor duty in sixth grade.
But there are marked differences between the products of yesteryear and today's offerings. The Y2K-era body shimmer products were not very subtle. They were formulated and marketed for the tweens hanging out at Claire's and not for, you know, grown-ups with adult responsibilities. I remember their consistency being tacky and somewhat gel-like, and their hue was often blue or green. Their shimmer typically came from large sparkle particles that sat prominently on top of the skin before quickly rubbing off.
Today, there are two categories of contemporary glittering body products: shimmering body oils and body highlighters. Think of the latter as a cousin to the highlighter that goes on your face — these are more about adding dewy sheen and catching light. The former, however, are more in line with Edward-Cullen-ripping-open-his-shirt-in-the-sunlight level sparkle.
According to analytics and marketing company Skai, people are all about the shimmer right now — to the tune of a 422% increase in consumer interest and digital conversation. This, combined with the increasing interest in body care products, means that the bounty is plentiful.
This new class of body shimmers also multitask as skin care. They've got moisturizing properties, are nourishing, and aren't packed with the type of large and gritty sparkle specs that are abrasive. The shimmer is more subtle — in my personal experience, they make it look like you walked off the beach in Ibiza with suntan oil still glistening on your limbs. Shop the body shimmer oils and lotions below to partake in what's bound to be the summer's biggest beauty trend.
We only include products that have been independently selected by Bustle's editorial team. However, we may receive a portion of sales if you purchase a product through a link in this article.
Body Shimmer Essentials
The Budget-Friendly Shimmer
Colourpop's body glitter is just $10, which makes it prime for test-driving (or getting reacquainted with) the product category. The dry oil (read: not wet or slippery!) currently comes in a whopping 16 shades ranging, from traditional gold shimmer to a more experimental mint green hue.
The Most Glitter-Packed Oil
If your endgame is high-shine sparkle, this Anastasia product is for you. The oil has the most noticeable sparkle to oil ratio — the most glitter per square inch, if you will. It smells like sunscreen combined with Lip Smackers, and the dispenser is a spray nozzle, which means easy application.
The Glow-Giver
If you simply want a product that delivers the just-right amount of shimmer, Patrick Ta's does the trick. The oil will subtly glisten like your skin is supple and hydrated (which it is, thanks to the vitamin C, squalane, and olive oil in the formula) — but in the sun, it becomes an effervescent and otherworldly glow.
The Golden Radiance
Everything about this African Botanics product is chic and elegant. The bottle belongs on the marbled counter of a banana leaf-wallpapered bathroom. It's first and foremost a nourishing, botanical extract-based oil, and the shimmer is more of an aftertaste than the main event. The subtle gold iridescence is the perfect everyday shimmer suitable for even the most grown-up occasions.
The Mess-Free Shimmer
Body oils are great, but not the best choice for on-the-glow glitter. Ciate's Dewy Stix is a solid oil-balm hybrid, so it can be thrown in your beach bag or your purse and applied with a mere tapping of your fingers. It also has one of the longest-lasting formulas of the group.
The Starter Shimmer Oil
Summer Fridays makes a number of cult-favorite beauty products (like the Jet Lag Mask and CC Serum), and the Glowing Body Oil is sure to be no different. It's a subtle shimmer that works for even the most tepid shoppers, and it's packed with macadamia and jojoba oils for an ultra-nourishing, lasting finish.
The All-Over Sheen
Get yourself a product that can do both — but really, Kevyn Aucoin's Glass Glow is gentle enough to be used on the body and the face. So it's great for adding a gorgeous glisten to your collarbones in the summer heat, but you can also transition it to be a face-only product when it comes time to bundle up.
The Super-Pigmented Glow
When you think of glowing ethereal skin, is Rihanna not the image that appears in your mind's eye? Luckily, she distilled an aspect of her glow into the Fenty Body Lava. It's a very pigmented formula, so you only need to apply a tiny bit at a time. The sparkles are very fine, too, which means the lava packs a glistening punch that'll catch the light with every movement you make.
The Scented Shimmer
Acqua Di Parma is, first and foremost, a fragrance company. Its most famous women's scent is Rosa Nobil, which exists in many forms, including a hair perfume (swoon) — and now in this scented body oil. Think of this as the summer replacement to your perfume: a floral scent with a bonus top note of shimmer.
The Beach Bum Sheen
Sol De Janeiro is a beauty brand associated with summer sunshine and the smell of cocoa butter, so it only makes sense that they have a body shimmer. This radiance-boosting oil is a multitasker — it's gentle enough to be used to highlight your face or for an all-over body sheen, and also delivers skin-boosting fatty acids to your limbs.
The Timeless Classic
Tom Ford's shimmering body oil might be the godfather of the category. I personally remember the product existing while I was a still-in-college beauty intern in 2014. Everything from the packaging to the platinum and gold shimmer exudes the signature sensuality of the brand, and it gives your skin an elegant sun-kissed glow.
The Iridescent Cream
The Skin Perfecting Body Shimmer from Kim Kardashian herself is everything you'd expect it to be: all glamour and opulence. If your priority is becoming a human disco ball, this will do it (in a more chic way, of course) via the formula's reflective pearls. Use it as a makeup product for all-day radiance.