15 Nostalgic '90s Movies To Watch On Netflix Right Now
Because remakes and sequels just aren't the same.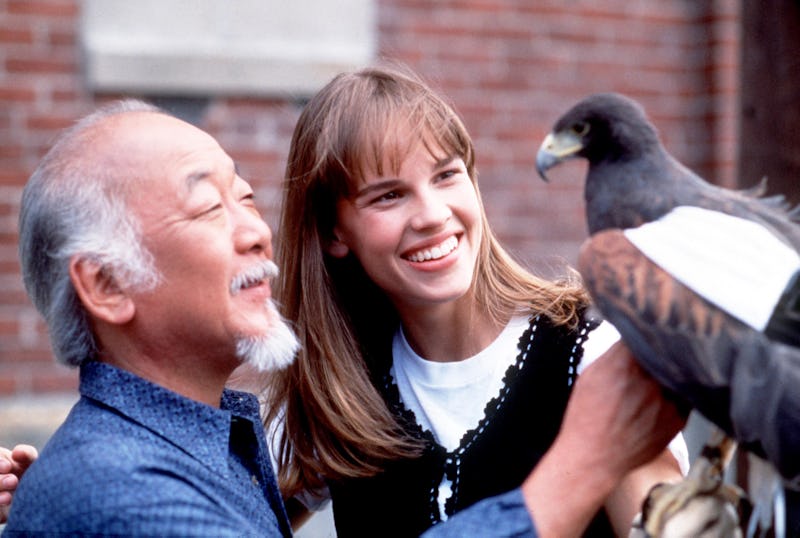 Getty Images/Hulton Archive/Getty Images
Though the mid-20th century is often formally recognized as the "golden age" of cinema, anyone born between the years of 1980 and 1995 knows that really, it was the '90s that gave us the best movies to watch on Netflix and that defined entire childhoods. From movies like Clueless to Matilda, these titles just got what it meant to grow up before the year 2000. In recent years, new movies have capitalized on our collective cultural nostalgia for the '90s, like the 2019 film Men in Black: International and the 2020 reboot of The Craft. A sequel for The Rocketeer is also in the works, proving that some things about the '90s continue to stay in vogue.
While all these remakes and sequels are certainly entertaining, nothing can really replace the original films. Whether the appeal of those movies lies in their distinctly '90s camp tone or their associations with our childhood is unknown; maybe it was just that delicious feeling of watching a movie that we knew was just a little too adult for us that made us love the decade's films that much more. Whatever the case, we've got you covered with the best nostalgic '90s films now available to stream on Netflix:
The third and final installment of the Back to the Future series, Back to the Future III, features Marty McFly (Michael J. Fox) in the Old West for his final time-travel adventure. Dr. Emmett Brown (Christopher Lloyd) is back as well, but this time McFly embarks on a mission to save Doc from being killed by Biff Tannen's great-grandfather. Back to the Future III picks up right where Back to the Future II left off, so it might be wise to watch the latter, or binge all three movies back to back.
Demi Moore and Patrick Swayze share an unbreakable bond that extends into the afterlife in the classic romance drama Ghost. In the movie, Molly (Moore) tries to cope with the untimely death of her partner Sam (Swayze). Sam returns to Earth as a ghost whose mission is to warn Molly about another danger that awaits her. But only one person can see, and ultimately, help Sam: a psychic named Oda Mae Brown, played by Whoopi Goldberg. Ghost is responsible for introducing a few of the most unforgettable moments in pop culture to date, including a seductive pottery scene between Moore and Swayze.
Before starring as Jack Dawson in Titanic, Leonardo DiCaprio played Johnny Depp's brother with a developmental disability in the 1993 drama What's Eating Gilbert Grape. DiCaprio, who was 19 at the time, earned Golden Globe and Oscar nominations, thanks to his impressive acting skills displayed in the film. What's Eating Gilbert Grape also became critically acclaimed, with late iconic film critic Roger Ebert calling it "one of the most enchanting films of the year." Besides DiCaprio and Depp, several other well-known actors, including Mary Steenburgen, Crispin Glover, and John C. Reilly, in one of his first movie roles, appear in What's Eating Gilbert Grape.
Hilary Swank learned how to "wax on, wax off" for a new generation in The Next Karate Kid. Picking up where Ralph Macchio left off, Swank (as Julie) joins forces with everyone's favorite bonsai florist, Mr. Miyagi (played by Noriyuki "Pat" Morita). The duo clash at the beginning of their relationship, but with Miyagi's help, Julie is able to confront her demons in and outside the dojo. The Next Karate Kid didn't fare too well at the box office or with some critics, but now two-time Oscar winner Swank's first-ever film performance is significant.
The 1994 movie version of The Little Rascals was adapted from the Our Gang short films of the early '20s, '30s, and '40s. Nevertheless, even though Hal Roach's original comedies transitioned from black-and-white to technicolor, the mischief of Alfalfa and his gang of friends still remains in Penelope Spheeris' full-length feature. The film features a precocious cast of child actors, including Ross Bagley as Buckwheat (The Fresh Prince of Bel-Air) and Bug Hall (The Stupids) as Alfalfa. Perhaps even more memorable than the young cast is the numerous celebrity guest appearances from the likes of Whoopi Goldberg, Mary-Kate and Ashley Olsen, Daryl Hannah, Mel Brooks, EG Daily, Raven-Symoné, and Donald Trump.
The Wayans Brothers are known for their parody movies, including A Haunted House 2 and the Scary Movie franchise. Don't Be a Menace to South Central While Drinking Your Juice in the Hood is one of their earliest and most praised comedy spoofs. Don't Be a Menace takes other popular 90s movies about inner-city life, such as Boyz n the Hood, Juice, and Menace II Society, and turns the genre on its head with humor. Shawn Wayans stars as Ashtray, a man whose introduced to a life of crime in Los Angeles after moving there with his family. Marlon Wayans plays his cousin, Loc Dog and Keenan Ivory Wayans is The Mailman who pops up at certain times in scenes with a moral message.
Welcome to Good Burger, home of the Good Burger! Can I take your order? Good Burger is the full-length feature inspired by the popular Good Burger sketches from Nickelodeon's All That comedy series of the '90s. Teen comedian Kel Mitchell rose to fame as aloof Good Burger employee Ed and translated this same role in the movie version. All That co-star Kenan Thompson joins Kel in the comedy flick for wild summer adventures. But the biggest adventure of them all is taking down rival burger eatery Mondo Burger with a special, secret sauce.
Julia Roberts and Dermot Mulroney's childhood friendship is put to the test in My Best Friend's Wedding. The romantic comedy cemented its place in the genre and pop culture history thanks to one unforgettable musical scene. However, the heart-stirring moments of unrequited love between Roberts and Mulroney are at the center of this cult classic. Cameron Diaz, as Mulroney's innocent fiancée, and Rupert Everett as Robert's best friend help make My Best Friend's Wedding all the more enjoyable to watch.
Love Jones did something that very few movies featuring Black leads accomplished before its release in 1997: The comedy-drama put a spotlight on love and two 20-somethings (Nia Long, Larenz Tate) in earnest search of it. Sans violence, Long and Tate's portrayal of young Black love proved to be a revelation to romantic comedy fans. The film's soundtrack also turned into a pop culture hit, boasting performances by many R&B, hip-hop, and jazz greats such as Xscape, Kenny Lattimore, Lauryn Hill, Refugee Camp All-Stars, and Cassandra Wilson.
Matthew Perry and Salma Hayek are two fools rushing into love in the 1997 rom-com Fools Rush In. Perry (Alex) and Hayek (Isabel) engage in a one-night stand, but when Isabel gets pregnant, the duo decides to marry. What could go wrong? The opposites-attract movie is bolstered by Perry and Hayek's chemistry and helped earn Hayek an ALMA nomination for outstanding actress in a feature film. At the time, Perry was a few years into his Friends run as Chandler Bing and Hayek's star was also rising, thanks to her earlier roles in From Dusk till Dawn and Desperado.
Tommy, Chuckie, Angelica, and the rest of the Rugrats crew made their feature film debut in 1998 with The Rugrats Movie. The animated comedy gave fans of the Rugrats series a chance to see what adventures the kids could get into on the big screen. The plot revolves around the birth of Tommy's brother, Dil Pickles, and the children end up learning a little bit about "'sponsitility" (also known as "responsibility" in adult speak). Building on the popularity of the Nickelodeon TV show, The Rugrats Movie became a box office success.
The Big Lebowski is one of Jennifer Lawrence's favorite movies and a veritable cult classic from the Coen brothers. The comedy caper features an all-star cast (John Goodman, Jeff Bridges, Julianne Moore, Steve Buscemi, John Turturro) and a good old mistaken identity story in which there are two Jeffrey Lebowskis. Still, only one of them (Bridges) is "The Dude." There's a slew of other familiar faces in The Big Lebowski, including Tara Reid, Philip Seymour Hoffman, Aimee Mann, and Flea. Aside from its star power, The Big Lebowski's whip-smart dialogue and inclusion of bowling make it a consistent viewing treat.
Julia Roberts was "just a girl, standing in front of a boy, asking him to love her" in the 1999 romantic comedy Notting Hill. The "boy" Roberts refers to in the famous film quote is Hugh Grant, who's a bookstore owner in London named William Thacker. Meanwhile, Roberts is a famous American actress named Anna Scott. Sparks fly between Will and Anna, but the two are tasked with reconciling their differences in jobs and nationalities to see if their love can conquer all. Notting Hill received many awards nominations, including three for the Golden Globes. It also won a BAFTA Audience Award in 2000, and its soundtrack scored a Brit Award for the best soundtrack that same year.
Whimpers in the dark and a snotty nose became a pop culture emblem of the 1999 footage horror movie The Blair Witch Project. The film wasn't the first of its genre at the time (that honor goes to the 1980 feature Cannibal Holocaust). Still, The Blair Witch Project made footage horror popular, birthed many unforgettable quotes for movie history, and received the Award of the Youth distinction at the 1999 Cannes Film Festival and an Independent Spirit Award in 2000. Not bad for a movie with improvised dialogue. Fans thought the footage of The Blair Witch Project was so real that it also spawned a slew of articles dissecting its fictional versus assumed non-fictional elements.
Released the same year as Cruel Intentions, Election showcased Reese Witherspoon as Type-A student and high school presidential hopeful Tracy Flick. Flick's win-at-all-costs attitude humorously rubs government teacher Jim McAllister (expertly played by Matthew Broderick) the wrong way. Alexander Payne's black comedy both displays Witherspoon's masterful wit (she was 22 when she played Flick) and American Pie's Chris Klein in his first movie starring role. Election received an Oscar nomination for Best Adapted Screenplay and multiple Independent Spirit Awards. Witherspoon herself earned a Golden Globe nomination for best actress.
This article was originally published on