Everything To Know About Bridgerton Season 3
Dear readers, one Bridgerton may be absent from the upcoming season.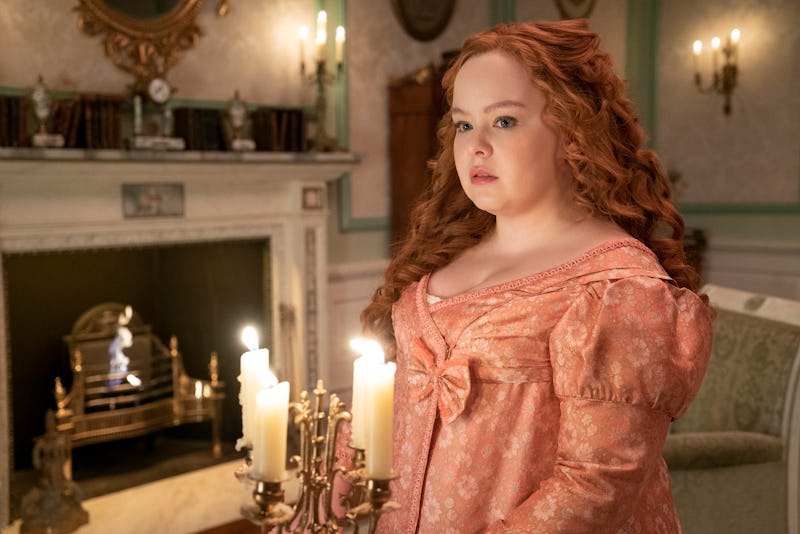 Netflix
After the sheer excitement of Bridgerton Season 2, fans are eager to see the next installment of the Netflix series. Fortunately, this isn't one of those "will Netflix renew my favorite TV show or give it the ax" situations because more Bridgerton is already confirmed. Given how Season 1 captivated viewers (the show casually became Netflix's biggest hit ever and scooped up an Emmy win), it makes sense that fans were clamoring for Seasons 3 and 4 well before they even saw Season 2. Though Netflix (er, Lady Whistledown) has only announced the scantest of details about these future seasons, we already have a pretty good idea of what they will look like based on the Bridgerton books.
Season 1 followed Daphne on her search for a suitor (based on the first book, The Duke and I), and Season 2 covered Anthony's "quest to find a Viscountess" (based on the next book, The Viscount Who Loved Me). Bridgerton fans assumed the third season would follow Benedict Bridgerton, the protagonist of the third novel, An Offer from a Gentleman, as he falls for two women.
But in May 2022, viewers learned that Benedict's love triangle would have to wait, as Nicola Coughlan, who plays Penelope Featherington (aka the infamous Lady Whistledown herself), announced on Instagram what Season 3's plot will center on. Instead of following the books' trajectory and waiting for Season 4 to explore Colin and Penelope's romance (from Julia Quinn's fourth instalment, Romancing Mister Bridgerton), the fan-favorite pair's love story will be the plot of the upcoming season. Coughlan posted, "Like Lady Whistledown I've been keeping quite a big secret for quite a long time … but I can finally tell you that @bridgertonnetflix Season 3 is Colin and Penelope's Story."
And another exciting update came in Nov. 2022, when the official Bridgerton Instagram page teased Penelope's upcoming S3 storyline. Alongside a video of Coughlan bowing whilst wearing her full Bridgerton costume, the Netflix show told fans: "Something tells me Miss Featherington's upcoming third social season will be her most successful yet." Unsurprisingly, the post grabbed fans' attention, as well as earning a comment from Coughlan herself. "Strong agree," the Irish actor wrote.
Below, find out everything else we know about Bridgerton Season 3 and how the series might approach Colin and Penelope's arc.
Bridgerton Season 3 Plot
Although fans have been treated to some details of the forthcoming third chapter, it was reported on Jan. 1, 2023 that the original script had been changed significantly after show boss Shonda Rhimes was "not happy" with some of the "very dark" Season 3 storylines — with one sex plot line being a particular concern.
"Filming has been delayed due to the screenwriter not being happy with the direction of it," a source claimed to the Daily Mail. "We have been told that it needs the fun back so there are changes, which of course means delays. One thing is for sure though, the production team want to get it right for Bridgerton fans so they enjoy it as much as they have in the past." However, Netflix has since confirmed to Bustle that there's "no truth" to the aforementioned rumours.
So, what can we expect from the Season 3 plot? As fans will recall, at the end of Bridgerton Season 1, Colin and Penelope were saying goodbye — Colin was off to travel as Penelope always encouraged him to. Unbeknownst to him, though, Penelope was on the verge of her very own "I burn for you"-level love declaration. Ultimately, he left for his adventures still clueless about her feelings.
Marina Thompson isn't a major character in the books, but she was a serious contender for Colin's love in Season 1. However, in Season 2, he got his closure. With Marina out of the way, it seemed Penelope was nearly ready to express her true feelings for the longtime family friend, but toward the end of Season 2, she overheard him saying there's no chance he'd ever go for her. Ouch! We'll just have to wait and see how she could ever recover from that. As Coughlan told E! in May, she hopes Penelope will "stop thinking he's perfect and appreciate herself more."
Netflix finally revealed more details about Colin and Penelope's friends-to-lovers journey at the start of Season 3's production on July 20. The streaming platform released the official synopsis below:
"From Shondaland and new showrunner, Jess Brownell, Bridgerton is back for its third season and finds Penelope Featherington (Nicola Coughlan) has finally given up on her long-held crush on Colin Bridgerton (Luke Newton) after hearing his disparaging words about her last season. She has, however, decided it's time to take a husband, preferably one who will provide her with enough independence to continue her double life as Lady Whistledown, far away from her mother and sisters. But lacking in confidence, Penelope's attempts on the marriage mart fail spectacularly. Meanwhile, Colin has returned from his summer travels with a new look and a serious sense of swagger. But he's disheartened to realize that Penelope, the one person who always appreciated him as he was, is giving him the cold shoulder. Eager to win back her friendship, Colin offers to mentor Penelope in the ways of confidence to help her find a husband this season. But when his lessons start working a little too well, Colin must grapple with whether his feelings for Penelope are truly just friendly. Complicating matters for Penelope is her rift with Eloise (Claudia Jessie), who has found a new friend in a very unlikely place, while Penelope's growing presence in the ton makes it all the more difficult to keep her Lady Whistledown alter ego a secret."
Like Season 2, the third installment will make a significant departure from Julia Quinn's novel. Based on the synopsis, it sounds like Bridgerton takes inspiration from Season 1's romance with Colin and Penelope conspiring together on how to find her a husband, much like Simon and Daphne worked together to try to land her a prince. Whether Colin learns of Pen's secret identity — as he does in the book — remains to be seen. But of course, as in the rest of Quinn's works, expect to have some steamy moments, perhaps including a pivotal carriage scene from Romancing Mister Bridgerton.
At Netflix's Tudum event on Sept. 24, Coughlan dropped into Newton and Jessie's Bridgerton sibling portrait time to share new tidbits from Season 3. First, she revealed Episode 1's title, "Out of the Shadows." Then, she went on to read Lady Whistledown's first newsletter of the season:
Dearest Gentle Reader,
We've been apart for far too long. At last, London's smart set has made its return and so, too, has this author. As the season begins, the question on everyone's minds is, of course, which newly minted debutante will shine the brightest? The crop this year appears to be rather dazzling indeed. Unfortunately, not every young lady can attract the light.
That's where she left off, because Lady Whistledown just can't help but leave readers wanting more.
Bridgerton Season 3 Trailer
Bridgerton doesn't have a trailer for Season 3 yet. But the hit romantic series kicked off the filming of its third season with a video from the cast celebrating their return to the set. Jonathan Bailey, Adjoa Andoh, Claudia Jessie, and other familiar faces appear in the behind-the-scenes clip, signaling with their hands the transition from Season 2 to 3. The video also teases both Colin's and Penelope's new looks for the third season. A casually dressed Luke Newton opens a carriage door to reveal Nicola Coughlan in her Penelope hair and makeup, as she announces that filming has officially begun. In a nod to the book's famous (and sexiest) scene, Luke hops into the carriage with Nicola, which will surely throw Polin fans into a tizzy.
Just a few days after Netflix confirmed that production on Season 3 had officially commenced, Bailey and Ashley shared the first glimpse of a newly-married Anthony and Kate Bridgerton née Sharma, with an Instagram story that showed the onscreen couple's intertwined hands and a caption that read, "#Kanthony reunited."
Bridgerton Season 3 Cast
Unlike other Bridgerton series love stories, Season 3's romantic leads are people we already know and love: Playful Colin and sneaky, lovelorn Penelope are played by Luke Newton and Nicola Coughlan. Still, a few familiar faces will not be appearing in Season 3. Don't expect a return for Regé-Jean Page, who announced Simon's departure ahead of Season 2. Phoebe Dynevor also said that her character, Daphne Bridgerton, will not appear in Season 3. When Dynevor was asked what "exciting dynamics" fans could expect in the upcoming season, she replied in a January 2022 interview with Screen Rant, "Sadly, not in season 3. Potentially in the future. But season 3, I'm just excited to watch as a viewer."
While Jonathan Bailey (Anthony) and Simone Ashley (Kate) already saw their characters get their happily ever in the most recent chapter, the couple is not going anywhere. The actors both reassured fans on that score in separate interviews that followed the release of Season 2. "We're going to be back!" Ashley told Deadline in late March. "Kate and Anthony are just getting started." Meanwhile, Bailey shared his hopes for the pair in an interview with Harper's Bazaar, saying that seeing them in "the honeymoon phase is essential." He also indicated that fans will get to watch them as "incredible, loving parents," saying it will be "joyful to see." Luke Thompson, who was thought to take the spotlight as the season's romantic lead, will return to play the artistic Bridgerton brother. Maybe his arc this season sets him up for Season 4.
Claudia Jessie also confirmed she'll be returning to play the defiant Eloise. Sharing the Season 3 news on her Instagram stories on May 16, she wrote, "As for my personal excitement about the season… let's just say I'm excited for the amount of Eloise content we will get as a result of her (ex) best friend being the lead."
Season 3 will also see a new addition to the titular family, as Hannah Dodd is set to take over the role of Francesca Bridgerton from Ruby Stokes, who has left the series to star as the lead on another Netflix project, Lockwood & Co. Dodd recently starred as a young Sienna Miller in Anatomy of a Scandal. She also appeared in the miniseries Flowers in the Attic: The Origins.
On July 20, Netflix announced three new characters will be joining the ton. Daniel Francis (Stay Close) will play Marcus Anderson, who is described as "a charismatic presence who lights up any room he enters." Matching Marcus' ability to capture the attention of the marriage mart, Lord Debling will also arrive this season; Sam Phillips (The Crown) will portray the "genial lord with unusual interests." James Phoon (Wreck) is set to play Harry Dankworth, a new suitor whose extremely good looks make up for what he "lacks in wit and intelligence," according to the press release.
Another casting update came on Oct. 14, when Deadline reported that Hannah New (Black Sails) had joined Season 3. Her character, Lady Tilley Arnold, is a new one described as "a firebrand widow." Since losing her husband at a young age, she's apparently taking advantage of having financial independence and sexual freedom. Interesting.
"Feeling so incredibly blessed to be part of this dream team!" New wrote on Instagram after her casting was announced. "Can't wait for you all to meet Lady Tilley Arnold… I couldn't wish for a more fabulous, formidable, fun and sexy woman to play! Truly the stuff of dreams! Thank you to everyone who brings her to life."
On the behind-the-scenes side of things, Jess Brownell will be taking the reins as showrunner for Season 3, per Deadline, after working in Shondaland for years. In addition to writing for Bridgerton's first outing, Brownell penned several episodes of Scandal, so she knows drama.
Bridgerton Season 3 Release Date Speculation
We don't yet have a release date for Bridgerton Season 3, but there's reason to hope for a shorter wait than the year-plus between the first two seasons. Season 2 was beset by public health filming interruptions, but it looks like Season 3 won't face the same challenges. Netflix announced that Season 3 started production in July 2022, and if filming goes smoothly, fans may be able to expect Polin's love story in early 2023.
This post will be updated with the trailer, release date, and additional plot details as more information on Bridgerton Season 3 becomes available.
This article was originally published on