Mila Kunis' New Netflix Film Is Like 13 Going On 30 Meets Serial
Her character must revisit an alarming incident from her childhood.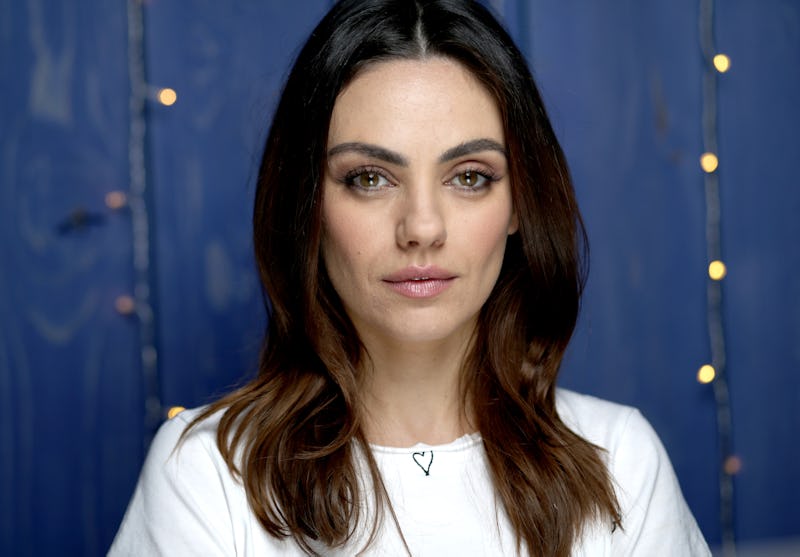 Rich Polk/Getty Images Entertainment/Getty Images
Between appearing in Cheetos' Super Bowl LV commercial with her husband Ashton Kutcher and starring in Breaking News in Yuba County alongside Allison Janney, Mila Kunis was already off to a busy start in 2021 when she landed another starring role in Netflix's upcoming Luckiest Girl Alive movie. Per Deadline, the film is based on the 2015 New York Times bestselling novel of the same name by author Jessica Knoll, which was met with critical acclaim and comparisons to Gone Girl and The Girl on the Train upon its release. Kunis was spotted shooting the movie in New York City and Canada throughout summer 2021, and Netflix released its first (very short) clip on Feb. 3. Here's everything you need to know about the film adaptation of Luckiest Girl Alive, including information about its plot, cast, and more.
Netflix's Luckiest Girl Alive Plot
The Golden Globe-nominated Black Swan actress is set to play Ani FaNelli, an ultra-clever, well-dressed New York-based woman who appears to have it all: her dream magazine job and a beautiful wedding on the horizon. But then she encounters a true-crime documentarian searching for her perspective on an alarming sexual assault that occurred during her teen years as a student at the prestigious, private Bradley School. Her seemingly picture-perfect life is disrupted as she's forced to revisit the dark event and uncover secrets from her past. Based on the provided synopsis, this adaptation sounds like your favorite magazine editor movie (hello, 13 Going on 30) meets nonfiction investigative journalism (looking at you, Serial).
After months of claiming the book's rape scene was fictional, Knoll published an essay in 2016 detailing the troubling event as one plucked from her real life. "I was so conditioned to not talk about it that it didn't even occur to me to be forthcoming," the author said in a New York Times interview published shortly after the chilling essay. "I want to make people feel like they can talk about it, like they don't have to be ashamed of it."
Netflix's Luckiest Girl Alive Cast & Crew
Other notable figures attached to the film include The Handmaid's Tale executive producer and director Mike Barker, who is set to direct, and author Knoll will adapt the screenplay. Producers include Kunis for Orchard Film Productions, Erik Feig and Lucy Kitada for Picturestart, and Bruna Papandrea and Jeanne Snow for Made Up Stories. Executive producers include Knoll and Lisa Sterbakov of Orchard Film Productions, Shayne Fiske Goldner of Picturestart, and Steve Hutensky of Made Up Stories.
Rounding out the Luckiest Girl Alive cast is a slew of notable actors, including Connie Britton (The White Lotus), Finn Wittrock (La La Land), Chiara Aurelia (Cruel Summer), Scoot McNairy (True Detective), Thomas Barbusca (Black Monday), Justine Lupe (Succession), Dalmar Abuzeid (Anne with an E), Alex Barone (Dopesick), Carson MacCormac (Shazam!), and Jennifer Beals (The L Word: Generation Q).
Netflix's Luckiest Girl Alive Trailer & Release Date
Per Variety, Knolls' original novel was acquired for adaptation by Feig and Papandrea prior to publication in 2015. Since its release the following year, Luckiest Girl Alive has sold over a million copies worldwide. A first look at the new film dropped on Feb. 3, as part of a Netflix 2022 movie preview.
Kunis only appears in a very brief clip at 1:50, but it's good to see a glimpse of the movie — and know that it's finally arriving in the near future. And considering the movie should be coming soon, a full trailer will be on the way as well.
If you or someone you know has been sexually assaulted, you can call the National Sexual Assault Telephone Hotline at 800-656-HOPE (4673) or visit online.rainn.org.
This article was originally published on