10 Things I Noticed Rewatching She's All That In 2021
Brock Hudson is still an iconic character.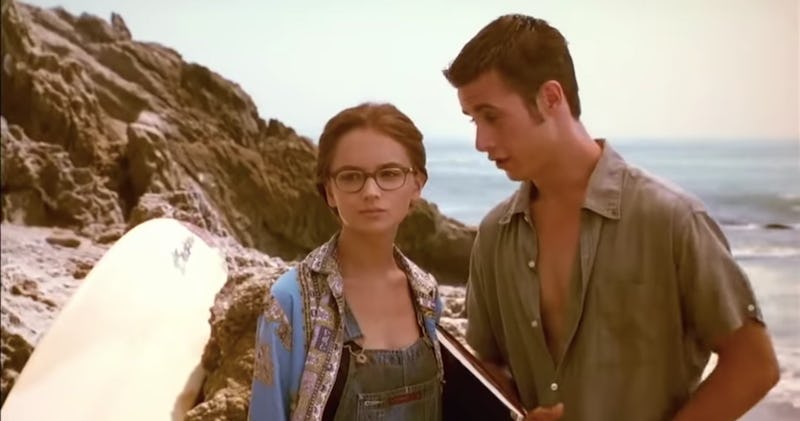 Miramax/YouTube
She's All That burst into movie theaters during a year when teen movies were at their peak. But even with other popular young adult movies also released in 1999, like 10 Things I Hate About You, Cruel Intentions, and American Pie, She's All That stood out with its "Pygmalion meets MTV" storyline.
At the time, a who's who of rising stars, including Rachael Leigh Cook, Freddie Prinze Jr., and late actor Paul Walker, took on the lead roles in the romantic comedy. The modern take on George Bernard Shaw's 1913 play features an artistic, glasses-wearing high school girl (Cook as Laney Boggs) unwittingly thrust into a bet to become prom queen.
In 2019, a number of think pieces took a look at She's All That as the iconic movie celebrated its 20-year anniversary. Now in 2021, it has spawned a remake, cheekily named He's All That, starring Cook. Instead of Cook reprising her She's All That role, TikTok celebrity Addison Rae helms the gender-swapped makeover movie. Judging from the He's All That trailer alone, a lot has changed since 1999, especially when it comes to technology. But it looks like She's All That and He's All That have at least two things in common: making outrageous bets and placing way too much importance on the prom court.
In light of Netflix's reimagining of the '90s cult classic, here are 10 noteworthy things I noticed rewatching She's All That in 2021.
Technology has come a long way.
The technological advances in She's All That appear as relics in 2021, especially for anyone who is too young to remember that dial-up noise. High school students carried pagers, fax machines were used regularly, and not one smartphone was seen. One of the most state-of-the-art advancements shown seemed to be when the students' prom photos were immediately processed from a printer once taken.
No one knows why Simon Boggs wore hearing aids.
Throughout the movie, Laney's little brother, Simon Boggs (Kieran Culkin), wore hearing aids. However, this was never discussed or referred to in the movie. Upon first watch, this could be seen as a choice from production to include representation for those who are hard of hearing. However, that doesn't seem to actually be the case, as Culkin pointed out in a 2014 interview with The Daily Beast. "It's one of those movies that always seems to be on — and I only know that because friends are always telling me. And then they'll ask, 'Why did you have hearing aids?' And I'll be like, 'I don't f*cking know!' To this day, the rest of the world still doesn't know why the devices were never mentioned.
The cast is epic.
The She's All That cast has a delicious mix of well-established actors, those just starting their careers and others who experienced breakthrough fame thanks to the movie. In addition to Cook, Prinze Jr., Walker, and Culkin, the cast featured Gabrielle Union, Dulé Hill (Psych), Anna Paquin (True Blood), Matthew Lillard (Scream), Elden Henson (The Mighty Ducks), Jodi Lyn O'Keefe (The Vampire Diaries), Lil' Kim, and Usher. Gilmore Girls' very own Milo Ventimiglia also makes a blink-and-you'll-miss-it appearance as a soccer player, as well as Prinze Jr.'s future wife, Sarah Michelle Gellar.
The pop culture references and slang are such a '90s throwback.
Zack Siler's hacky sack performance and use of slang like "wiggin'" proves viewers will never be confused about which era She's All That hails from.
The house party scene is still heartbreaking.
Reliving mean girl Taylor Vaughan (O'Keefe) and Laney's similar tastes in red dresses during the house party scene was humorous... until it wasn't. Taylor's fondness for making her classmates squirm, especially Laney, was arguably at its peak the moment she called Laney "a waste of perfectly good yearbook space," "vapor," and "Spam." Taylor's cruelty made Laney do something she earlier admitted she would never do in front of her peers: cry. It's still an upsetting scene, but it led to a beautiful one between Laney and Zack.
Laney Boggs' BFF is Jesse Jackson.
Laney's best friend, played by Henson, is named Jesse Jackson. The reveal is made toward the end of the movie, which may have been intentional. However, it's certainly something that anyone familiar with the real-life Rev. Jesse L. Jackson, Sr. might question.
Brock Hudson is still hilarious.
Matthew Lillard's portrayal of Real World: Los Angeles cast member Brock Hudson is just as memorable in 2021 as it first was in 1999. Thanks to Lillard's sharp comedic timing, Brock was the centerpiece of several hilarious She's All That moments. But his dance to Rick James' 1981 hit "Give It to Me Baby" remains one of the most outrageous, funny scenes of the movie.
The She's All That rap is delightful.
Several students craft a rap song about Laney and Taylor's battle for prom queen, and it's complete with beatboxing and witty lyrics about the classmates. It's a scene that feels like it could only be found in a movie from the '90s but is nonetheless entertaining.
The choreographed dance at prom is still head-scratching.
All of a sudden, most of the Harrison High student body knew the same choreographed steps at the prom — even Laney had moves. The cherry on the top of the entire dance-off to Fatboy Slim's "The Rockafeller Skank" was having the school's announcer, Usher, as the DJ.
The lead characters were quite similar.
Laney and Zack both came from two different ends of their high school's social hierarchy, but each felt a need to deflect from growing up. The loss of Laney's mom caused her to isolate herself from the world and refuse to be vulnerable with others. Zack deferred from making a final decision about attending college and felt pressure from the world to conform. Throughout She's All That, both characters were fighting a battle within themselves as they inched closer to adulthood. Since this is a rom-com, they eventually embraced one another's faults and grew wiser and closer.