Bustle Daily Newsletter: January 3, 2022
Remembering Vivienne Westwood's iconic pearl orb pendant, how Hailey Bieber brought the exposed thong trend into 2023, and more.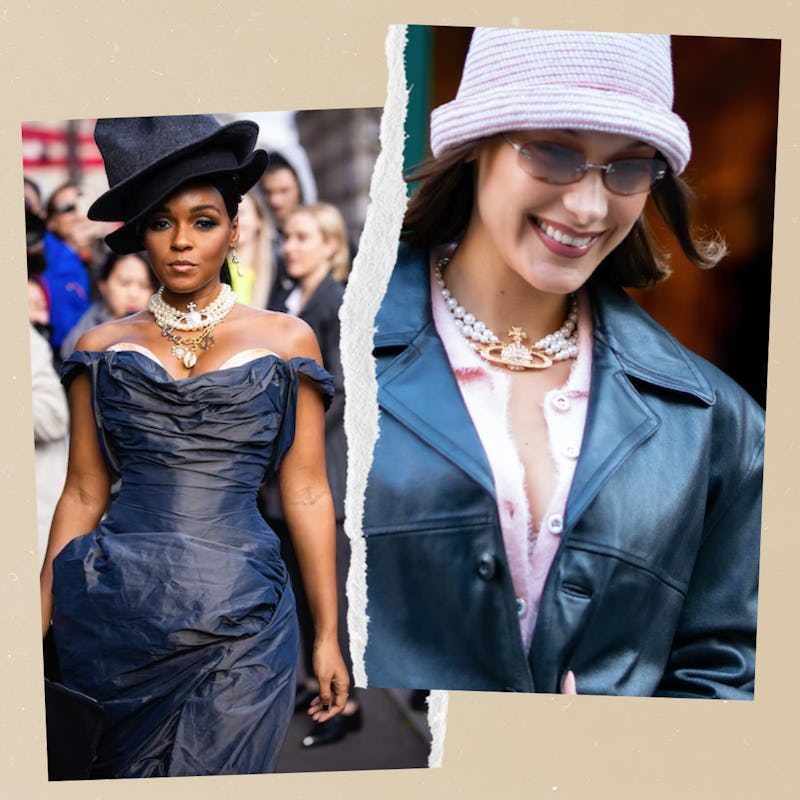 A version of this content appeared in Bustle's daily newsletter on Jan. 3 2023. If you like what you see, sign up to receive it in your inbox right here.
How Vivienne Westwood's Pearl Orb Pendant Became A Fashion Staple
The late pioneering British fashion designer Dame Vivienne Westwood was famous for many things: her androgynous designs, protesting, bringing punk style mainstream, and several gorgeous pop culture and red carpet moments. But one of them has reigned supreme in the fashion lexicon as a perennial favorite among it girls and A-listers alike. Read More
The Latest
Hailey Bieber's New Year's Eve Dress Featured A Built-In Thong
If you were worried about covering up your thongs in 2023, never fear — the trend is here to stay. Hailey Bieber recently rocked *two* different exposed thong looks, including this stunning black Mugler dress on New Year's Eve. Read More
January's Astrological Forecast Is Jam-Packed
We're off to a slower-than-usual start, thanks to both Mars and Mercury in retrograde until mid-January — but by the end of the month, all zodiac signs will be in a better groove and ready to slay their New Year's goals. Get your shiny new datebooks ready, because you'll want to make a note of all these cosmic happenings. Read More
Must-Reads
Simone Biles Explained Why She Won't Be "Less Political"
The "stick to sports" refrain still hasn't gone away — just ask the GOAT herself. When Simone Biles invited her 6.6 million Instagram followers to weigh in on the content they'd like to see from her in 2023, one of them took it upon themself to ask her for "less political stuff." Read More
30 Of Bustle's Most Anticipated New Book Releases
New memoirs, essay collections, short stories, juicy novels, and knife-sharp satires — it's time to get your TBR in order. Kelly Link has a new short story collection (uncanny as ever), Tsitsi Dangarembga has an extended essay (urgent, powerful, and precise), Jen Beagin has a new novel (so funny it's excruciating), and more. Read More
The 10 Best Flat Irons For Curling Hair
A rounded shape is a must, as you're wrapping the hair around and through the straightener to create a loose curl. Plus, you need something that's gentle and easy to handle, so your hair won't snag and break off while you're curling. And you'll want to keep the plates under this size, too. Read More
Astrology
Here's Your Daily Horoscope
Mars in Gemini sparks petty drama. Read More
More Good Stuff
Bella Hadid's Erewhon Smoothie Recipe Just Dropped
Babylon And The Death Of The Party Girl
Going "Goblin Mode" Is Actually The Perfect Dating Strategy
Get all this (plus more) in your inbox — subscribe to the Bustle daily newsletter.