Here's Your Horoscope For Today: April 2, 2021
We could find ourselves feeling a bit cranky or moodier than usual.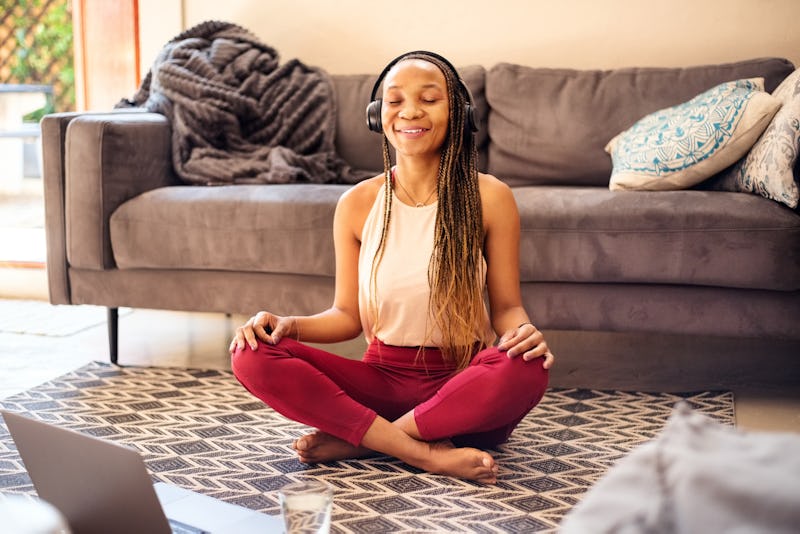 NickyLloyd/E+/Getty Images
In this daily horoscope for April 2, Bustle's resident astrologer Mecca Woods, founder of My Life Created, shares the astrological events happening today that will affect every zodiac sign. Below, here's a look at how astrology will affect our lives today.
It's a mixed bag kind of a day. That's because the optimistic Sagittarius moon spends much of the day under duress from Mercury and Neptune in dreamy Pisces and aggressive Mars in chatty Gemini. As a result, we could find ourselves feeling a bit crankier or moodier than usual. The best way to navigate this is by not focusing too much on the past or getting caught up in wishful thinking.
With the Sagittarius moon and Mars in Gemini opposing each other at the start of the day, it's best to keep some of our thoughts and opinions to ourselves. As Mercury in Pisces meets up with powerful Pluto in Capricorn in the morning as well, we're encouraged to be more intuitive in how we think and communicate. By late afternoon, the vibe shifts for the better as the Sagittarius moon joins forces with expansive Jupiter in Aquarius, encouraging us to find the silver lining and hope for the future, as well as share some laughs with friends.
Read below to see what the stars mean for your zodiac sign today, and make sure to check out your April 2021 monthly horoscope.
You're encouraged to pick and choose your battles today, as you don't have the bandwidth for unnecessary drama or distractions. Stay focused on your end goal. Friends can lift your spirits.
You don't have to make yourself accessible to everyone today. You have the right to be selective with your time and resources. With a financial matter, negotiate for what you want. You can get it.
You could be offered the chance to collaborate with someone, but do your research before saying yes. On another note, if you feel pulled in too many directions, step away for a little bit.
You might have some plans that you'd like to execute, but be mindful of trying to get things started too soon. Take your time. This will ensure you get things done the right way.
It might be time to talk to an expert if you're feeling overwhelmed with an important financial decision. Meanwhile, don't let the need for instant gratification ruin the progress you've made toward a goal.
Dealing with other people today could zap your mood and your energy today, especially if you're being overly accommodating. Get into the habit of prioritizing your well-being.
You're reminded that it's OK to pull back from time to time and not give everyone or everything your attention. This especially goes for social media and gossip. Focus on yourself right now.
Be mindful of unnecessary spending today, as you might find your eyes being bigger than your wallet. In love, don't let your fear of rejection have you forcing something that's not right for you.
You might be feeling more moodier than usual, making it necessary to keep things as short and sweet as possible today. Let efficiency be the goal for today. Too, seek out what uplifts you.
Your worries could be trying to get the best of you today. Though when you believe in yourself and your abilities, little can stop you. Be mindful about what you give your mental energy to.
You might be getting antsy about something you've been planning or how things might look for you in the future. Don't worry about that. Focus on the now. How can you enjoy being right where you are?
You're focused on your goals, but in terms of your reputation or self-image, don't put unnecessary pressure on yourself with unrealistic expectations. Breathe. Ask for support if needed.