Here's Your Daily Horoscope For June 14, 2022
The vibes aren't off, but...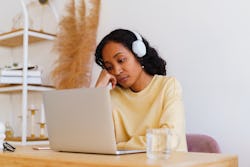 Natalia Gdovskaia / EyeEm/EyeEm/Getty Images
Bustle's resident astrologer Mecca Woods, founder of My Life Created, shares every zodiac sign's daily horoscope for today, June 14, 2022.
The morning brings us a full moon in enthusiastic Sagittarius. However, with foggy Neptune in Pisces bringing tension to this full moon, we might not be feeling too energized or excited. There's a strong chance we'll be feeling a bit wonky. If we do have any energy today, more than likely we'll be feeling more anxious or overstimulated than anything.
On the plus side, if we are feeling tired or stressed, the full moon gives us an opportunity to release or walk away from something that's draining or zapping our joy. Neptune in Pisces also pushes us to let go of anything that feels too restrictive or holds little meaning for us. Though in true Sagittarius form, we'll need to be unflinchingly honest and, in some cases, communicative about what it is that we need to end or leave behind. With no-nonsense Saturn in Aquarius (which is currently retrograde) lending some support to the full moon, it's a good time for exercising boundaries or acknowledging our limitations.
Come later, the moon moves into grounded Capricorn, helping us to calm and anchor ourselves after an unsettling full moon. The Capricorn moon also lends us the follow-through needed to bring a chapter of our lives to a close so that we can move confidently forward.
You're encouraged to be bold and direct about something as you need to clear the air. It's better to bring it out into the open as you'll feel more empowered. Also, the right people will hear you.
If you've been stuck on something at an emotional level, today pushes you to release it. Allow yourself to have this cathartic moment. It will help you to move on to bigger and better things.
If you're considering saying yes to a partnership or agreement, make sure it's something that aligns with your core values. Integrity isn't something you want to compromise on.
What are some things that you're responsible for that you can afford to delegate to others? With your wellness being the focus now, you're reminded that you can't and shouldn't do it all.
A fear of rejection might come up, particularly when it comes to your romantic life or sharing something you've worked on. Lead with your heart and watch how quickly others show up for you.
A home-or-family-related matter could get stressful. Be mindful of appointing yourself with the sole responsibility of fixing or addressing the issue. It may be necessary to tell others to step in.
Your circuits might be fried right about now, making it necessary for you to step away for a little while so you can find your bearings. Be protective of your joy. Schedule some playtime.
You could be feeling a sense of insecurity today. If necessary, sit down and write down some things about yourself that you love and appreciate. Don't compare yourself to others.
Don't let guilt or fear keep you stuck in something that you no longer wish to be a part of going forward. It's time to do the right thing and have some uncomfortable but necessary conversations.
There's something that's coming to a close for you. Instead of worrying about what's next, take heart in the fact that for right now you're where you are supposed to be. Have a little faith.
You're ready to quit something you've started. If it's something that no longer holds value for you, there's no shame in walking away and starting over. Put your energy into something you really care about.
In what ways do you need to stop selling yourself short, or underestimating just how much talent you have or how much of an impact you can make on the world around you? Let go of self-doubt.
Want to learn more? Check out your June 2022 monthly horoscope.