Here's Your Daily Horoscope For May 25, 2022
Time to finalize your plans.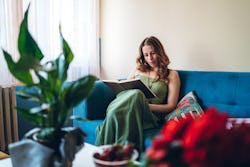 urbazon/E+/Getty Images
Bustle's resident astrologer Mecca Woods, founder of My Life Created, shares every zodiac sign's daily horoscope for today, May 25, 2022.
The moon remains in energetic Aries. When the moon in Aries is paired with the busyness of Gemini season, we should some find some extra pep in our step. Usually, with this astrological pairing, we're motivated to start a new project or try something we've never done. However, as Mercury is currently retrograde in creative Taurus, we're encouraged to look back at projects and experiences from the past so we can best determine what we should do next.
Towards the late afternoon, brainy Mercury teams up with shrewd Pluto in Capricorn, lending us some assistance. Under this cosmic combination of Mercury and Pluto, the timing is perfect for fine tuning and strategizing plans, problem-solving, and research. This planetary pair can help us with catching mistakes or important details that we may have overlooked or missed, giving us the opportunity to do things better this time around. If we need to talk something out with someone this is a good time to do so as well.
Later tonight, the moon meets up with wounded Chiron in Aries, which could have us all feeling a bit more touchy and irritable. The best way to navigate this cantankerous energy is by doing something worthwhile that helps us to feel focused and empowered, like taking a kickboxing class or engaging in activism.
If you're hoping to revisit a discussion with your employer or client regarding money or benefits, you've got a green light. A missed opportunity could also come back around.
You've got the gift of insight on your side today. Being able to reflect on the past and learn from it is the key to success. You can move forward with confidence thanks to what you know now.
You might be faced with a decision or situation that you've been trying to avoid. This is your moment to confront the issue and lay it to rest once and for all. It's time to move past this.
There's a high probability that you know someone that can help you with reaching a current goal. All you need to do is start asking around. Perhaps someone from your past can help.
If Your Zodiac Sign Is Leo (July 23-Aug. 22)
Could it be time to take a refresher course or training to sharpen your skills, or another tactic to stay abreast of the latest trends in your field of work? If you don't want to stagnate, keep learning.
You might fall back in love with a subject or hobby. Perhaps it's something that you enjoyed when you were a kid. Either way, your creative self is about to benefit in a big way.
You could be granted an extension on a deadline or a submission, especially if it involves your finances or financial documents. Have someone double-check your numbers or paperwork.
You could end up talking to or encountering someone today that shares a message or some info with you that turns out to be very valuable. Write it down or save it if you can.
If you haven't had the opportunity to make updates or improvements to your regular routine, today offers you another chance. How can you set goals for yourself that are more doable?
Some self-affirmation may be needed today if you're feeling doubtful about yourself or something that you've created. Write some things about yourself that you love.
The lines of communication are open for you today. If you've been afraid to talk to a loved one about something you're feeling, go ahead and open up. You'll feel much lighter afterwards.
It's best to work alongside others rather than doing it all solo today. Having someone to help you means getting to your goals a lot faster and with as little errors as possible.
Want to learn more? Check out your May 2022 monthly horoscope.