Here's Your Daily Horoscope For May 26, 2022
Channel all that energy into action.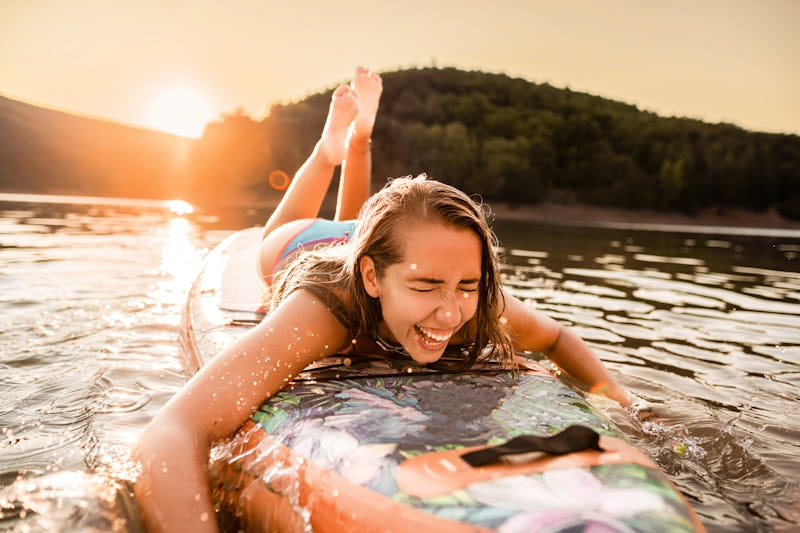 Viktorcvetkovic/E+/Getty Images
Bustle's resident astrologer Mecca Woods, founder of My Life Created, shares every zodiac sign's daily horoscope for today, May 26, 2022.
The moon is still in Aries, completing her two-and-a-half-day stay in this feisty and fiery sign, keeping the energy going at a non-stop pace. As per usual when the moon is in Aries, we can expect to find ourselves feeling more restless and impatient than we normally do. And with Mercury still retrograde, there could be some frustration in the air as we might not be able to move forward with an idea or plan as quickly as we'd like.
The good news is that la luna teams up with cool-headed Saturn in Aquarius towards the afternoon, lending us some patience to get through the day. Saturn's stay in logical Aquarius encourages us to channel our energy into something constructive like helping our community or working towards an achievable goal.
Come later tonight, we should find ourselves in a more upbeat mood as the moon teams up with energetic Venus in Aries. This Moon-Venus aspect can be good for anything related to fun or fitness. It's also a planetary pairing that's helpful for doing anything that requires some level of confidence or adventurousness. At a deeper level, this cosmic combo can give us the motivation to stand up for ourselves or a cause we care about. However, when la luna faces off with power-hungry Pluto in Capricorn just moments later, we'll need to be careful of going to extremes with our feelings or behavior.
There's no shame in putting yourself first today. Maybe even add a little something extra to your beauty or self-care regimen. On a separate note, helping out a friend makes you feel good.
You'll be able to feel and do your best today by having your own quiet little space to escape to, even if it's just for your lunch hour. Meanwhile, have faith a plan will come together when ready.
A friend holds the key to you heart today, as they will be the source of encouragement and positivity that you need. However, if you're already in good spirits, consider paying it forward.
Don't be surprised by the admiration that you receive today. With the kind of track record that you've built, you deserve the recognition. Just don't let the haters steal your joy.
If Your Zodiac Sign Is Leo (July 23-Aug. 22)
You might receive a generous offer from someone that wants to help lift some of the weight off of your shoulders. Don't let the need to be in control block you from this blessing. Say yes!
Be mindful of getting in your head or in your own way when it comes to pursuing something you want. With a little time and patience you can do it. Don't get discouraged.
Although working alongside others can be pleasant or enjoyable today, be careful with overcommitting yourself. Try to nourish the relationships that are nourishing you.
You might find yourself feeling upbeat about something concerning your work life or your wellness. If not, take this as a cue to do what you can to turn things around.
Yes, there may be lots going on in and outside of your world, but it doesn't mean that you should stop experiencing joy where and when you can. Make playtime your priority today.
There could be some good or promising updates to celebrate regarding your home, finances, or a family related matter. In terms of matters of the heart, in what ways can you be a bit more open?
Know that when you speak from the heart, people will listen to you, so try to be as open and honest as possible today. Don't overthink what you have to say — just say it.
If you've been stuck on a money matter, some funds or assistance could come through for you in the nick of time. Don't be afraid to let others know your situation. They could be of help.
Want to learn more? Check out your May 2022 monthly horoscope.