The 4 Most Confident Zodiac Signs, According to An Astrologer
They know they can tackle anything.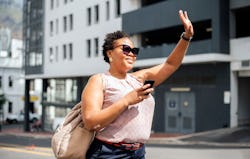 NickyLloyd/E+/Getty Images
You're likely aware of how your birth chart can reveal a lot about your personality and hidden motivations, especially if you rely on astrology to help you navigate the world around you. Using your celestial profile to uncover your strengths is a great way to get to know yourself on a deeper level. Are you more of a wallflower or do you crave the spotlight? Do you shy away from confrontation or do you relish the chance to take care of business? If you lean toward the latter two answers, there's a good chance you're one of the most confident zodiac signs.
Your sun sign is a great starting off point to determining your level of confidence. That's because this placement represents your core identity, self-expression, and how you see the world. While every zodiac sign embodies self-assurance in their own way, those with a sun sign belonging to a fire element typically embody confidence more conspicuously. Fire signs are notorious for being ambitious, direct, and undeterred by the opinions of others.
Mercury, the planet of communication, is also a great indicator of confidence. How you process information and express yourself is governed by this planet, so knowing the qualities of your Mercury placement can help you determine how secure you are with yourself. If your Mercury sign is self-assured Leo, for example, you'll likely have no problem addressing your needs or holding your head up in the face of adversity.
Another way to tell if you're astrologically confident is by looking at your Mars sign. Mars is a malefic planet that rules your impulses and sensuality — so if you're looking to see how assertive you are in the bedroom, for instance, understanding how your Mars sign behaves in this context is a clear tell. If your Mars sign is, say, sensual Scorpio, not only are you likely an extremely passionate lover, but you have no issue taking charge when it comes to career, friendships, and relationships, too. That's because Mars also represents how you assert yourself in all areas of life.
Astrologer Ryan Marquardt also looks for connections between someone's sun sign, moon sign, or rising sign to discern a person's self-assurance: "If any of these three points are making positive connections with each other, that usually indicates someone who has a confident nature."
If you prefer all eyes on you while you show off your assets, then you're probably recognized by your brazen belief in yourself. Read on to find out if you're one of the most confident zodiac signs.