The 4 Most Intense Zodiac Signs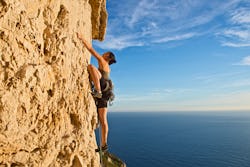 Cavan Images/Cavan/Getty Images
Whether we're determined to take the gold or heatedly explaining why pineapple does belong on pizza, most of us can be a little intense sometimes. And astrology can give us insight into why some of us may be more go-with-the-flow (ahem, Aquarius) and level-headed, and others tend to be wildly passionate. For the most intense zodiac signs, going all in is always necessary, but having a filter is not.
When it comes to discerning your inborn intensity, you can look to your sun sign, since it reflects your core identity. Your sun sign holds your outward personality and key traits which others recognize you by. If your sun sign falls under the cardinal category (Aries, Cancer, Libra, Capricorn), for instance, you tend to let your strong drive take the lead and rarely back down in the face of adversity. That's because cardinal signs are the go-getters initators of the zodiac, which requires fierce ambition and intensity.
It's also worth looking at your Mars sign to reflect your vehemence. Mars represents our impulses, aggression, and passion, so if your Mars sign is stationed in an extreme fire sign (Aries, Leo, Sagittarius), you're likely highly energetic, ready to take on whatever obstacle that may stand in the way of meeting your goals.
Does your deep, impassioned attitude seem to dominate any space? Then you can probably relate to these high-spirited babes and their strong personalities. Read on to find out if you're one of the most intense zodiac signs.