What It Means When Your Partner Ignores You, Based On Their Sign
Libras are pretty content to leave someone "on read."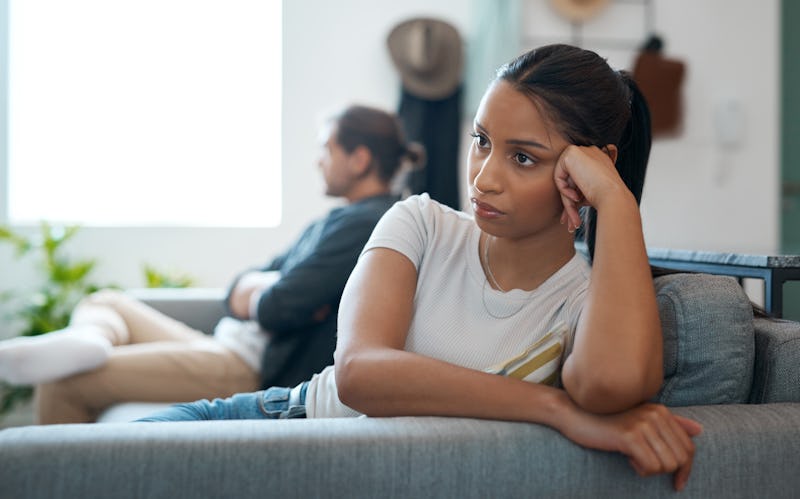 PeopleImages/E+/Getty Images
Your relationship is going swimmingly — you're spending entire weekends together, planning camping trips, and talking about meeting the family when suddenly, your boo stops talking to you. No matter how many texts you send or attempts you make at getting them to open up, they still ignore you. It might leave you wondering, is the relationship over? Have you been ghosted? Or is your partner just going through something? As Narayana Montúfar, astrologer for House of Intuition, tells Bustle, each zodiac sign goes silent for their own reasons. Knowing why your partner has suddenly dropped off the face of the earth can help you decide how you'd like to move forward.
Read more: Aries Zodiac Signs: Personality Traits, Love Compatibility & More Astrology
Although you shouldn't immediately jump to conclusions, some zodiac signs will stop communicating if they're no longer interested. For instance, Libra, Scorpio, and Aquarius are most likely to do this. According to Montúfar, Libras tend to hide from conflict and would prefer to leave people "on read" than let someone down.
Scorpios are self-protective people, and will use ghosting as a defense mechanism. "It's not that they're mean, they're just black-and-white and prefer to not even have to talk about it," she says.
Finally, Aquarius are most likely to leave relationships without saying anything because they play by their own rules. According to Montúfar, "They're not driven by emotion as much as most people, so in their brain, they're not really doing anything wrong."
Being uninterested in a relationship isn't the only reason for why someone would suddenly go quiet on you; it's entirely possible there's something else going on. Here's what it means when your partner goes silent, based on their zodiac sign.
Sources
Narayana Montúfar, astrologer for House of Intuition
Clarisse Monahan, astrologer