Bustle's 2018 Must Follow List Will Refresh Your Instagram Feed For The New Year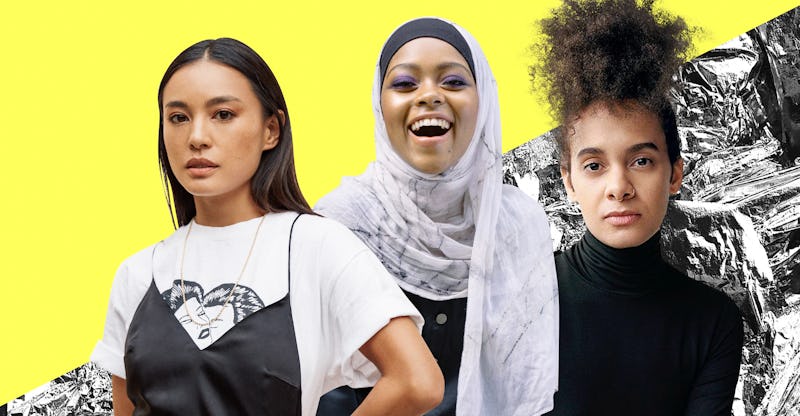 The social media landscape is changing. After the 2016 election, many people (and Facebook) became concerned that their feeds — something that was originally curated, at least in most cases, to bring them daily joy and inspiration — had morphed into an echo chamber with potentially insidious effects. An irony, considering that the internet is theoretically the best way to quickly reach people you'd likely otherwise have no chance of communicating with in your lifetime.
For many, including the Fashion and Beauty Editors at Bustle, this realization was inspiration to start following a whole new set of people. I saw several people on Instagram saying that, in 2018, they would no longer follow people who made them "feel bad." Gabrielle Prescod, Bustle's Senior Fashion Market Editor, says, "The big influencers I follow are my career goals and where I want to eventually go with my life." Bustle's West Coast Fashion & Beauty Editor, Sara Tan, says, "I follow a lot of Asian influencers, because I identify with them of course, and am curious to know what makeup works for their skin."
Conversely, Associate Fashion & Beauty Editor Katie Dupere likes to follow people who identify differently from her, as a form of education. Fashion & Beauty Editor Olivia Muenter is on a similar page, saying, "I mainly choose to follow people who made me think differently about something than I had before."
As Amanda Richards, Fashion & Beauty Features Editor, puts it: "There's no formula for [being an influencer in 2018]. All kinds of people in unique little pockets of humanity end up as influencers." While there are some legacy influencers who'll always stick around in our feeds ("I follow Eva Chen. I'll never stop following her," Tan proclaims.), we think it's a great thing to expand your feed every once in a while. So we've put together a list of 23 fantastic people you may not have heard of yet, but who Bustle editors love following and think you will too. Everyone on this list brings a multitude of talents to the table, but we've separated them into six categories to help you know where to start.
From models to artists to people creating new types of media, these people are changing our Instagram feeds for the better — whether through constant activism, or just having really inspiring photos. But above all? They hit Tan's main criteria: "I only follow people if they can provide me with some really good content."
Stef Sanjati didn't have a role model who looked like her growing up, so she started a YouTube channel with hopes of becoming that person for other young people. She openly discusses how beauty standards impact her life, and is known for makeup tutorials created specifically for transgender women. Read her full profile.
Even after a cancer diagnosis and a car accident that left her quadriplegic, Steph Aiello was still determined to become a professional makeup artist. Thanks in part to a run-in with Tyra Banks, she's now blessing her followers with some seriously good beauty tutorials. Read her full profile.
Freddie Harrel started as a fashion blog, but quickly developed into something more. Now, the eponymous founder has a line of extensions for afro hair and hosts confidence workshops. Read her full profile.
A body positivity champion, disability rights activist, pro makeup artist, and speech pathologist, Ruby Allegra gives you everything from inspiring messages about self care and inclusion to the fiercest beauty inspiration. Read their full profile.
You won't find style inspo or dreamy vacation pics on Clare Sheehan's body pos account; her style is more lots of open, honest dialogue about bodies and the need for more understanding about how many different definitions "healthy" can really have. Real her full profile.
Roz "The Diva" Mays, aka @rozthediva
With her pole dancing classes, Roz "The Diva" Mays is creating an inclusive workout space for all types of bodies. Read her full profile.
Photographer Rochelle Brock will fill your feed with gorgeous pictures that celebrate diverse bodies usually told they aren't worthy of the spotlight. Read her full profile.
At age 20, Lula Hyers is quickly becoming one of the most exciting photographers to watch. Her Instagram is filled with pictures that use her dreamlike aesthetic to tell stories about people whose voices have been largely out of the mainstream in the past. Read her full profile.
After going to college for economics, Samantha Duenas realized her passion really lay in music. She spent a stint as a backup dancer for the likes of Vanessa Hudgens and Miley Cyrus, and now is making a name for herself in the DJ space. Read her full profile.
Shanthony Exum, aka Miss Eaves, aka @yoeaves
You might recognize Brooklyn-based rapper Miss Eaves from her body positive single "Thunder Thighs." Her latest song, "Paper Mache (Single AF)" celebrates being single at any age — and her Instagram is full of feminist musings, behind-the-scenes pics, and plenty of style inspiration. Read her full profile.
With experience both in front of and behind the camera, Laura Du Vè's account focuses on bringing plus size, queer, femmes into the spotlight. Read her full profile.
Looking for a truly inclusive feed of inspiring street style photos? Kellie Brown-curated @andigetdressed will definitely deliver. Read her full profile.
Shalice Ader was diagnosed with alopecia when she was one year old, and has been inspiring others pretty much ever since. Her Instagram is a self-love, fashion-inspiration heaven. Read her full profile.
Nikia Phoenix might be most famous for her freckles, but she's also a longtime activist for women's rights — especially women of color. In addition to sharing her personal experiences with anxiety and being a model with natural hair, Phoenix's Instagram has a wealth of outfit inspiration. Read her full profile.
In 2015, Lisa Vogl launched her modest clothing brand Verona Collection. In 2018, she became the first person to create a collection that includes hijab for a major U.S. department store. Her feed follows her journey in the fashion industry. Read her full profile.
Tyler Ford, Associate Editor at THEM, aka @tywrent
When Them launched in 2016, it was a huge deal for the media landscape. It was the first time Condé Nast has started an independent brand in over a decade — and this particular brand was specifically built to serve the LGBTQIA+ community. Read Associate Editor Tyler Ford's full profile.
As a queer transgender nonbinary polyamorous lesbian, Riley stands at the intersection of several overlapping identities in the LGBTQ community — and she uses her work to help lift up the queer community through radical education. Read her full profile.
Anita Dolce Vita, Founder & Owner of dapperQ
Queer fashion magazine dapperQ launched in 2009, and has been telling stories of style as resistance ever since. Owner Anita Dolce Vita is committed to challenging what people normally see in mainstream fashion media, which mainly skews thin and white. Read her full profile.
After Joanné Dion was discovered by a photographer in a mall, she made it her mission to change people's views on inclusivity — just by existing. Dion's feed is a veritable goldmine of gorgeous pictures and fashion inspiration. Read her full profile.
Model Abbey Mag has one main mission: To remind the beauty industry that black girls (especially ones with dark skin) exist. Her page full of selfies and striking professional shots alike will certainly make that hard to forget. Read her full profile.
If you're seeking a perfect balance of outfit ideas, inspirational quotes, and afrofuturism, Boshia Rae-Jean is your must follow. Read her full profile.
Sara Geurts has Ehlers Danlos Syndrome, which affects her skin and joints, giving her an unconventional look. Her Instagram documents her journey to becoming a successful model and, Geurts hopes, inspires followers to think about beauty standards in a different way. Read her full profile.