Here's Your Daily Horoscope For June 17, 2022
There's a spark in the air.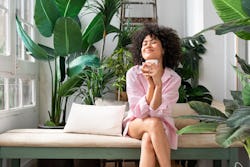 Fabio Formaggio / 500px/500Px Plus/Getty Images
Bustle's resident astrologer Mecca Woods, founder of My Life Created, shares every zodiac sign's daily horoscope for today, June 17, 2022.
If we're in need of some energy or enthusiasm today, the cosmic weather for today won't disappoint. That's because the moon is currently is in thrill-seeking Aquarius, which kicks the day off alongside inspiring Jupiter in Aries. This planetary pairing will lend us the creative spark we need to do something new, whether it's for a specific goal or just for fun.
This morning's Moon-Jupiter pairing also encourages us to work together for the sake of a worthwhile cause or mission. With wounded Chiron in Aries also in the mix come later this evening, we're called to advocate for people that are marginalized or vulnerable.
By later tonight, the energy in the air intensifies as the Aquarius moon faces off with unpredictable Uranus in Taurus. While this can be a cosmic combination that pushes us to step out of our comfort zone, we'll need to be mindful of anything that could be potentially risky or dangerous, especially with impulsive Mars in Aries in tow.
You've got your eyes set on goal and you're feeling ready to jump in and go for it. Expect your efforts to pay off if you decide to take the leap. Just make sure it's something you really want.
You might reach a breaking point of some sort today. Take it as a sign that's time for you to move on from something. Take some time to carefully think out your next move or exit strategy.
Others may be looking to you today for your advice or leadership. Take the spotlight and let your originality shine through. People are seeking you out because you bring something new to the table.
You can't always predict the future. Sometimes you just have to take a step towards a new path or direction and let the rest sort itself out. Believe in yourself and move forward.
If you're ready to move on from a particular relationship (professional or otherwise), try not to feel too conflicted about it. Bigger and brighter opportunities are awaiting you.
Today reminds you that "no" is a complete sentence. Don't be shy about using it today since you're encouraged to free yourself from certain responsibilities rather than taking more on.
If you're looking for love, someone that's different from the norm could draw your attention. If you're attached, think about trying something new with your partner to stir up some sparks.
You're called to tend to your home space. Perhaps there's some organizing or chores around the house that you need to handle. Consider delegating some things that you would normally do yourself.
You're in the mood to get outside or do something that's fun. You definitely need a break. However, be mindful of shrugging off responsibilities. Ask for more time or help to get it all done.
It's a good day for spoiling or pampering yourself however you can. Don't skimp on giving yourself some needed attention or me-time. Let loved ones nurture you.
You're in good spirits today. A family member or someone you live with could try to derail you with their negativity or bad behavior. Don't be shy about calling them out on it.
This is one of those days where you're encouraged to embrace uncertainty. You'll find that something you want will happen unexpectedly. What's meant for you will be yours.
Want to learn more? Check out your June 2022 monthly horoscope.