Here's Your Horoscope For Today: June 18, 2021
With the moon in Libra, we're encouraged to indulge in anything that gives us a sense of tranquility and balance.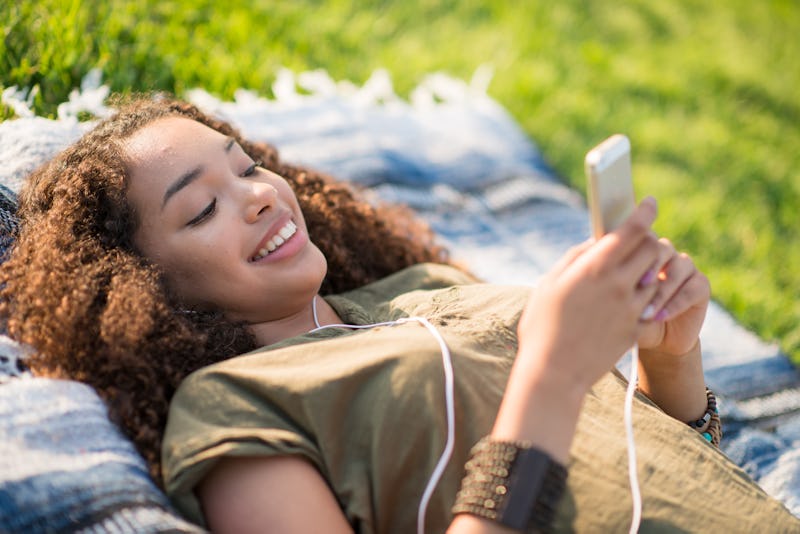 FatCamera/E+/Getty Images
In this daily horoscope for June 18, Bustle's resident astrologer Mecca Woods, founder of My Life Created, shares the astrological events happening today that will affect every zodiac sign. Below, here's a look at how astrology will affect our lives today.
If we're in need of a break, today gives us the chance to get one with the moon moving to easygoing Libra in the early morning. With the moon in Libra, we're encouraged to indulge in anything that gives us a sense of tranquility and balance. It's also a good day for entertaining interests and activities related to the arts, fashion, and beauty, especially as the Libra moon meets up with confident Mars in creative Leo by midday.
Since Libra is associated with partnership and relationships, the meetup between the moon and Mars in Leo could stir up our romantic side. For those of us who are looking to meet someone new, the cosmos could arrange a meeting with a cutie on our behalf. At the same time, we might find ourselves in the mood to connect and collaborate with people for work.
Read below to see what the stars mean for your zodiac sign today, and make sure to check out your June 2021 monthly horoscope.
If you've got a creative idea or project you want to bring to life, partnering up with someone whose talent compliments yours is the way to go. Meanwhile, your love life gets some action.
If you're in the mood to be helpful today, reach out to a family member in need or look to ways to give back to your community. On another note, if feeling off-kilter, take time to find balance.
Dealing with a creative block? That changes today, as the inspiration begins flowing again, and your mind is sharper now than it's been within the last few weeks. Love could blossom, too.
If you're thinking of putting in a bid for a new home, go ahead and make your offer or put in your application. The chances of being approved is strong. Meanwhile, treat yourself to something nice.
The power of persuasion is on your side today. If you want to make an impression on someone or get an idea or request greenlighted, you can. If there's someone you got your eye on, make a move.
Be selective with your time and energy today, as you might not have a lot of energy to go around. When it comes to a money-related matter, your intuition won't steer you wrong.
With the organizations and circles that you belong to, where do you feel the call to step up and take more of a lead role? Go ahead and take the initiative. People will back your vision.
Taking time to step away from the hustle and clear your head can give you the focus needed to achieve your goals. Your instincts are sharp today, so trust them if making a decision.
You're feeling like a social butterfly today. Connecting with friends, new or old, can give you the boost of serotonin that you need right now. If working toward an important goal, progress can be made.
A job offer or opportunity could be on the table now. If so, don't just settle for what you can get. Meanwhile, when it comes to improving your finances, you could hit an encouraging milestone today.
You're a force to be reckoned with. You're reminded of this when it comes to sharing your wisdom with others. Don't make yourself smaller so that others can feel more comfortable.
It's a good day for decluttering your space or tossing stuff you no longer need. Lightening your load could help you to lighten up emotionally, too. On another note, it's time to put in for a raise at work.